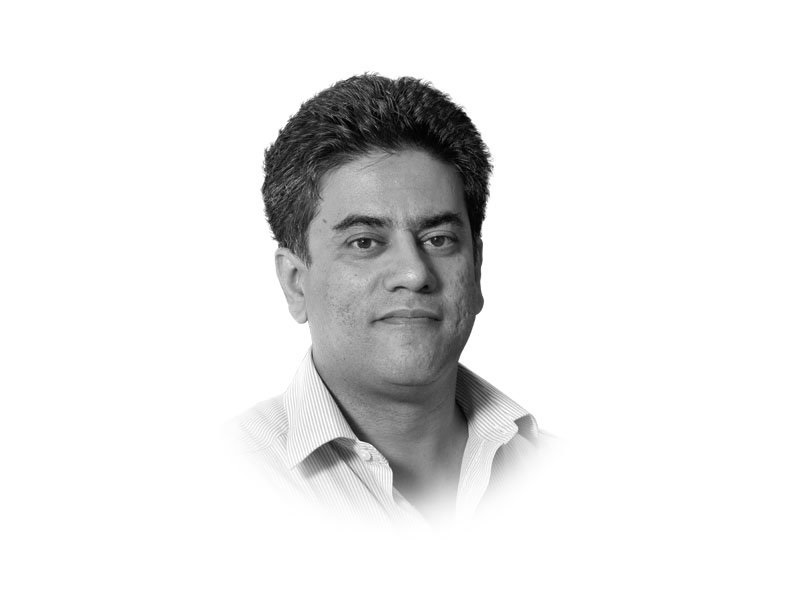 ---
It was amusing to read about the promises made by Karachi Administrator Iftikhar Ali Shallwani who said in a recent webinar hosted by the Karachi Council for Foreign Relations that positive changes in the city are expected soon as deputy commissioners, assistant commissioners, police and other agencies are fully cooperating with him for systematic uplift of the metropolis.
Shallwani said that by replacing an elected mayor, a lot is being expected of him not only by the public but also by the Sindh and federal governments. This is itself an ironic statement. But an honest one. How in this topsy-turvy system of ours, the unelected officials have the power while the elected ones are left out to fend for themselves. I was never a fan of the recent mayor of Karachi (I didn't even know he had left) because I felt he had overdone the angry young man routine but what he did say was correct and true. To expect him to run one of the largest cities in the world with little or no funds and no control over the city administration was a travesty. Of course, this farce was perpetuated by the ruling party in the province whose interests in the city related to the upkeep of roads leading to Bilawal House and little else.
Much of this has changed with the recent rains and the heavy dose of criticism which was directed both at the Peoples Party government and the cantonment boards. Thanks to the efforts of Murtaza Wahab and his colleagues in the Sindh cabinet and the buy-in of the Chief Minister, there has been some acknowledgement on part of the provincial government to finally fulfil its responsibilities and do some work in this sinking and stinking city.
Coming back to Shallwani, our newly selected city father, I can say that unlike his predecessors, this man has been able to do much more in his role as Commissioner Karachi. At least one could know what he was doing to help the city thanks to his active Twitter account. And I loved the boards he placed in and around the Metropole Hotel area — although the one that called Karachi — "an epitome of resilience" defied understanding. But at least he means well.
In his webinar, Shallwani touched on the bigger issues that place the city. This include waste management, water supply, sewerage and public transport. And this is just the tip of the iceberg. The city is riddled with problems and controlled by various mafias which in turn are hand in glove with government departments. To expect Shallwani to try and resolve these problems would be to expect the impossible. But at least some steps can be taken to start changing things.
Many people have referred to Karachi as mini-Pakistan. Nothing could be further from the truth. Other parts of Pakistan continue to progress and develop. Karachi keeps going back and regressing. Imagine the feelings of a resident of Karachi when they see the Orange Line being inaugurated in Lahore. This is apart from the bus transit project that exists for some years now. We have no functional public transport system and it doesn't seem we will have one in the foreseeable future.
Now to the issue of problems. Let us start with the basics. Can we start with small things like getting people on motorcycles to wear helmets, for private cars not to have tinted glasses and fancy number plates? Let us make the traffic in the city more manageable. That would require only two people on a motorcycle, no overloading on public and commercial vehicles and restrictions on heavy traffic on city roads at peak hours.
Then we can move on to things like cleaning up city streets and repairing roads broken in the recent rains. While we are at it, we can also remove encroachments that have once again sprouted on the streets and cause disruption of traffic. We can also start repairing broken drains, fix street lights and mend footpaths so that people don't have to walk on the roads.
From there we can move on to planting trees, cleaning up parks and removing encroachments from green spaces. We need to also work on ensuring better liaison between police and citizens — starting by reactivating Citizens-Police Liaison Committee and making its head a non-controversial figure. These are all simple steps. If the new Administrator can get beyond this, only then can we take him more seriously.
Published in The Express Tribune, November 2nd, 2020.
Like Opinion & Editorial on Facebook, follow @ETOpEd on Twitter to receive all updates on all our daily pieces.