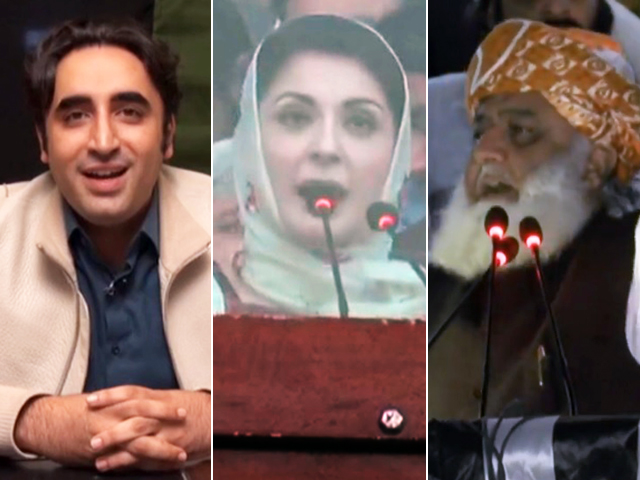 ---
QUETTA:
The Pakistan Democratic Movement (PDM) held its third power show in Quetta on Sunday amid heightened security measures owing to a threat alert issued by the National Counter Terrorism Authority (NACTA).
President of the PDM and JUI-F chief Maulana Fazlur Rehman and Pakistan Muslim League-Nawaz vice president Maryam Nawaz and Pashtoonkhwa Milli Awami Party leader Mahmood Khan Achakzai attended the event, among other senior political leaders belonging to opposition parties. Pakistan Peoples Party chairperson Bilawal Bhutto Zardari and deposed former prime minister Nawaz Sharif also addressed the gathering via video link.
Addressing the rally, JUI-F chief Maulana Fazl said after Supreme Court's verdict in Justice Qazi Faez Isa case, the "fake rulers" have lost all grounds including moral, legal and others to remain in power.
He said people of the all four provinces were empowered through the 18th Constitutional Amendment and now attempts are being made to curtail the autonomy of provinces.
"No one should dare to think that they can curtail the rights of small provinces and occupy their resources… we cannot let anyone to snatch the rights of people."
The PDM chief said the selected government has brought down the GDP growth rate from 5.6 to 1.5 per cent during its two years in power. "I have always said that the country should not be handed over to these incompetent rulers who have now destroyed its economy," he maintained.
Today everyone is aware of the reality that for the survival of the state only strong defence in not enough but stable economy is equally indispensable, said Fazl. "We have an example of Soviet Union which collapsed due to economic crisis," he added.
The JUI-F chief said India was not willing to normalise ties with Pakistan because "Modi knows Pakistan's economic situation is very bad and they are taking benefit of our weak economy".
On foreign policy, Fazl said PM Imran had himself proposed to divide Kashmir region into three parts and he also prayed for the success of Modi in elections. "They have sold Kashmir and they don't give importance to the issues of Kashmirirs."
"We don't need a government of drugs addicts and sweepers… we need a government of respectful people," he said while taking a jibe at the PTI-led government.
Fazl said he held the state intuitions of the country including armed forces in high regards. "I just want to say to powerful people to not make mockery of our love or else we will enter into a blind alley."
Bilawal, while addressing the event, said that his party will not part ways with the opposition alliance, PDM come what may, adding that those who are conspiring against it will only face disappointment in this connection.
"Those who are dreaming of breaking the opposition alliance will never succeed… we are not among those who back down from their stance," he said while addressing the rally via video link from Gilgit-Baltistan.
He said people of Balochistan despite having abundance of natural resources including gas and gold mines living in a miserable condition.
"People of Balochistan are brave and they know how to get their rights.
"What kind of democracy is this where no one including judiciary, media and people are not free."
Bilawal said people all across the country wanted freedom from poverty, unemployment and are demanding to restore the genuine democracy in the country.
Speaking on the issue of Captain (retd) Safdar's arrest, Bilawal said: "I salute Sindh police who refused to be a Tiger Force of Prime Minister Imran Khan."
He said PM Imran was trying to turn all law enforcement agencies including ISI and Pakistan Rangers into his tiger force.
The PPP chairman demanded of the PTI-led federal government to make the multi-billion dollar CPEC project inclusive so that people of Balochistan and Gilgit-Baltistan can also be benefited from it.
Speaking on the issue of missing persons, Bilawal said people are being abducted in broad daylight and all state institutions are helpless in resolving this matter. "This tyranny has to be stopped and if this continues to happen I don't think this country could survive".
Garnering much appreciation for adorning a Balochi dress, PML-N vice president Maryam Nawaz during her speech said, "I was asked at the hotel about the message I wanted to give to the people of Balochistan by wearing this dress, and I said that this meant that I do not only stand for the people of Punjab".
In a reference to the case against Justice Qazi Faez Isa, she said that standing in Balochistan she can't help but remember the contribution of Justice Isa's father Qazi Muhammad Isa – a prominent politician who was among several leaders to have played an important role in the Pakistan movement.
She said, "A case against this great man's son, who is the only judge from Balochistan among existing Supreme Court judges, was shameful". Maryam said the SC's judgment on the case was an answer to those who filed the case.
The PML-N vice president went on to express solidarity with the Baloch students protesting for the restoration of scholarships at the Bahauddin Zakriya University in Lahore. She had earlier met them in Lahore on Friday after they arrived at the provincial capital on foot from Multan on Thursday.
Addressing the event via video link from London, former prime minister Nawaz Sharif said he was pleased to see the number of people who had turned up at the event. He said the presence of such a huge crowd means "nobody will be able to trample over the sanctity of vote".
The PML-N supremo said, "The time has come to change our destiny, God helps those who help themselves." The deposed premier went on to add that the people of the country have now come out to bring change.
Remembering the late National Party chief Hasil Khan Bizenjo, Sharif said the leader was in his thoughts. He went on to pay homage to the former's politics, appreciating the strong principles that he stood for.
The former premier again went on to censure the incumbent government citing inflation. "I know that the current government's ineptness and anti-people policies have made it difficult for a common man to afford two meals," he said. "I have heard that sugar is being sold at Rs110 per kg, and flour at Rs70 or more per kg," Sharif went on to add.
Among the first leaders to address the rally, Qaumi Watan Party chairperson Aftab Ahmad Khan Sherpao said inflation had become one of the biggest problems in the country today. "It has become impossible for the poor to afford two meals a day," the party leader stated.
Sherpao added that medicines were being sold at double their previous rates, adding that the incumbent government had failed to resolve the problems of the country's people.
PPP's Raja Pervez Asharaf, while addressing the rally, said the people of Pakistan are now on one side, while the government is on the other. "You had called all the other political leaders corrupt…and now even a child knows how incompetent your governance is," said the senior PPP leader while referring to the PTI-led government.
Among some other leaders to address the event were Mahmood Khan Achakzai, Amir Haider Khan Hoti, and JUI-F's Maulana Ghafoor Haideri.
Considering NACTA's security alert, mobile phone services had been suspended, whereas pillion ridding was also banned in the city. Section-144 of the Code of Criminal Procedure (CrPC) was also imposed in the provincial capital.
Earlier in the day, spokesperson for the Balochistan government, Liaquat Shahwani, had requested for the suspension of mobile phone services to not be politicised, saying the decision was taken in view of the security alert.
More than 4,000 security personnel, including officials from the provincial police force, Frontier Corps and Balochistan Constabulary were deployed to thwart any untoward incident from taking place. A control room was also set up at the deputy commissioner's office to monitor the security arrangements in the wake of a possible terror attack.
NACTA had warned that the Tehreek-e-Taliban Pakistan (TTP), in connivance with HIAs, had planned to carry out large-scale terrorist activities in Quetta, targeting political and religious leadership.
The Balochistan government had appealed to the PDM leadership on October 23 to suspend their rally in the wake of the security threat. However, the opposition leaders paid no heed to the warning and started gathering in Quetta on October 24.
Addressing JUI-F workers at a local madrassa earlier on Saturday, Fazl said, "It is the responsibility of the government to provide security for the Quetta gathering. If they cannot provide security, they should go home."
In a separate press conference, Maryam Nawaz had also held the provincial government responsible for providing security to the opposition's jalsa, stating that 'if something were to happen, they will be held accountable'.
PML-N Balochistan President Gen (retd) Qadir Baloch said that party supreme leader Nawaz Sharif will address the public gathering through video link. Party's social media team has reached Quetta to broadcast the speech.
Other leaders who arrived in Quetta on Saturday included JUI-F's Maulana Abdul Ghafoor Haideri, PML-N's Shahid Khaqan Abbasi, Ahsan Iqbal, Capt (retd) Safdar, Marriyum Aurangzeb, Nihal Hashmi, PPP Senior Vice Chairman and former prime minister Syed Yousuf Raza Gilani, Raja Pervaiz Ashraf, Awami National Party Central Vice President Amir Haider Khan Hoti and General Secretary Mian Iftikhar Hussain.
Pashtoonkhwa Milli Awami Party chief Mahmood Khan Achakzai, Balochistan National Party chief Sardar Akhtar Mengal and National Party Central President Dr Abdul Malik Baloch had also reached Quetta.
Meanwhile, the Balochistan government detained Pashtun Tahaffuz Movement leader MNA Mohsin Dawar when he arrived at the Quetta airport due to a three-month ban on him for delivering anti-government speeches, which will end on October 29. Home Minister Ziaullah Langove confirmed the development.
COMMENTS
Comments are moderated and generally will be posted if they are on-topic and not abusive.
For more information, please see our Comments FAQ