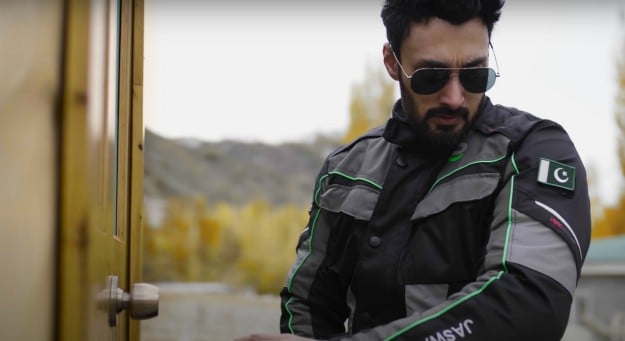 ---
KARACHI:
Umair Jaswal may be in the limelight these days for finding the ultimate companion of his life but the singer's journey has been going for a while; both on an outward and intrinsic level. Last month, the first season of the much-talked-about roadshow, Raahi came to a close with Jaswal, who features both as the producer and protagonist, travelling around Pakistan in search of answers. In fact, the show was so self-reflexive at times that his now-wife and actor Sana Javed even makes an appearance in the show as Jaswal goes to pick her up from Karachi Airport. A perfect foreshadowing for what is being deemed as the celebrity wedding of the year.
The culmination of Raahi and in some ways Jaswal's personal journey can be best noted through the song Rabba. He wanders around a variety of devotional spaces mirroring the transformation he went through that strengthened his bond with the Almighty. A bond that kept him committed to his motorbike and the road despite the countless physical and emotional struggles that come with riding across seasons and landscapes.
"The lyrics talk about finding a bigger meaning in life," Jaswal told The Express Tribune. "In the song, a person is being guided by the divine voice that demands that for things to work out, for the dust to settle, one must succumb to complete submission."
As Jaswal puts it, the song in its current state came about after many iterations, with the original version having a heavier arrangement. "I originally made this track two years ago. This was a very heavy, guitar-oriented track. With time I realised that the sound we created was more for the live version," he said.
Elaborating further, the Sammi Meri Waar hit-maker said that the song went on to address his conflict within and became parallel to ups and downs of his own "personal struggles".
"I always thought that what the song is trying to say the music isn't going with that. I felt that there was a gap which I didn't understand at the time," he said. "When I wrote this I was in a different state of mind and was in the process of evolving as a human being. Somehow, there was a higher force at play that this song ended up where it is today."
According to Jaswal, he went through a change in perspective following Khaki Banda that ultimately led him to create Rabba. "My perspective on a lot of things changed after Khaki Banda. After it, I wanted to write something. If you listen to the first take of Rabba it's fine. But I wasn't really feeling the words," he said.
"A lot of times we say things we really don't mean. We talk about things we haven't really experienced. Some people are lucky to walk into a headspace and then come out of it. I felt whatever I put up from there on, especially my own original tracks; I really needed to live it."
His gut feeling convinced Jaswal to turn this heavy version into a cinematic score; something that almost served as the backdrop of his personal journey. "It was leaning towards cinematic and the canvas was getting bigger and bigger. It had a score kind of feel that really was going with the song."
The singer recalled that it wasn't until he shed a tear in the vocal booth of his studio, that he came to peace with the track. "The version that you hear in the show, is maybe the 13th vocal take of the song. I remember this vocal take, I got really emotional. It does not happen quite often that you're really moved by the song much" he said.
Have something to add to the story? Share in the comments below.
COMMENTS
Comments are moderated and generally will be posted if they are on-topic and not abusive.
For more information, please see our Comments FAQ