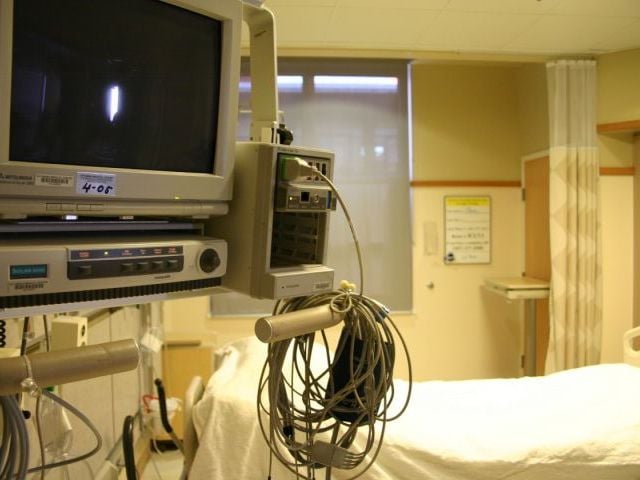 ---
KARACHI:
When the 50-bed Hospital was inaugurated in Gadap Town on March 30, 2018, the residents in surrounding areas rejoiced. But the state-of-art building, which promised a much awaited health facility in the area, barely receives 70 patients a day.
"The hospital is open for only five hours in the morning," said an employee speaking on the condition of anonymity. "At least it's functioning," he added with a smile.
With no transport and ambulance services in the area, the people of Gadap Town and its adjacent villages have to travel miles to get medical treatment.
The 50-bed hospital is considered a blessing for people living in remote areas. "This is the only hospital, not only for people of Gadap city and adjacent areas, but also for people living on hilly areas," said a resident, Maqbool Ahmed.
Residents from various areas such as Mureed Goth, Haji Goth, Hussain Baloch Goth, Mendan Goth, Pathan Goth, Agaro Khaskheli Goth, Rustan Baloch Goth, Soomar Goth, Rahu Gohram Goth and others as well as Lasbella district [Balochistan] and Dadu district also visit the hospital.
Despite being part of the metropolis, the rural areas of the city lack basic health facilities. "An ill person has to hire a taxi in case of emergency," said Ahmed. Due to the lack of public transport, the people of Gadap Town suffer mentally and financially, he lamented. "For simple treatment[s], they need at least Rs2,000 for transportation," he told, adding that even in case of emergency there is not a single ambulance that can be found.
The health facility does have an ambulance but it is not available for the residents. "There is an ambulance but [it is] currently in use of the head of the hospital," disclosed an employee of the hospital. He said that patients were not being shifted to the city's major hospital in emergency cases either.
"People of Gadap lack all basic facilities," commented Ghulam Qadir Kalmati, an elder of the area. "We have scattered population and we live near an international city but are deprived of a better healthcare system," he added.
Several attempts were made to contact the Medical Superintendent of the 50-bed hospital Dr Hussain Bux for comments but he was not available.
"Malir district is the most underdeveloped district of Sindh province," said HANDS Chief Executive Officer Dr Shaikh Tanveer. "Schools and hospitals have not been developed up to the standard," he added. "People of this district are very poor."
Dr Tanveer said that although the provincial government spent a major chunk of its budget on the health sector, over 30 government hospitals were handed over to his organisation under public private partnership. "We are trying our best to provide health facilities to the people of Malir," he added.
"I feel the Gadap hospital will be handed over to a private organisation," commented an employee of the hospital. "Government officials are not willing to work properly," he added, saying least attention was being given to the hospital's infrastructure.
The provincial health minister's office was also approached for the current situation of the hospital but the official did not provide data despite repeated requests.
COMMENTS
Comments are moderated and generally will be posted if they are on-topic and not abusive.
For more information, please see our Comments FAQ