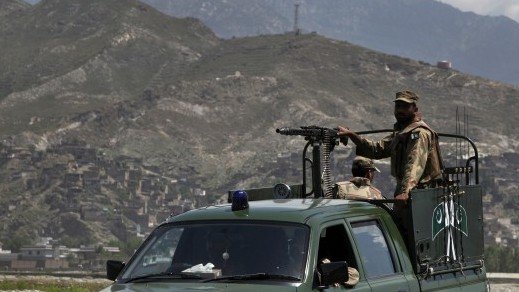 ---
ISLAMABAD:
Over the past 15 years, Pakistan in particular and the world at large have struggled against a multitude of hybrid threats from various geopolitical actors – from Daesh and Al Qaeda in Afghanistan to corporate propaganda machines like Cambridge Analytica.
Designed to exploit major fault lines, these hybrid warfare techniques extend far beyond the military realm and resort to the synchronised use of political misinformation and economic tools to escalate conflict horizontally instead of vertically and hence make hybrid attacks less visible.
One example of such a hybrid conflict is India's subtle propaganda strategy after it revoked Article 370 to end the special status of Indian-occupied Jammu and Kashmir.
One can tune in to 92.7 BIG FM Jammu, while driving from Lahore to Gujrat via GT Road during morning rush hours, and learn about the history of Jammu and Kashmir that glamorises the Dogra rule.
The radio programming is creative for a naive listener to fall prey to such propaganda as the hybrid attack is tailoured to stay below certain thresholds - making it harder to react to a hybrid warfare attack.
Similarly, the audience is made to believe that over 100 mobile phone applications including games such as Ludo All Star and Moto Bike Racing are a threat to the sovereignty of every democratic state as Chinese think tanks profile smartphone users and deploy data as a geopolitical weapon.
This state-sponsored narrative clearly shows a broad use of kinetic and non-kinetic tools to extend conflict into the information space besides physical arenas. However, most of these hybrid warfare attempts rely on our internal fault lines and existing vulnerabilities. For example, one such project is "Pakistan Forward", which has a substantial presence on Twitter as well as on the worldwide web.
A glance will reveal that the project tends to promote news items and tweets that involve sectarian disputes or anti-China narratives. We find tweets that talk of the "Great Wall" of Gwadar for the secrecy around the port city and come across reported incidents of human rights violations under the China-Pakistan Economic Corridor (CPEC) projects. The project is a hybrid tool to shape public opinion about Pakistanis concerning CPEC, China and Iran.
Such hybrid warfare is increasingly used to derail democracies or sponsor fascist groups to form governments.
Ukraine is a classic case study in this regard. In 2013, Russians pressurised Ukraine to abandon EU negotiations, which resulted in Euro-Maidan protests and later the ouster of president.
Russians, capitalising on the situation, took control of Crimea in Feb 2014 and conducted a controversial referendum, depicting that 97% of the population supports the annexure. Russian group CyberBerkut launched a cyberattack on the Ukrainian National Election Commission to undermine the credibility of national elections in May 2014.
At the same time, Moscow used the offer of cheap gas and loans for exerting economic pressure while deploying a full spectrum of horizontal tools including military, civil, information and political power instruments.
This hybrid warfare is now so pervasive in our society that it is becoming increasingly difficult to detect and fight it.
Terrorist organisations are not only using religion to brainwash the youth for their strategic goals but they are also effectively using modern technology and social media to target remote audiences. These groups also contest elections from time to time or sponsor like-minded electable(s), which mean they have access to general voter lists and database of minority voters.
Frequent leaks of consumer data on online groups due to hacking attempts by foreign groups and inherently weak cybersecurity systems imply that the threat of systemic hybrid information warfare is very real. So, as battles of narratives shift into the digital age, Pakistan needs a hybrid strategy to compete with and to win public support. The blurred lines of modern-day warfare imply that we can no longer afford to ignore our internal fault lines and should aim to gain a strategic advantage in this hybrid sphere with a proactive approach.
THE WRITER IS A CAMBRIDGE GRADUATE AND IS WORKING AS A STRATEGY CONSULTANT
Published in The Express Tribune, October 19th, 2020.
Like Business on Facebook, follow @TribuneBiz on Twitter to stay informed and join in the conversation.