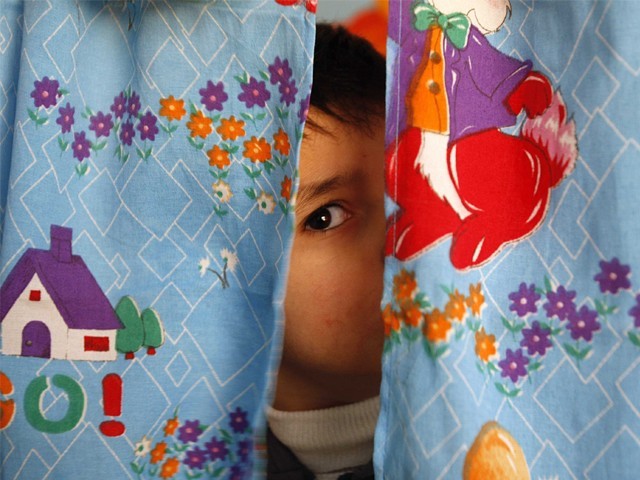 ---
The Centre of Autism and Rehabilitation Training (C-ART) - the first facility of its kind here - is a glimmer in the darkness for autistic children in Karachi, who often have few avenues to which they can turn and subsequently get lost in the shuffle.
The need for such a facility is demonstrated by the simple fact that over 120 children are in line to obtain admission at C-ART.
The rehabilitation facility provides free services to differently-abled children. The centre also offers transport services for some areas in the city.
It further plans to help parents financially from next month onwards, having decided to provide Rs2,000 monthly to the parents of every child enrolled in the institute.
Speaking to The Express Tribune, CEO Dr Syed Muhammad Idrees said that 160 autistic children have enrolled at the centre since September 2018. "We will provide Rs2,000 to the mother of each child from next month," he said, explaining that the amount is aimed to assist the families financially.
The records of the centre, located in Gulistan-e-Johar, indicate that parents from different areas wish to enrol their children at the state-of-art facility. It has a technical staff of around 50 people, with 41 of them women. Nearly 99 per cent of the children, however, are boys.
Free transport facilities are provided to children coming from Old Sabzi Mandi and areas near Habib University. The child may be accompanied by a guardian.
Around 120 children diagnosed with autism are in line to enrol at the centre, and they will be admitted gradually, according to Dr Idrees. Parents submit their children's reports, including a psychological assessment report, which the centre then assesses. "Our experts have to go through the reports and approve admission according to the set criterion."
C-ART officials said that at times parents visited the facility, demanding their child be admitted without authentic reports. "[However] every child with such symptoms is not autistic," said a senior staffer.
The C-ART is a facility completely dedicated for autistic kids, he said, adding that not every parent can be accommodated by the centre.
Unfortunately, the government does not have any credible data or statistics on the number of autistic children in the province.
"There is no research. There is no exact data available with the government," said special assistant to Sindh Chief Minister on the Department of Empowered of Persons with Disabilities (DEPD) Syed Qasim Naveed Qamar.
By some estimates, there may be 350,000 children with autism in Pakistan, though numbers may be higher as many children remain undiagnosed due to lack of education and awareness or simply the stigma attached to the disorder.
Speaking to The Express Tribune, Qamar said that DEPD planned to set up one more such facility in Korangi. "It will soon be functional," he assured.
According to him, two locations in Sukkur have also been identified for this purpose. "One more centre will be established in Hyderabad," he said, adding that he wants to set up at least one such centre in each division of Sindh.
In response to a question, Qamar said that parents of autistic children prefer the C-ART, where there is one teacher for every three students.
Both Qamar and Dr Idrees lamented that parents did not typically consult psychologists to assess their children. They urged parents to consult doctors for the better health of their children.
The C-ART administration has also recently signed a memorandum of understanding with Dreamworld Resort, to facilitate free access for recreational sports for differently-abled children.
Published in The Express Tribune, October 18th, 2020.
COMMENTS
Comments are moderated and generally will be posted if they are on-topic and not abusive.
For more information, please see our Comments FAQ