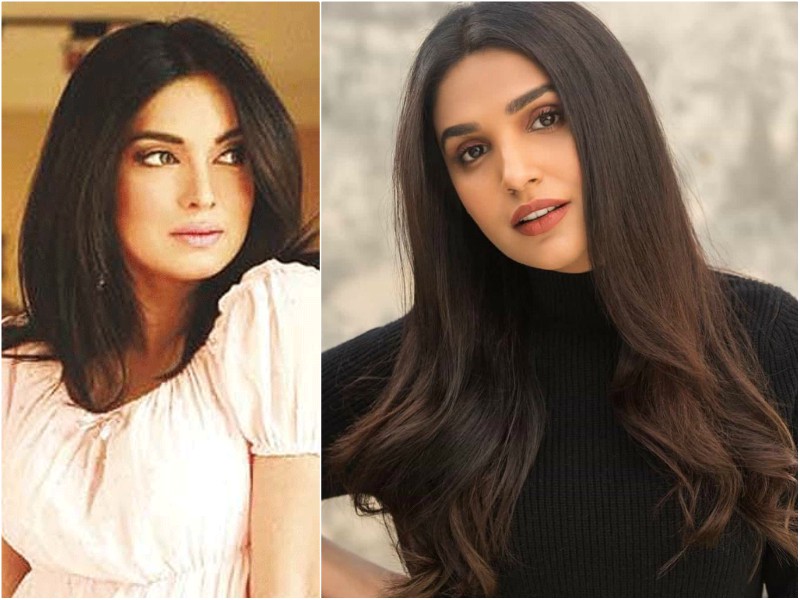 ---
A clip of model-cum-actors Amna Ilyas and Sadaf Kanwal from a two-year-old episode of Hassan Sheheryar Yasin's (HSY's) talk show started circulating on Instagram recently.
The same episode had previously made headlines for Kanwal's problematic stance on the #MeToo movement and her comments on Mahira Khan.
This time, however, the viral snippet from the episode shows Kanwal and Ilyas engaged in a harmless game of guessing celebrities. But when asked about former Pakistani supermodel, Aaminah Haq, Ilyas says that she had gained weight in a rather appalling manner, leaving HSY shook. To top it off, the models then high-five over the supposed jibe.
After the clip evoked a conversation on social media, the Mehendi star took to Instagram and addressed the matter. "A few of you have tagged me in something a certain model/actor said about me. Truth be told, if body shaming me brought a small shred of joy in her life, then she's welcome. Unhappy people tend to gravitate towards hate, instead of kindness and compassion," she wrote.
Now, Ilyas has also given a rather sardonic response to all the hate she's been getting due to her earlier remarks. The Baaji star took to Instagram and shared a video whereby she starts off by yelling for a paratha in her PJs. The actor then goes on to say, "The claim that I called someone fat two years ago is not true. TV, media, bloggers – kindly ignore them all. I will tell you the truth."
Contrary to what you'd think she'd say next, Ilyas started narrating all the instances from her childhood to reveal that body-shaming wasn't the only thing she was guilty of – since she was going to be judged for her past anyway.
"We had a cook Noman who couldn't walk properly because he was differently-abled, and I called him 'Loora Nomi' I was six. My cousin had a daughter and for two years I didn't pick her up because I'd say, 'Haey, kitni pheeni hai ye,' I was 12. My school teacher had a speech impairment, so I'd imitate him and at that time I was 15."
Continuing with anecdotes from her past, Ilyas reinstated how she had mocked people ranging from her friends, family friends to her neighbours. "My bestfriend would ask me why I ignore him so much; I'd say 'you're so tiny, I forget you're there.' I told my neighbour they should get a hair transplant, told my househelp she should get dentures, and then one day my sister's friend came over to see her in the evening and I said, 'look, the night has arrived in the evening,' imagine – I shamed someone for being dark complexioned."
"But I've never called anyone fat," she went on to reassure, adding that instead she'd use words like haathi, gainda and saand.
Ilyas then addressed a recent video of hers which she uploaded right after the controversial clip went viral. The video saw her sitting in her car all dressed up, taking off her shades like a scene from an ad and saying "Why is everyone saying I called her fat? That's not me."
She referred to the video to reiterate that the person who said those things about Haq, was not who she is now. "I said I am not that, and it's true, because I am not who I used to be."
"No one enters this world knowing all the ethics, so please don't tell me you all never said these things. But you still wouldn't give another person a second chance," she continued angrily. Mimicking some of the criticism she received in the past couple of days, Ilyas went on to say "She said something wrong in the 90s so how can she preach something right today? How dare her!"
"Aaminah Haq, I cannot change what I did," the Zinda Bhaag actor went on, "I cannot undo the pain I might have caused you – but I try to be a better me every day. And for all you guys, for the last time, I am not her."
Ending off her video on a sarcastic note, Ilyas picked up the paratha she had asked for and said, "Such a fat paratha, it's also turned black!"
Although the video may have been an out of the box attempt at schooling people over judging someone for their past, hate clearly doubled down. Several commented on the clip demanding an apology, with many calling her 'arrogant' for not owning up to her mistakes by saying 'I'm not her'.
"So then a rapist can rape and after two years say 'I am not him, I was him!' because no one learns ethics from their mother's womb?! And secondly you could have said 'sorry' at the end of every shaming story of your childhood, including this one. That would have made you a better person instead of not accepting them and being proud," a user wrote.
"This is called gas-lighting," another remarked. "At least now humbly say sorry instead of making more sarcastic videos," demanded another. "All she had to say was, 'I have changed and I am sorry for the pain I caused you,'" relayed one more with face palm emoticon.
It seems the verbal-war hasn't ended yet.
Have something to add to the story? Share it in the comments below.