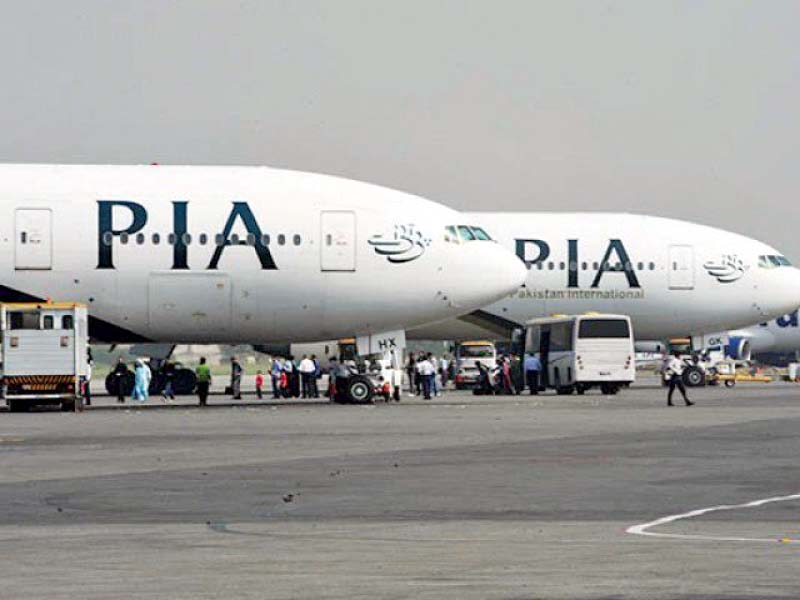 ---
Covid-19 causes Rs31.9b loss to PIA
CEO gives presentation to cabinet on revival strategy for the airline
---
ISLAMABAD:
Pakistan International Airlines (PIA) has suffered a loss of Rs31.9 billion in the current year because of Covid-19 pandemic, said Chief Executive Officer Arshad Malik while giving a presentation to the cabinet on the progress and strategy to revive the airline.
During the meeting, the cabinet was told that PIA's revenue had increased 42.5% in 2019. When Prime Minister Imran Khan asked about total debt of PIA, he was told that the debt stood at Rs400 billion with annual interest payments of Rs24 billion.
Adviser to Prime Minister on Institutional Reforms and Austerity Ishrat Husain emphasised that the only viable option for reviving the national carrier was to split it into two companies.
It would lead to the creation of a new core business operating company without any debt and liabilities, which would be able to acquire loans without any sovereign guarantees, and the setting up of a non-core business where all debt and liabilities would be parked, he said.
It was argued that PIA had its strengths as well such as rights over lucrative routes, secured during its golden years, and splitting the airline into two would provide it a fair chance of revival.
It was suggested that PIA should target nine million Pakistani expatriates with a view to encouraging them to travel through the national airline.
Several factors were highlighted that had caused losses to PIA for years. These included old aircraft with poor seating arrangement, no entertainment system, flying to unprofitable destinations, overstaffing, union activity and corruption.
Legacy loans and liabilities as well as political intervention were the other reasons that contributed to the loss. The current government has picked a new management for reviving the airline.
In the presentation, it was pointed out that 2019 was the year of achievements as PIA's revenue surged 42.5%. After eight years, PIA achieved a gross profit of Rs7.8 billion in 2019 compared to gross loss of Rs19.7 billion in 2018.
Its operating loss went down to Rs7.7 billion in 2019 against Rs32.1 billion in the previous year, showing a 75.9% improvement.
Reasons for improvement included 82.5% improvement in seat factor, increase in passengers, cargo, charter services, excess baggage and others, which resulted in a revenue of Rs44 billion. Three grounded aircraft were made operational with the help of PIA's own resources.
Other factors were closure of loss-making routes and addition of profitable routes. PIA management implemented the HITIT system, resulting in savings of $10 million per year, operational loss was reduced by 76% through cost-cutting measures, corporate discipline got better and merit policies were introduced.
However, due to Covid-19, PIA could not sustain its earnings. Normal operations were suspended in the first week of March and from last week of the month there was complete suspension.
Earlier, the management set the revenue target at Rs194.5 billion and operating profit target at Rs0.3 billion. However, later, it revised downward the revenue target to Rs94.5 billion and projected operating loss of Rs31.9 billion following the Covid-19 outbreak.
During the pandemic, PIA lost the key Umrah season and Hajj operation. There was also fall in travel for leisure, employment and other purposes.
Flights to Europe were also suspended in the wake of a probe into licences of PIA pilots. PIA has hired a consultant and an interim response has been given to the European Union Air Safety Agency (EASA). Final response will be given on October 15.
PIA management has targeted December 2020 for the restructuring of human resources. The number of employees in the airline currently stands at 14,500.
It has planned rightsizing through the segregation of 4,000 non-core employees and a voluntary separation scheme (VSS) for 3,000 employees. VSS will cost around Rs12.87 billion with payback in two and a half or three years.
PIA has sought the lease of 10 aircraft which is expiring in 2021. However, it said aircraft lease at this time would put financial burden on the airline due to Covid-19.
Following the presentation, the cabinet directed the Aviation Division to prepare a comprehensive revival plan for PIA and present it to the Economic Coordination Committee (ECC) for discussion.
Published in The Express Tribune, October 15th, 2020.
Like Business on Facebook, follow @TribuneBiz on Twitter to stay informed and join in the conversation.