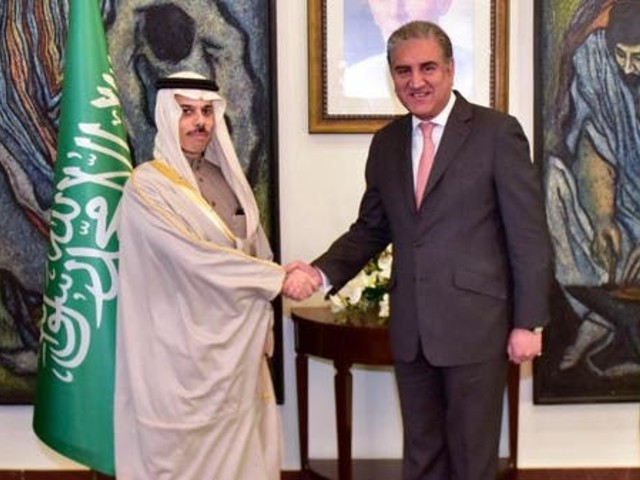 ---
ISLAMABAD:
Foreign Minister Shah Mahmood Qureshi on Wednesday said that the bilateral relations between Pakistan and Saudi Arabia were deep and historic in nature and the similarities between the two countries on important regional and global issues were very pleasing.
He expressed these views while having a telephonic conversation with his Saudi counterpart Prince Faisal bin Farhan Al Saud, according to the Foreign Office.
During the conversation, bilateral relations, situation in the region and issues of mutual interest were discussed.
Shah Mehmood Qureshi said that the two countries always openly supported each other during adverse circumstances.
The foreign minister reiterated Pakistan's support to Saudi Arabia against any threat to its security and territorial integrity. He also condemned attacks by the Houthi militia on the kingdom.
"We stand shoulder-to-shoulder with Saudi Arabia to safeguard its integrity," he said and added that the protection of the holy sites was integral part of our faith.
Both leaders agreed to continue the discussion on important regional and global issues.
Wonderful speaking to friend and FM @FaisalBinFarhan today on 🇵🇰 🇸🇦 historic bilateral relations and our continued close cooperation on matters of regional and international resonance.

— Shah Mahmood Qureshi (@SMQureshiPTI) October 7, 2020
Saudi Arabia and Pakistan typically share strong ties, and in 2018 Saudi Arabia loaned $3 billion to Pakistan as well as oil credit worth $3.2 billion to assist with the balance of payments crisis.
However, Riyadh was irked by criticism from Pakistan that Saudi Arabia has been lukewarm on the Kashmir's territorial dispute, prompting Chief of Army Staff General Qamar Javed Bajwa's fence-building visit.
In August, Pakistan returned $1 billion of the $3 billion debt owed to Saudia Arabia to avoid default on international debt obligations after the kingdom decided to reduce its financial support, according to highly placed sources.
COMMENTS
Comments are moderated and generally will be posted if they are on-topic and not abusive.
For more information, please see our Comments FAQ