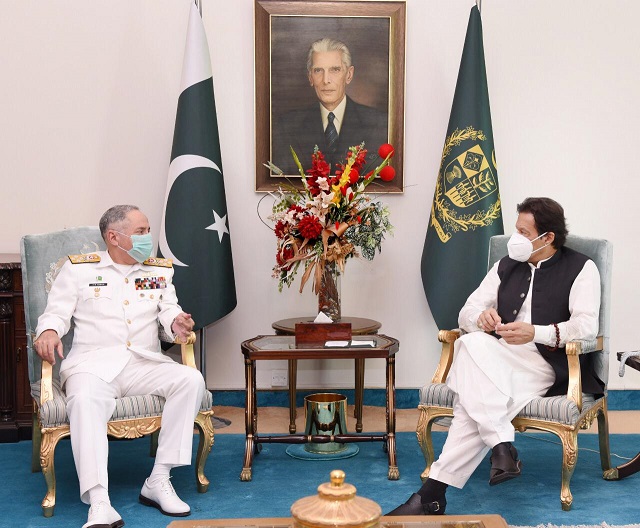 ---
ISLAMABAD:
Chief of the Naval Staff Admiral Zafar Mahmood Abbasi paid his farewell call to Prime Minister Imran Khan in Islamabad on Monday.
In the meeting, the premier thanked the outgoing naval chief for his services to the nation during a long and brilliant career.
Earlier this month, President Arif Alvi approved the appointment of Vice Admiral Muhammad Amjad Khan Niazi as the new chief of naval staff.
The change of command ceremony would be held at PNS ZAFAR in Islamabad.
According to the press release, Vice Admiral Muhammad Amjad Khan Niazi was commissioned in Operations Branch of the Pakistan Navy in 1985 and won the coveted Sword of Honour upon completion of initial training at Pakistan Naval Academy.
The CONS-designate has served on various command and staff appointments during his service.
The admiral is also a graduate of Army Command & Staff College Quetta and National Defence University Islamabad. He holds Masters Degree in Underwater Acoustics from Beijing University of Aeronautics and Astronautics, China, the press release stated.
In recognition of his meritorious services, the admiral had been awarded Hilal-e-Imtiaz (Military) and Sitara-e- Basalat. He was also conferred with the French Medal Chevalier (Knight) by the Government of France.
COMMENTS
Comments are moderated and generally will be posted if they are on-topic and not abusive.
For more information, please see our Comments FAQ