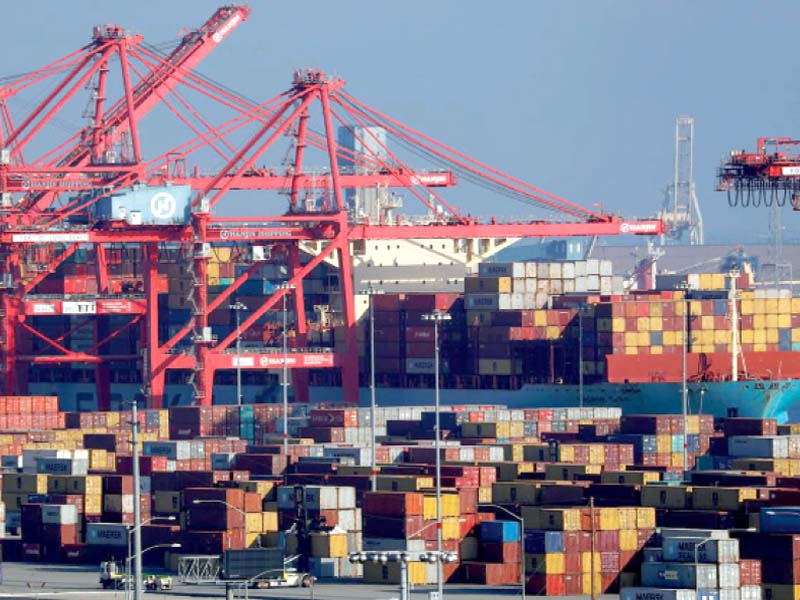 ---
KARACHI:
Esar Ali, owner of a garment badges factory in Federal B Industrial Area, shifted his business to a cattle farm when imports became tougher due to strict government policies to push down imports and step up exports.
Though the government policies helped to curb imports and increase exports, the trade deficit of Pakistan is still large.
The China-Pakistan Free Trade Agreement (CPFTA) came into effect in 2007 but it was criticised for failing to provide preferential access for Pakistani goods to the large Chinese market. CPFTA phase-II had been under negotiation since 2012 and it was finally signed in early 2019 and took effect in January 2020.
The purpose of FTA was to enhance bilateral trade between the two countries. CPFTA-I served the purpose of promoting bilateral ties but Pakistan's exports could not be enhanced much.
With a reduction in tariffs, bilateral trade grew 184% between 2007 and 2019, nearly six times faster than the growth in Pakistan's trade with the rest of the world in the same period. In that sense, the FTA achieved the objective of promoting bilateral trade ties.
According to trade figures for the past seven years (2013 to 2019), exports to China declined 26% by 2019 compared to 2013 while imports rose 47% in the same period.
"Pakistan's imports from China grew more than its exports," remarked Karachi Chamber of Commerce and Industry (KCCI) former president Agha Shahab Ahmed Khan. "Consequently, Pakistan's trade deficit with China rose."
Business groups, who believed that Pakistan negotiated the CPFTA-I poorly, both in terms of getting access for its products and granting access to Chinese goods, blamed it for contributing to premature deindustrialisation, he said.
In CPFTA-I, there were no safeguard measures for industries, no synergy between relevant institutions, impact on balance of payments was not incorporated and no data exchange policy was agreed to counter under-invoicing issues, said the KCCI former president.
However, the signing of CPFTA-II is a significant milestone in the economic and trade relations between the two countries, which is an attempt to improve the agreement in a bid to ease the negative impact on Pakistan.
The impact of changes would not be limited to the industry but it would also help shape government policies that were currently being framed, which included industrial, small and medium enterprises (SMEs) and textile policies, for the next five years, he said.
Given the balance of payments challenge, limiting the trade deficit with China and boosting export earnings could provide much-needed relief to the economy.
"CPFTA-II provides details of tariffs levied by China on 8,238 product lines. The most basic yardstick of the concessions offered by China is how many of these tariff lines it actually imports from the world," said Businessmen Group General Secretary AQ Khalil.
China has given immediate duty-free access for 3,707 (45%) tariff lines. A further 30% of tariff lines will have duty-free access by 2030. Tariffs on 412 tariff lines will be reduced by 20% in five years while tariffs will remain at base year (2013) levels for 1,867 (20%) tariff lines.
CPFTA-II will significantly improve Pakistani exporters' access to the $2 trillion Chinese import market and thus help address the country's trade deficit.
The tariff structure applicable to Pakistan under CPFTA-II shows a marked improvement over CPFTA-I. On over 80% of CPFTA-II product lines that China imports, Pakistan is now offered tariffs that are lower than or equivalent to those applied to China's main trade partners.
Tariffs on nearly 40% of CPFTA-II products that China imports have been reduced compared to CPFTA-I and 45% of the tariff lines are now being offered duty-free access to China. Potential items that Pakistan could export to China include seafood, garments, synthetic blankets and knitwear shirts.
"Focus on these items in exports to China can provide Pakistan with easy gains in the short to medium term," said Khalil. In the long term, "Pakistan needs to export those items which China imports but Pakistan does not export at present," he said.
As a starting point, Pakistan can gain market access for export of machinery, mechanical appliances, electrical equipment and parts, mineral fuels, optical, photographic and surgical equipment, plastics, vehicles and essentials.
Industrialisation in the country and production of these goods must be the top priority of the government in a bid to ease the burden of imports and gain access to the Chinese and other global markets.
Market demand
With this opportunity, a question arises whether Pakistan can produce goods according to demand in the Chinese market?
"In order to evaluate Pakistan's ability to produce good-quality goods as per Chinese market demand, it is important to see it in the context of Pakistan's trade performance in general," suggested Khalil.
Pakistan's global export performance has declined over the past two decades – reasons for this include low competitiveness and exports of low value-added and non-unique products.
Apart from the textile sector, Pakistan has largely lost the world market over the past five years. Low value-added products are the main hindrance in the way of meeting Chinese market demand.
"Industrialisation is the need of the hour for building capacity to produce sufficient goods, which can satisfy domestic and international demand," said Khalil.
"There is also a substantial information deficit facing Pakistani businesses. Factors behind this include a lack of research on China, identifying Chinese partners and meeting regulatory requirements," he said.
"In order to translate the improved tariff concessions into sustained exports, the government must address the issues related to capacity building amongst Pakistani businesses and issues pertaining to ease of doing business – both of which affect the ability to deliver orders of the scale required in China within the specified time," said the former KCCI official
Pakistan should learn from its mistakes, which worsened the trade deficit and created hurdles in the way of domestic manufacturing. FTA phase-II could turn out to be a failure for Pakistan if the trade deficit did not improve, he added.
"As the FTA has already been signed, we can now hope that the Ministry of Commerce has done its homework and the deal will bring positive results. Trade must never come at the cost of domestic cottage industry, which provides massive employment opportunities."
Pakistani businessmen have often complained about under-invoicing of goods imported from China.
"Under-invoicing is unfortunately very rife in Pakistan," remarked Khalil. "There is discrepancy between the trade data reported by Pakistan and China, particularly Pakistan's imports from China, due to possible under-invoicing."
Esar Ali, while recalling the import process, said he used to enter into contracts with an export-import agency that took care of everything from logistics to paperwork with the Customs.
"This is the standard practice and I never knew what the company showed to the Customs," he said. "They can play with the government system through goods misdeclaration."
The KCCI former president said Pakistan lacked trained personnel and financial resources to counter the problem of under-invoicing. "It is high time for the government and Federal Board of Revenue to look into this manipulation for the sake of industry," he said.
Earlier, goods were being smuggled from China via Afghanistan but after the signing of CPFTA-I in 2007, it became cheaper to import goods legally.
Under-invoicing and goods smuggling posed a number of challenges to Pakistan's economy as well as business and industrial community, Khalil said.
The main issue is that Pakistan's tax and customs duty rates as well as regulations make the country uncompetitive in the region. High rates force some businesses to indulge in illegal practices such as under-invoicing and smuggling.
"Businesses that do not indulge in such practices are then unable to compete, which jeopardises their growth prospects," he said.
Naturally, consumers prefer the goods priced lower rather than paying higher prices for the same products. This, at times, forces other businesses to resort to things like smuggling and under-invoicing to survive in the market.
Such practices bring down government's tax receipts, which trigger a response in the form of even higher taxes and duties as well as stricter trade regulations.
Communication links
Exporters can establish good relations with Chinese companies by forging proper communication links with a large proportion of businesses. The exporters must also have knowledge of foreign trade regulations in China as a lack of knowledge becomes a barrier to trade.
"One of the most serious issues facing Pakistan's exports to different countries including China is the unsatisfactory foreign marketing," said the KCCI former president.
Pakistani companies generally focus on the domestic market. A large proportion of the companies sell locally produced as well as imported goods in the domestic market.
"As a result, exports are limited to certain sectors of the economy," he said. "The lack of interest in exports deters foreign interest in Pakistan as an import source."
He said, "Pakistan should invest in marketing in a diverse range of sectors. If domestic manufacturers and exporters see that foreign companies are taking interest in various sectors, they will certainly try to capitalise on the opportunity."
The country should also invest in gaining sound manufacturing capabilities in sectors other than textile. This way, Pakistan can rely less on imports and focus on production to meet demand of domestic industry and then create exportable surplus for the global market.
the writer is a staff correspondent
Published in The Express Tribune, October 5th, 2020.
Like Business on Facebook, follow @TribuneBiz on Twitter to stay informed and join in the conversation.
COMMENTS
Comments are moderated and generally will be posted if they are on-topic and not abusive.
For more information, please see our Comments FAQ