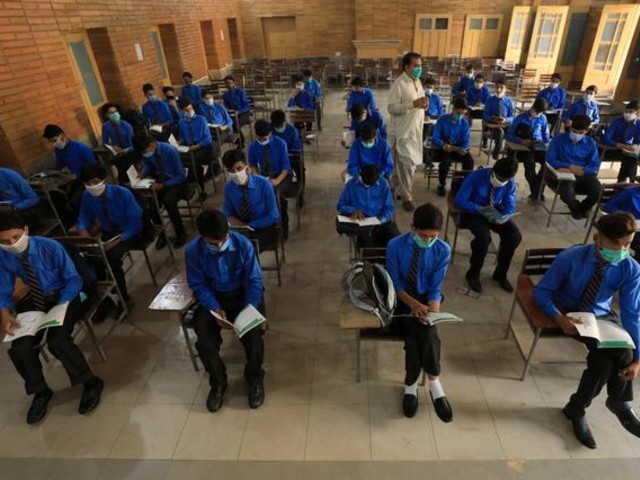 ---
Schools barred from demanding virus certificates
Govt takes notice of complaints of students, employees
---
LAHORE:
Punjab government bared all privet and public sector education institutions to demand coronavirus test certificates from the students.
Punjab government also directed the education institutes to implement standard operating procedures (SOPs) instead of demanding coronavirus tests. The Punjab government would conduct random tests of students and employees but no school administration would be allowed to increase the financial burden on students and employees by demanding coronavirus tests.
The Punjab government took notice of complaints of students and employees who were facing the demand of school administrations to submit coronavirus test certificate. Sources in the Punjab School Education Department revealed that some private schools groups and also some public schools were forcing their students and employees for the coronavirus test certificate.
School administrations are also suggesting specific labs for coronavirus tests and some high ups in which Punjab School Education Department was also on the back of such school groups.
The teachers' unions were opposed this demand from school administrations and issue brought the issue into the knowledge of Punjab government so that authorities could stop the unfair practice, said an official of the Punjab School Education Department".
Primary and Secondary Healthcare Department Secretary Captain (retd) Muhammad Usman took notice of the situation and also issued a notification in this connection.
"There is no need for coronavirus test as the Punjab government has already issued SOP's required to check the spread of the virus. The test is not a guarantee that in future this student will not suffer from coronavirus. The government already conducting random tests at schools and in future, it will the government that will conduct tests, not school owners," said the spokesman.
"Teachers community has already opposed this demand of tests and it is also not affordable for the students. It is appreciable that the government stopped schools administrations from demanding coronavirus test certificates, Senior Representative of Punjab Teachers Unions Kashif Shahzad said.
In the first week of September, the Punjab government had decided to conduct random coronavirus tests of students and teachers across the province as educational institutions are set to reopen in phases from September 15.
In a bid to contain the spread of Covid-19, the authorities concerned will carry out 5,000 coronavirus tests daily in hundreds of schools and colleges across the province.
The Primary and Secondary Healthcare Department Secretary Captain (retd) Muhammad Usman had said more samples for coronavirus will be taken from those institutions that are situated in the areas most affected by the pandemic.
Published in The Express Tribune, October 3rd, 2020.