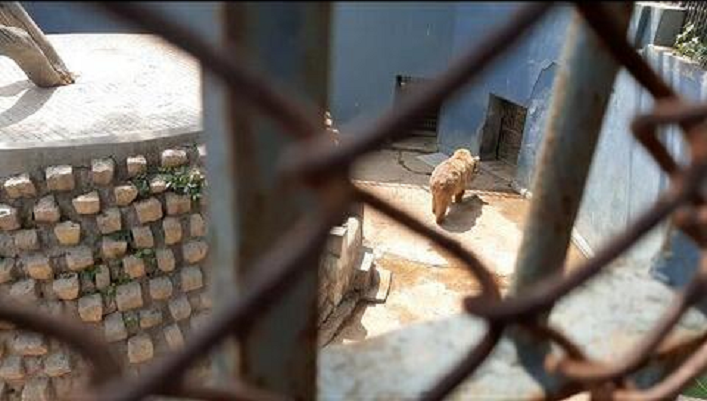 ---
KARACHI:
A brown bear, habitual of cold climate, has been languishing in hot weather in the Karachi Zoo, it emerged after a video of the bear went viral on social media.
The bear, not native to Karachi, has been confined in cage no 77, where, facing unfavourable conditions, it roams around a structure in the middle of the enclosure all day, looking outside a window with longing in its eyes.
"It looks like he wants to go outside the cage and also that it has been injured," said a visitor, Ahsan Brohi, pointing to the animal's back.
Muhammad Khizar, another visitor from a remote area of Multan, was shocked to see the bear's condition.
"We have very healthy bears in our village," he related. "Our bears are not kept in cages. Though this one is not the same colour as them, it is really cute." Then, after a pause, he added, "But I feel it is not comfortable [here]."
The Karachi Zoo's management came under fire from different quarters after the bear's video circulated on social media, with wildlife and other experts visiting the zoo to assess the situation. Wildlife conservators and experts have criticised the zoo authorities for keeping the animal in unfavourable conditions and have demanded of the authorities to immediately shift the brown bear to a more favourable environment.
According to a senior Sindh Wildlife Department (SWD) official, the bear is not habitual of living in Karachi's hot weather conditions, especially during this time of the year when it needs to hibernate in freezing temperature.
"It needs [to be moved to] a freezing cold environment immediately," he stressed.
Another SWD official, who requested anonymity, held the Karachi Zoo's management responsible for the bear's condition.
They shouldn't have brought it to the zoo in the first place, he said, adding that now that it was here, the bear needed to be kept in an air-conditioned room, in darkness.
"These animals spend around five months in hibernation, but unfortunately this one is in a very poor state," the official remarked.
Other experts also emphasised ensuring that the bear be provided ample food when moved to a better place.
"[But] nothing has been done so far," a zoo employee, who asked not to be named, disclosed to The Express Tribune.
When inquired about the employee's claim, Karachi administrator Iftikhar Shallwani, who was also the former city commissioner, said, "It [the bear] is safe and sound environment." Talking to The Express Tribune, he, however, added that his team would soon visit the zoo.
Earlier, after a video of the bear went viral on social media, Shallwani, maintaining the same stance, had tweeted: "The Bear at Karachi Zoo is hale and hearty."
When The Express Tribune approached Karachi Zoo director Khalid Hashmi on the matter, he said, "I am new [here]. I don't know anything." He then excused himself, saying that he needed to attend some meetings that were more important than speaking about the bear.
Last month, the SWD had rescued a bear from Tando Adam city after its video went viral on social media. The bear was in the possession of a gypsy family. Named Sobharo, and later popularly called the Tik Tok Bear, it was sent to a rehabilitation centre located near Islamabad.
COMMENTS
Comments are moderated and generally will be posted if they are on-topic and not abusive.
For more information, please see our Comments FAQ