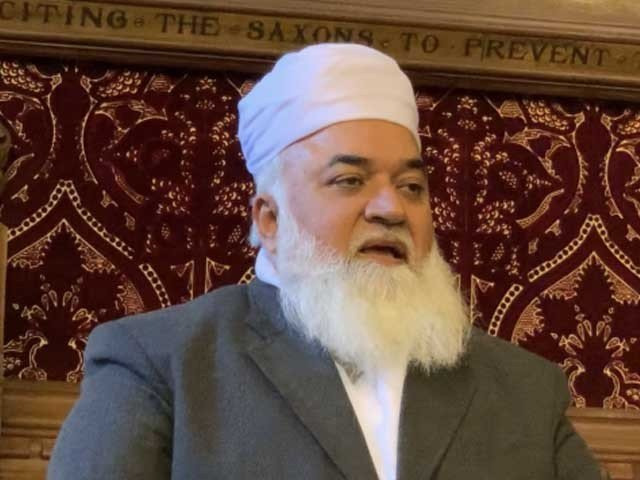 ---
KARACHI:
Exposing cracks within the PML-N in the wake of former premier Nawaz Sharif's fiery speech at the opposition's recent all parties conference (APC), an MPA of the party has distanced himself from its supreme leader's stance.
Addressing a press conference on Sunday, PML-N MPA Jaleel Ahmed Sharaqpuri said he would not support Sharif's stand against state institutions.
He added that the former prime minister should not have indulged in such talk and it had hurt him deeply.
The provincial lawmaker from PP-139 in Sheikhupura noted that Sharif's younger brother, PML-N President Shehbaz Sharif, was not inclined towards speaking against any state institution. "Sharif's anti-military speech in the APC was against national interest," the MPA said, advising the ousted premier to avoid becoming emotional and targeting state institutions.
"All political parties in Pakistan have elements of dictatorship within them."
Sharaqpuri also denied "rumours" that he had been suspended from the party. "Nobody can remove me from the party," he added.
There were earlier reports that the PML-N had suspended Sharaqpuri's party membership for criticising Sharif's speech and had sought a reply from him within a week.
Continuing his tirade against state institutions that he started at the APC last week, former premier Nawaz Sharif said on Saturday that those responsible for sending him to jail had "sunk the country" and these "antics" would not be allowed to carry on.
Taking to Twitter, the supreme leader of the PML-N questioned the credibility of the accountability process through which he was convicted and jailed.
Along with his tweet, he shared a video of former Islamabad High Court (IHC) judge Shaukat Aziz Siddiqui, who was removed from his post following a controversial speech against state institutions. The video also showed former accountability judge Arshad Malik confessing to convicting Sharif under duress.
The judge was later sacked by an administrative committee of the Lahore High Court.
"This is the reality of the accountability through which a three-time elected prime minister was victimised, sentenced and declared an absconder," wrote the ousted premier, who is currently in London since last year undergoing treatment for an undiagnosed illness.
Sharif, in his speech at the APC, declared that the opposition was up not against Prime Minister Imran Khan but against those who had brought him into power in the 2018 elections.
The Sharif family patriarch, who has recently been declared a proclaimed offender by a court, reiterated his claim that the mandate of the people was stolen in the last general elections.
In 2018, an accountability court had sentenced the three-time premier to seven-year rigorous imprisonment after it found him guilty in the Al-Azizia reference, one of the three graft cases filed by NAB in line with the apex court order.
Prior to his sentence, the Supreme Court had disqualified him in Panama Papers case and ordered NAB to file corruption references against him.