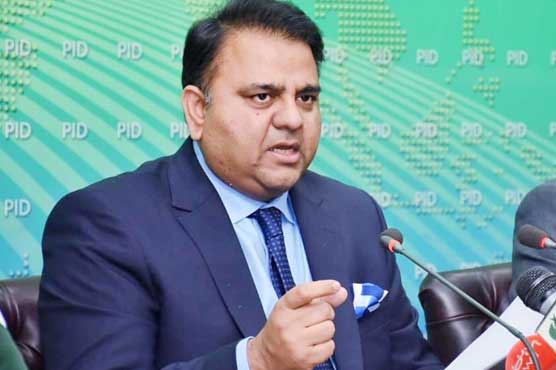 ---
ISLAMABAD:
Minister for Science and Technology Fawad Chaudhry has said the Pakistan Army does what it is asked to do by the federal cabinet, implying that all institutions in Pakistan operate within their constitutional limits.
"They [the military] have their own duties and Pakistan's PM [prime minister] and cabinet decides which institution has to go what way and the Pakistan Army does exactly what the government wants it to do and that is it," Fawad said in an interview with Qatari news channel Al Jazeera.
Defending the prime minister, the PTI leader said unlike all other parties of the country including the PML-N and the PPP, Imran Khan has never been part of any dictatorial government.
Prime Minister Imran Khan participated in a number of elections and faced defeat many times. He achieved success after a long struggle of 22 years, he said, claiming that no other political leader could claim to be as popular now as the prime minister.
Fawad said Imran Khan has come into power through people's mandate and no institution or power has any role in his success in July 2018 general election.
The minister also defended the appointment of Lt Gen (retd) Asim Saleem Bajwa – a former serviceman – as head of the CPEC Authority, the organisation responsible to implement multi-billion dollar China-Pakistan Economic Corridor (CPEC) projects.
"When the Chinese authorities initiated talks on CPEC, the first thing was that the army must be involved. Now, look at the role India is playing in Pakistan.
"They attack CPEC project every day; they attacked the Chinese consulate in Karachi; they do abductions of Chinese every year. The BLA [Balochistan Liberation Army] is a proxy of India. So in Pakistan, our economy has a security angle and we have to cater to that angle."
He also rejected the notion that the country's foreign policy is determined by the military and said many generals in the US also have served as foreign ministers. "Does that mean that the US foreign policy is also run by the military?"
The minister contended that once a general has retired, he is very much a civilian and eligible to hold a civilian post. "The military is a very organised body and we 'get very well trained human resources."
He said if his ministry gets a retired military officer as its head, it would be far more convenient as their training standards are better. "Yes we would like to take help from the army in many aspects of administration and there is no harm in it," Chaudhry said.
COMMENTS
Comments are moderated and generally will be posted if they are on-topic and not abusive.
For more information, please see our Comments FAQ