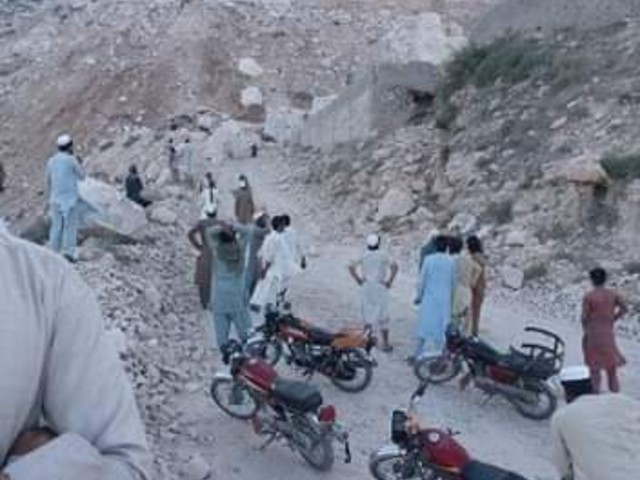 ---
MIRANSHAH:
In the wake of a landslide and mine collapse in the Safi Tehsil of Mohmand tribal district earlier in the month which killed at least 23 miners and injured another 20, a survey has shown that around a third of mines in the district are at 'high risk'.
However, the provincial mines and minerals department has drafted guidelines to allow the safe reopening of mines.
This was disclosed on Wednesday by the Special Assistant to the Khyber-Pakhtunkhwa (K-P) Chief Minister on Mines and Minerals Arif Ahmedzai in separate meetings with the chief inspector of mines, monitoring officers and other officials from the provincial mines and minerals department.
In the wake of the Ziarat incident, he said that the provincial government had imposed a ban on mining in the district and ordered an inspection of all registered mines to check how many mines were following prescribed safety rules.
In this regard, a committee comprising the district administration, the mines and minerals monitoring director and other relevant officials from the mines and minerals department had been constituted which inspected the mines. They found that on 45 leased sites, at least 75 mines were operating.
Of these, the committee inspected around 63 mines and found that 26 were at 'high risk' while another 28 were declared as 'partially safe'. Another nine were termed as 'out of danger'.
Ahmedzai said that they have drafted a set of safety standard operating procedures (SOPs) for reopening mines in the tribal district, adding that their implementation to provide a secure working environment to miners will be ensured through regular monitoring of sites.
He further said that the report has recommended allowing mining to resume in the mines declared as safe but with the recommendation of strictly implementing safety measures and SOPs.
Earlier, while addressing a conference of monitoring officers from the department, Ahmedzai had urged them to work honestly and with dedication without fear or favour. He added that a process of reforms is also set to commence in the department.
COMMENTS
Comments are moderated and generally will be posted if they are on-topic and not abusive.
For more information, please see our Comments FAQ