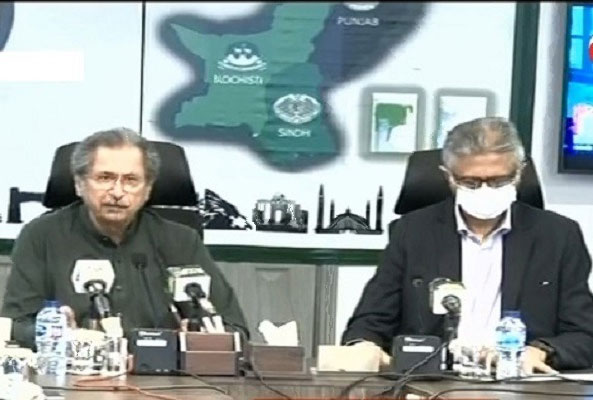 ---
Middle schools will reopen from tomorrow, announces federal education minister
Shafqat says Sindh has decided to delay reopening for a week
---
The federal government has reiterated that middle schools across the country, barring Sindh, would reopen as per schedule from tomorrow (Wednesday) – following a fall in new coronavirus case numbers, ending a long closure that led to exam cancellations and introduction of online classes by a number of institutions.
"Although the Covid-19 infection rate is the same, the Sindh government said they needed another week to take a final decision," Shafqat Mehmood, the federal minister for education, told a news conference in Islamabad on Tuesday where he was joined by Dr Faisal Sultan, the PM's top aide on health services.
"Grade 6, 7 and 8 students will return to schools in Punjab, Khyber-Pakhtunkhwa, Balochistan, Gilgit-Baltistan and Azad Jammu and Kashmir from tomorrow (Wednesday)," Mehmood announced. "AJK's district Rawalakot is an exception because it has some issue."
The minister regretted that Sindh has delayed the reopening of middle school classes by a week. "We wanted to have a unanimous decision on reopening middle classes," he added.
Dr Faisal Sultan said that the decision to go ahead with the phased reopening of educational institutions has been taken as Covid-19 infections have not spiked since the resumption of educational activity at the high school, college and university level.
Earlier, the education minister, in a press conference on September 7, had said that higher education institutions and senior school classes will reopen on September 15, class six till eight will open again on September 23, and on September 30 primary classes will resume.
The education minister warned punitive action against educational institutions not following precautionary measures. Early last month, Pakistan opened gyms, salons and restaurants dine-in for the first time in five months after being closed to stop the spread of coronavirus.
Expressing his gratitude to the parents of students for showing perseverance during the difficult times, he urged the teachers and school administration to fully cooperate with the government and ensure compliance of the anti-Covid SOPs at their institutions.