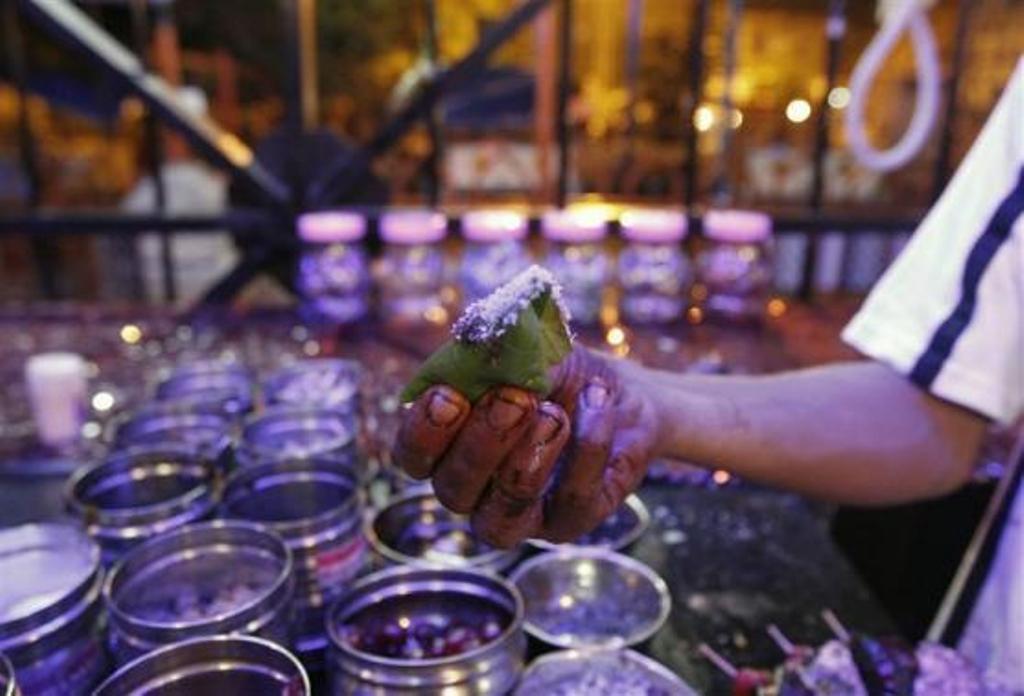 ---
Paan - a dying tradition
Vendors say the young generation prefers other products to the eastern staple
---
ISLAMABAD:
There used to be a time when the folded leaves of 'Paan' (betel leaf) used to be part of a greeting extend to guests in eastern households. What was once considered an elite gesture, the tradition, however, has been gradually replaced with tea, cold drinks or some other snacks.
The old tradition of presenting "paan" on different celebratory occasions such as Mehndi functions, at weddings or 'daawat' is also fading away from the local culture.
Once considered to be a source of generating social harmony in society, the tradition of chewing betel leaf has now been confined to old paan shops where often senior citizens come with their old buddies late at night for some chit chat.
The younger generation has drifted away from this unique eastern fun food.
Paan also used to represent a culture of feminine delicacy, a gentleman's supportive gesture, family bonding, hospitality, sharing, generosity and social cohesion.
This trend is still in practice in many areas, of the country, especially in Karachi where paan shops still represent a centre of meeting and greeting for those who consume it.
Many households had grandparents who used to maintain a proper container for making paan, called "paandaan ''. It used to consist of small pots for keeping the ingredients of a great paan including 'sarotha', a small gadget to crush the betel nut (chhalia) for paan along with 'katha' and 'choona' (limestone water).
Those who are not addicted to tobacco would consume meetha (sweet) paan. Meetha paan remains in demand, especially amongst children or when a group of friends visit old traditional markets.
One popular stop for paan is located in the heart of the federal capital where a very interesting combination of paan and royalty can be seen.
Keeping up with the old tradition of paan, 'Rana Bhai Shahi Paandaan Walay' at Daman-e-Koh has been the flag bearer for mixing royalty and culture.
He wears a costume representing a royal in a Mughal court and offers customers paan with royal decorum. Rana told APP that he has been operating his shop for over a decade now.
"I have had many famous personalities pass through my shop over the years, including the current Prime Minister Imran Khan, film actors Shaan, Javed Sheikh, squash legend Jahangir Khan, Javed Miandad, Aqib Javed and many others," he said.
"I love our culture and traditions. Unfortunately, the younger generation does not like paan as much and prefers western foods," he lamented, adding that the trend of paan is now fading away. "My shop is a symbolic gesture to preserve our culture, that is the reason that I wear this royal avatar as well," he added.
Javaid Ali, the owner of the oldest paan shop in Islamabad, called 'Sangam' in the Abpara market, said that paan consumption has decreased rapidly over the past two decades.
"Youngsters find paan an old fashioned trend hence they prefer other tobacco products such as cigarettes. I don't think paan is addictive unless used excessively. It is rather a traditional flavoured item that was famous for its taste and aroma," he added.
Published in The Express Tribune, Septe0mber 21st, 2020.