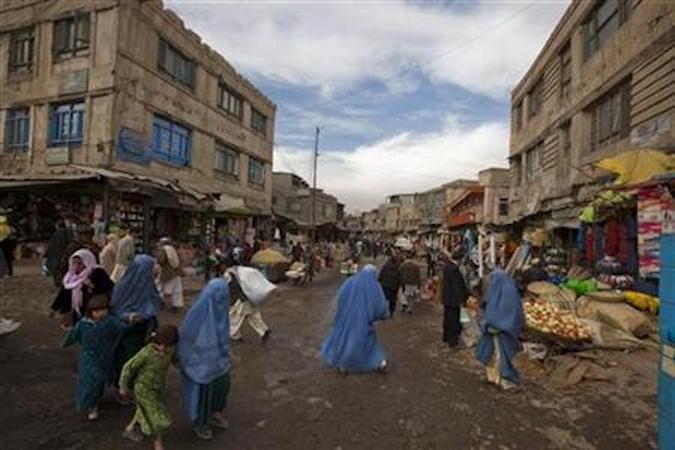 ---
A nation of tradesmen seeking peace
Though not key economic power, Afghanistan's geographic location makes it important
---
ISLAMABAD:
Afghans are one of the best tradesmen in the world. An Afghan trader would carry a bag of numerous goods on his back and move from door to door to sell his wares.
The interesting aspect of this approach is negotiation over prices, which will come down drastically from the rates quoted initially. However, if one were to match those rates with local market prices for the same goods, these would be double the prices in the local market.
This was the scenario back in the 1990s. When the Afghans entered into a war with Russia, their markets, skills and tradesmen talent eroded and they were forced to sell whatever goods they got in Pakistani markets. They settled in every city of Pakistan and sold old clothes sent to them from Europe or America for help.
The poverty-stricken Afghans along with local (Pakistani) Pashtuns also ran other businesses like timber business and lent money at very high rates.
Interestingly, the total Pashtun population is estimated at around 63 million (roughly 60-70 million worldwide). However, this figure is disputed because of the absence of an official census in Afghanistan since 1979.
Around 42.5 million Pashtuns live in this region. They reside mostly in southern Afghanistan and northwestern Pakistan.
Pashtuns are the largest ethnic group in Afghanistan and constitute around 42-60% (16-24 million) of the population, as per various claims. Afghanistan's population stood at around 39.9 million in 2019 with gross domestic product (GDP) size of $18.63 billion.
Meanwhile, the country's GDP per capita is $565 per person. Afghanistan's exports of around $863 million include lithium, natural gas, gold, silver, petroleum, coal, copper, chromite, talc, barites, sulphur, lead, zinc, iron, edible salt, precious and semi-precious stones. On the other hand, its imports stand at around $7 billion.
The United Arab Emirates (UAE), India, Iran, Pakistan, Iraq, Saudi Arabia, China, Germany, Kazakhstan, Russia, Turkey, the US, Thailand, Malaysia, Japan, South Korea, Taiwan and Brazil are among its main trading partners.
In December 2020, Afghanistan is hosting a trade fair in Kabul to showcase its products. Success of the event will open many trade avenues for the Afghan traders.
However, prior to the trade fair, another series of meetings have been held between the Afghan Taliban and the Kabul government, backed by the US, in Qatar, which also involved Pakistan and other important players.
Parleys between the central government and Afghan Taliban for a peace agreement seem to be a good omen for the future of Afghanistan.
Afghanistan may now not be a key economic power in the region but its prime geographic location as a neighbour of China, Central Asian states, Iran and Pakistan makes it more important, even without the presence of US army.
As the US is withdrawing from Afghanistan and China is entering the scene, Indian influence in Kabul is likely to lose its strength and the Afghanistan-India partnership will come to an end soon.
Chinese and Russian influence can bring about a change in the region when Iran, Nepal, Bangladesh, Sri Lanka and other countries are now more likely to move away from India towards China.
Though the chief driver is economic interest, the move will also impact foreign policy decisions. The proximity of China and Russia can overcome the technological advancements made by the US, attract local market buyers and promote industrial linkages.
A sharp reduction in global crude oil prices may divert the interest of world powers in the petroleum-producing Middle Eastern region to other parts of the globe.
Technological advancements like battery-driven cars may also dent demand for petroleum products and energy tools over the next couple of decades. The attraction of the Middle East as an investment hub may evaporate.
This may shift focus from the Middle East to elsewhere, making China and Russia the next attraction points for the world after the US and Europe.
The same stands true for the Afghans, who earlier scouted for jobs in the Middle East during the days of war. They are looking for stability and economic turnaround, which may take some time.
Afghans are trying to establish themselves without any huge economic linkages with any one nation, which is a sensible approach and will win approval of many, if not in the short run but surely in the long term.
An agreement among themselves to settle many issues, especially ensuring lasting peace, may help the Afghans to draw a new roadmap and may trigger a new era of peace and stability.
The writer is a journalist and media strategist
Published in The Express Tribune, September 21st, 2020
Like Business on Facebook, follow @TribuneBiz on Twitter to stay informed and join in the conversation.