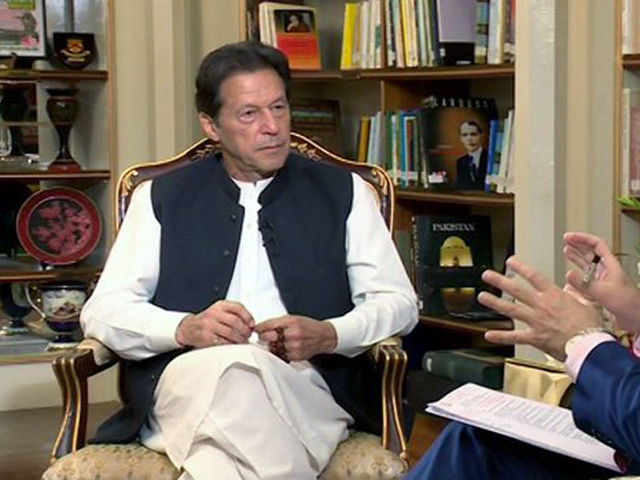 ---
KARACHI:
Days after Lahore-Sialkot motorway gang-rape incident which shook the collective conscience of entire nation, Prime Minister Imran Khan on Monday suggested chemical castration of sex offenders to prevent them committing the same crime in the future.
"I personally think paedophiles and rapists must be hanged publicly but I'm told that we have international repercussions. EU's GSP status for trade with Pakistan will be affected by public hangings. Hence, I think chemical castration must be conducted on those criminals," he said during an interview with a private TV channel.
The premier said that the Lahore motorway incident has shaken the collective conscience of entire nation and has hit us all on a personal level.
"Abid Ali, the main culprit in Motorway incident, was caught in gang rape case back in 2013. Had he been given strict punishment, this incident would not have happened. Hence it's needed that we chemically castrate them and maintain registries of such criminals," he maintained.
PM Imran Khan has also said that repeat sexual offenders should be castrated; we wanted to be sure of Govt intentions before going on air with it, but Govt is serious we are told pic.twitter.com/mIB3n5Y8hZ

— Moeed Pirzada (@MoeedNj) September 14, 2020
PM Imran said that he was "shocked" to learn that Pakistan has one of the highest sex crime rates in the world.
Talking about an earlier incident, he said that a paedophile came from abroad after serving time in jail to Pakistan. However, no one knew what he had done.
"These paedophiles after serving jail do the same after their release. Developed nations hence maintain registries of paedophiles," he added.
Imran Khan Govt wants to send a clear message to society & world at large that it's serious in fighting the scourge of gang rapes & pedophilia; we withheld this comment for several hours & are releasing it after we ascertained that it's not said just in anger but means business! pic.twitter.com/Nq2IDo071I

— Moeed Pirzada (@MoeedNj) September 14, 2020
'Resisted pressure to impose lockdown'
Talking about Covid-19 situation in Pakistan, the premier said that the whole political class was recommending making the same mistakes as India did. "I used to tell all these people who recommended a total lockdown that our demographics are much different than Europe and other western countries. We have people living in slums. Lahore has 40% of people living in slums, Karachi has slums, and even Islamabad has slums."
PM Imran said that he resisted all the pressure as a poor country cannot go under total lockdown. "People in slums, where seven people live in one room, cannot be locked down," he added.
Discussing the government's successful smart lockdown strategy, he said that the government, after analysing the data, pin-pointed hotspots. "We then locked down those hotspots only. This contained the virus. India went for an all-out locked down that failed due to poverty."
However, the premier also cautioned the nation not to relax as another wave of coronavirus could return in winter. "It is Allah's mercy that we came out of the Covid crisis, took care of our poor also. But winters are ahead and there might be a spike again. So, I ask everyone once again to be careful and mindful. The pandemic isn't over yet," he added.
He said that when the Pakistan Tehreek-e-Insaf (PTI) government took over in 2018, the country was about to default. "That could have created huge pressure on rupee. Once the currency falls, inflation rises and investment is lost."
PM Imran said that the government came under pressure immediately due to the crippled economy of the country. "When a household is in a situation like our country, highly indebted, the family members endure some tough time. Likewise, we also underwent that hard time. But people got worried that why no Naya Pakistan is achieved overnight? Naya Pakistan is all about a process," he added.
Talking about Chief Minister Punjab Usman Buzdar, he said that the only issue with him is that he is not media-savvy and does not spend taxpayer's money on getting articles written in his favour.
"The first thing I know about Usman Buzdar is that he is not corrupt. Police and bureaucracy in Punjab are highly politicised so Usman is running a very tough government in Punjab."
The premier said that when PTI first came to power in Khyber-Pakhtunkhwa (K-P), we had issues that bureaucracy in the province did ANP's work but not ours. "That was just three years rot. In Punjab, it has been decades that the system was corrupted."
'Top-level corruption eats up entire country'
Discussing the corruption in the country, Imran Khan said that former prime minister of Malaysia Mahathir Mohamad taught him years ago that lower-level corruption annoys the public but top-level corruption eats up the entire country.
"We can only end corruption by automating. We tried bringing e-governance by issuing a tender to a company for developing software but those who wanted to deter it, got cheaper bidding from another company and then got a stay from the court."
He said that the government wants Federal Board of Revenue (FBR) to automate but it still is not able to do that because elements within want to create bottle-necks.
He said that once accountability is removed, a country goes to gallows. Therefore, he was adamant to give a deaf ear to the opposition's whims for NRO. "The opposition's top priority is to pressurise the government since day one so that government gives them NRO like Musharraf did."
Talking about the importance of a robust local government system, the prime minister said that the government was delegating powers right at grassroots' level in Punjab, just like we did in K-P.
"Karachi and Lahore's issues will be resolved through the local bodies systems like that in London and New York. Under and empowered mayor and his own cabinet, city generates its own resources. That's the way forward," he added.
'Reservations on Karachi census valid'
The premier said that reservations on census results in Karachi were valid. However, he said that the port city faced much bigger issues right now. "Is another census the demand of the city right now? I don't think so. People want solution for their problems right now which is possible only under an empowered governance system where city generates its own revenue."
He said that Karachi was not just Sindh's but entire Pakistan's engine and if it gets affected, the entire country faces the consequences as it is the financial capital of Pakistan.
He said that the recent rains caused Karachi to collapse but every crisis is an opportunity, adding that the NCOC model has been implemented in the city to revive it.
Criticising the Pakistan Peoples Party-led Sindh government, the prime minister said that the federal government has now taken responsibility for Karachi's major issues. "One of the major issues is the water supply. For that, we have started work on K-IV project. Solid waste management is also a big issue. We are catering to that also."
He said that after much consultation initial results have started pouring in. "An administrator for Karachi has been appointed. Bit by bit whole infrastructure is being set up through which we will monitor progress over projects in Karachi for the next two to three years," he added.
'Will note recognise Israel without a fair settlement'
Talking about the recent development regarding Israel and few Arab countries, the premier said the recognition of Israel by some countries doesn't matter until a "just" settlement between Palestine and Israel takes place. "We will not recognise Israel without a fair settlement. We are going to follow Quaid-e-Azam's policy."
Praising the progress in China in recent decades, he said that Pakistan could learn a lot from its most trusted neighbour which has seen 'miracle' growth in the past 30 years.
"We can learn agricultural innovation (seed development) urbanisation (special economic zones) from China. Pakistan has an agricultural economy, we can benefit a lot from China," he further added.
COMMENTS
Comments are moderated and generally will be posted if they are on-topic and not abusive.
For more information, please see our Comments FAQ