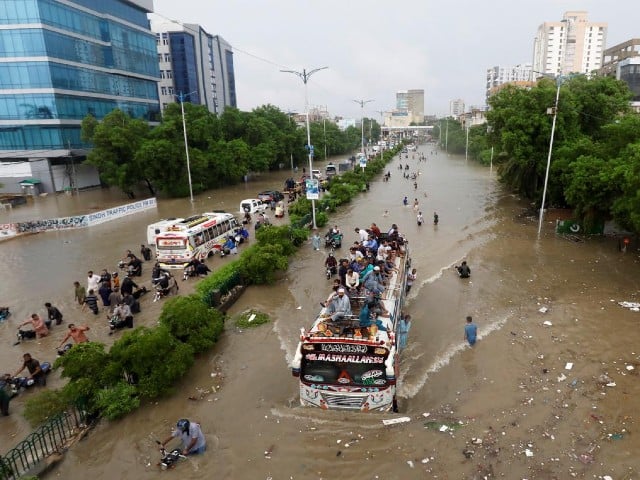 ---
KARACHI:
Over 2.4 million people have been displaced by flooding in the wake of torrential rainfall in the province, said Sindh Chief Minister (CM) Syed Murad Ali Shah on Saturday, adding that 136 people lost their lives in the destruction caused.
He was talking to diplomats from various countries in a meeting attended by Robert Silberstein from the United States of America, Byram Avari of Canada, Li Bijian of China, Salem Al-Khaddeim Al-Dhanhani of United Arab Emirates and others.
Shah informed the diplomats that nine districts in the province had faced flooding due to the monsoon rainfall in August. He added that keeping the gravity of the situation in view, his government had declared 20 districts of four divisions as calamity-hit areas.
Shah further shared details of the havoc caused by the monsoon downpours, stating that over 2.4 million people had been displaced, over 1 million acres of standing crops damaged, 77,343 houses destroyed completely, 137,178 houses partially damaged and 45,961 cattle killed.
Further apprising them about the Sindh government's relief efforts, he claimed they had set up 196 relief camps with 54,778 tents, shifting 23,629 persons there. Meanwhile, he added, ration bags, mosquito nets, water bottles, water filters and tarpaulin sheets had been provided to those affected.
"Against a demand of 122,100 tents, the provincial government has provided only 41,135," he said, adding that the authorities were struggling with a dearth of other relief items as well.
"The government is trying to cover the gap between the requirement and supply," he said, calling on the international agencies to step up and support the provincial government in rehabilitating the affected people and reconstructing damaged infrastructure.
Following the CM's briefing, the diplomats responded that they had been unaware of the gravity of the situation, pointing out that no one had apprised them about the extent of destruction caused by the rains. They assured him of their support .
In a separate meeting with delegations from United Nations Children's Fund (UNICEF) and the World Food Programme (WFP), the CM apprised them about the critical situation in the province too.
They told the CM they would personally visit the affected areas to provide food and supplements, adding that they would launch anti-polio drives in the rain-affected areas of Karachi and other districts of Sindh.
Shah said he would direct all relevant deputy commissioners to provide them data so they could plan how best to support those affected by the rain.
Published in The Express Tribune, Septe0mber 13th, 2020.
COMMENTS
Comments are moderated and generally will be posted if they are on-topic and not abusive.
For more information, please see our Comments FAQ