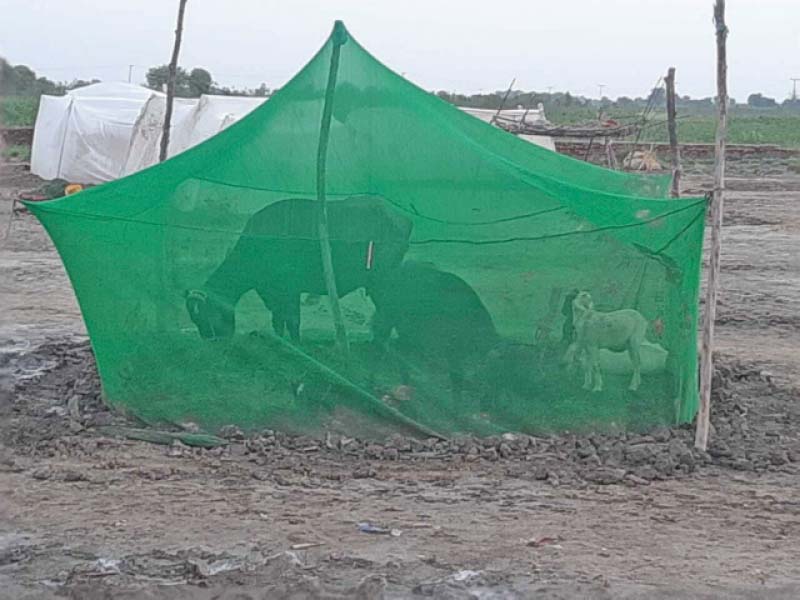 ---
KHIPRO:
Their houses were destroyed and their crops washed away by rain-induced floods. And then, the mosquitoes descended.
With many areas still inundated, families in lower Sindh are now struggling with swarms upon swarms of the insects in an unprecedented occurrence, while the absence of medical camps and fumigation adds to their ordeal.
"They [mosquitoes] are killing us. We can longer step out of mosquito nets after the sunset," Haji Inayat Rind, a resident of Khipro's Rind Colony, told The Express Tribune.
However, according to another resident, Bhagi Rind, even nets aren't enough to keep them away. "It rained for just a few days but these monsters don't go away. They will suck all our blood."
From Khipro to Mirpurkhas and Sanghar to Umerkot, residents of villages and small towns have complained of mosquitoes. Bigger in size and numbers than those usually witnessed in the region, they have attacked livestock too, killing scores of cows, buffaloes and goats, according to villagers.
In a bid to save their remaining livestock from falling prey, these villagers have set up mosquito nets around their cattle.
"We are trying to save the animals we have left," commented Sabagho Bheel, from a village near Khipro city.
Similarly, Jahangir Junejo, who belongs to Abu Bakar Junejo village near Sindhri, said, "[Our] crops and homes have already been destroyed and now we are struggling to save our animals."
According to Pakistan Tehreek-e-Insaf (PTI) Mirpurkhas president Aftab Ahmed Qureshi, mosquitoes are the second biggest problem in the region, after standing water.
Acknowledging this, local philanthropist and activist Malik Raja Abdul Haque said rain-affected persons were no longer demanding rations, but needed mosquito nets.
Sindh Culture, Tourism and Antiquities Minister Syed Sardar Ali Shah also realises the gravity of the situation.
"It is a very serious issue. [If not addressed], we would have scores of sick people in the coming days," he remarked.
Fumigation suspended
Despite the urgency of the matter, fumigation in the area remains suspended after being halted soon after the tenure of local government representatives ended last week.
A senior Mirpurkhas division official, on the condition of anonymity, told The Express Tribune that many local government employees had stopped working, disrupting rehabilitation activities. "They have been staying at home, saying their tenure is over."
He went on to explain that the suspension of rehabilitation efforts had resulted in the rapid growth of mosquitoes, though he claimed fumigation had been started again in some areas. "But it is not enough to kill these monsters."
Pakistan Peoples Party Senator Quratulain Marri is of the same opinion.
"Fumigation is not a [permanent] solution. Dewatering is the only solution," she stressed, adding that it would take at least three months to drain water from flooded areas.
No medical camps
The lack of medical camps in flood-affected areas further increases the threat of disease.
With most hospitals submerged, health authorities do little to ensure the provision of facilities. Consequently, apart from areas like Umerkot that have been spared by floods, there is a dearth of medical camps.
According to villagers, though officials have distributed some medicines, including Septran and Brufen syrups, they have nowhere to turn for more severe illnesses.
"Our children have developed skin diseases and, at times, even have high fever," said Haleema Machhi, from Sufi Faqeer town. "But there is no doctor or medical camp here." Thanking God for the few medicines they have, she added, "I believe my children will be suffering due to contaminated water and mosquitoes soon."
PTI parliamentary leader in Sindh Assembly Haleem Adil Sheikh, meanwhile, stressed the need for the Sindh government to set up medical camps across calamity-hit districts. "There will be an outbreak of diseases, including measles, malaria and other skin and water-borne illnesses, and I do not see any medical assistance being provided by the government."
On the other hand, according to the office of the health services director general, 1,002 mobile medical camps and 1,732 stationary ones have been set up across Sindh.
A senior health department official, who requested anonymity, claimed, "Medical assistance is being provided in all affected areas and doctors and supporting staff have been working in the field."
Published in The Express Tribune, September 12th, 2020.