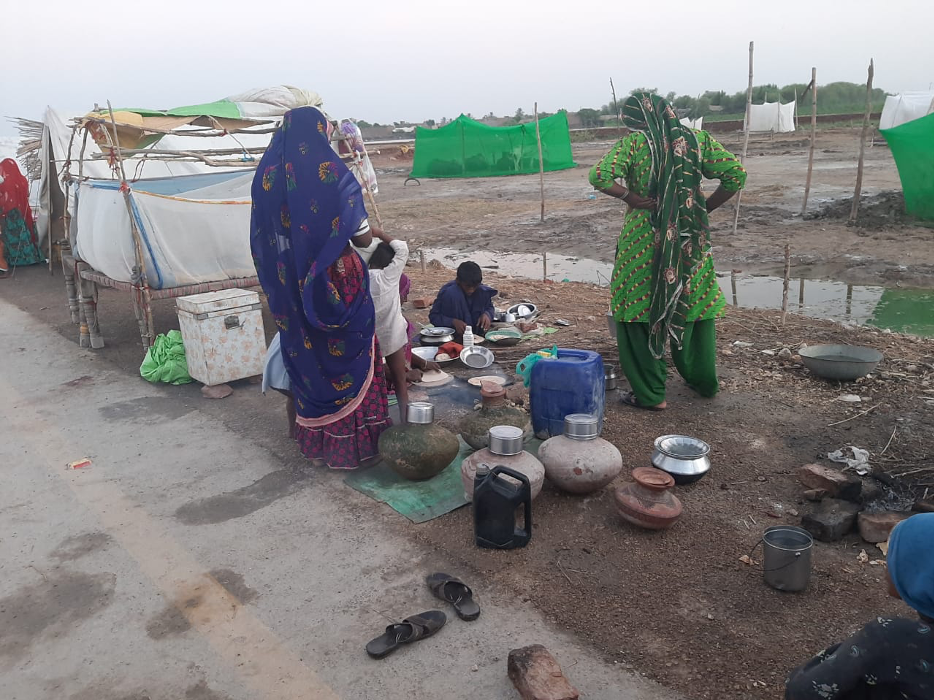 ---
Men find a corner, women wait
Lack of toilets in Umerkot's tent city leaves displaced women in jeopardy
---
KARACHI:
When they left their homes, swamped in water, survival was the only thing on their minds.
But sooner or later, nature called. Men would find a corner by the road, between bushes or by a wall, to relieve themselves.
But the ordeal of the displaced women has dragged on.
The realisation dawned on Samjho's 15-year-old daughter soon after the family arrived at the makeshift tent city in Umerkot, hosting people displaced by rains and floods in Mirpurkhas.
"I was particularly worried about my daughter," Samjho, 45, told The Express Tribune, as she sat in her tent, surrounded by many others but without a single toilet anywhere nearby.
So, when her daughter told her she wanted to use the toilet, Samjho said, they had to travel long distances in search for a suitable place for her. But then, there were other children who couldn't be left alone in the tent for long. "I had to ask her to wait until it was dark or urinate in her clothes."
Pathani Macchi, a widow who has found temporary refuge with her seven children on the roadside near Sufi Faqeer town, between Mirpurkhas and Umerkot, also feels helpless in a similar predicament.
"There is no washroom, no place to go," she decried. "And we women especially have to wait until it's dark."
But that comes with its own set of problems. "Swarms of mosquitoes attack us," she lamented. "Though, there is no other way."
'Not enough space'
The tent city where these women and their families find themselves is host to thousands of displaced families, but neither the government nor anyone else has set up any toilets or sanitary facilities.
"There isn't enough space [for installing temporary washrooms]," said Sindh Culture, Tourism and Antiquities Minister Syed Sardar Ali Shah, justifying the absence of sanitary arrangements in the area. Assuring that the government would set up makeshift toilets near by the tents in the coming days, he remarked, "People in rural areas are used to relieving themselves in open spaces."
Though they may often use open grounds, bushes and fields for the purpose, Amlo Kohli, a displaced man who has taken shelter near Atna Mori, points out they did so in places they considered safe and secure. "Here, we must look for a suitable place, which is difficult. There are no bushes and no fields have been left dry. And women have to wait for hours [before they can relieve themselves]."
On the other hand, he added, children and men had better luck in finding a suitable corner.
'Health hazard in the making'
But this too, according to Ghulam Mustafa, a water and sanitation expert at the Health and Nutrition Development Society, can be hazardous. "This is another disaster in the making. It will be a man-made disaster and numerous children will be at risk."
He elaborated that open defecation and the presence of stagnant water could result in the breeding of mosquitoes and other such insects, leading to the spread of vector-borne diseases such as malaria, diarrhoea, dengue and hepatitis on a large scale.
And the possibility of an outbreak of more severe, contagious diseases like measles and pneumonia could not be ruled out, he warned, adding that if this happened, vulnerable persons, including pregnant women, children, the elderly and differently-abled persons, would be at greater risk.
UN guidelines
Mustafa explained that humanitarian standards dictated that a disaster-hit population should be accommodated in an "environment free of human excreta," with access to toilets.
Quoting the United Nations' guidelines, he said it was mandatory for relevant authorities to ensure at least one toilet for every 20 persons. "In worst-case scenarios, a sanitary facility may be allocated for every 30 persons."
He added that women and children suffered more if UN standards were disregarded in crowded facilities.
A greater disadvantage
Sitting on a rickety charpoy, elderly Haleem Machha pointed out, "Woman face the same issue everywhere."
She rued, "We have to go [to relieve ourselves] in groups if the urge is beyond our control [during daytime]."
While Machha has settled for the only available solution, Mukhi Odh, a man of around the same age, is oblivious to the problem.
When asked, he mocked, "Washroom? There is no dry land left. Survival is the priority."
But the situation sheds light on how women are at a greater disadvantage after displacement, with something as basic as relieving themselves turning into a gigantic problem, making their misery worse.
"Disasters affect women more than men," reflected Samjho. "[Here], I have to look after everything - from children to preparing meals, tending to the cattle and even beseeching visitors for help."