 ---
Water, water everywhere
Three days after rain, Clifton, DHA remain flooded, deprived of electricity
---
KARACHI:
You may have all the wealth in the world, but a situation may arise that will render you helpless.
This realization dawned on many residing in Karachi's posh localities of Defence Housing Authority (DHA) and Clifton in recent days when they were left helpless, first struck by nature's fury and then by authorities' incompetence and lack of planning.
Though the storm had passed by Thursday's night, many houses and commercial areas in DHA and Clifton remained submerged in water even by Saturday night. And if that was not enough, most neighbourhoods continued to face power outages.
"There is no light and [on Thursday] it was raining heavily. It was scary," Qurban Ali, a resident of Khayaban-e-Hilal, painted a gloomy picture of his ordeal. He hoped against hope that the water inundating his neighbourhood would recede soon, even with no indication of this.
Similarly, Farooq, a resident of Khayaban-e-Shahbaz, said, "Water is still pooled inside my house and all my furniture and other belongings are afloat."
While his other family members tried to drain water from the house, he pointed to the muddy rainwater standing outside the house up to at least a foot's height, even though it had receded a bit in the past couple of days. But he was still thankful that they were at least able to move about a little now.
Nevertheless, the reality was there for all to see. Farooq and his family were trapped, half-submerged in water and at night, in darkness too, with nowhere else to go.
In these areas, not just the inner streets but the main roads too remained flooded. And even as the water began to draw down, the change was minimal with residents and shopkeepers continuing to throw water outside their properties.
But this was just the tip of the iceberg. In the basements of DHA's shops, the destruction is much worse. Be it gyms, shops, warehouses or car parking, if they were in the basement, there was little chance of them being unaffected by the record-breaking rain.
The problem persisted even after the properties' owners continued to use dewatering pumps, not realising that they may be aggravating the problem by dumping the water out on the streets.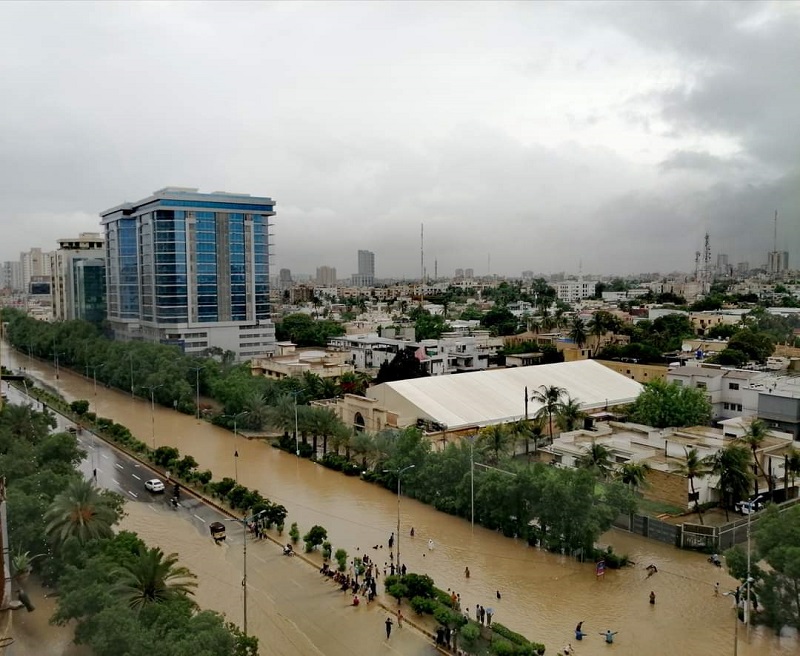 But the hapless residents, receiving little help from the authorities did not know what else to do.
Imran, who owns a mart and a pharmacy on Khayaban-e-Seher, told The Express Tribune that his four warehouses nearby his shop were in bad shape and entirely under water. "Nearly all the goods, including cosmetics and electronics, have been damaged and are unusable, causing me a loss of around Rs60 million," he said. "I had nothing insured."
Though the destruction took only a few hours, Imran's staff has fruitlessly been trying to drain water from the warehouses since Friday morning.
Feroze, who owns four gyms situated in basements, is in a similar quandary. "All four gyms are still under water and we have lost everything."
Most shopkeepers, as well as residents, are unable to get their hands on dewatering pump.
"All we can do is stare at the flooded basements," said Aslam, a resident of Khayaban-e-Bahria. "We need a generator to run a [dewatering] pump. We aren't able to get either."
However, Koonj, who lives in DHA Phase VI, considers power suspension a wise decision given the situation. "I had been cursing the power supply company since Friday but when I visited some other houses and markets in the area, I was convinced that it was a wise decision," she said. "They are still flooded and restoring power can be dangerous."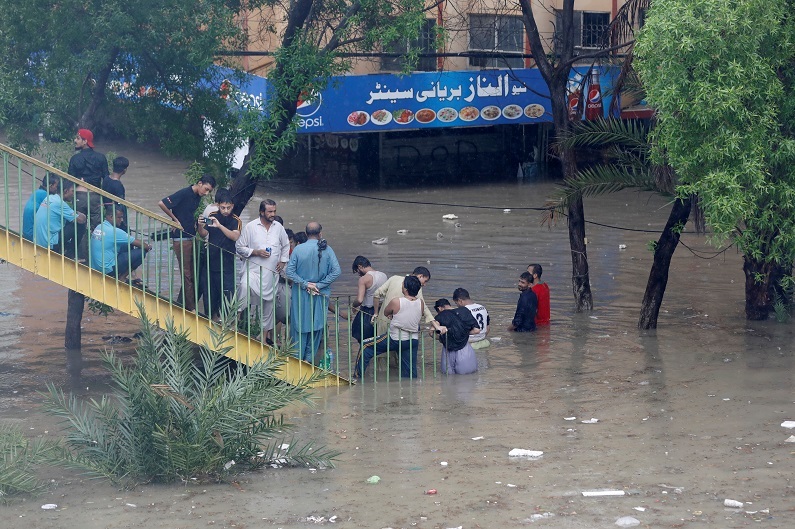 'Mostly clear'
Clifton Board Cantonment (CBC) issued a statement on Saturday claiming that over 100 teams were busy draining water from different neighbourhoods, 90 percent of which had been cleared of water. The body also claimed that it was working with K-Electric and apart from areas receiving power through five substations, power supply had been restored in all others.
Besides, Sindh Chief Minister Syed Murad Ali Shah directed the Karachi Water and Sewerage Board and Karachi Metropolitan Corporation to assist the CBC in removing water from inundated KE substations.
The CM visited the KE head office where KE CEO Moonis Alvi told him DHA had 60 feeders, half of which had been restored.
Moreover, while the CM visited different localities of DHA, he and the CBC chief formed a coordination committee to install machinery to drain the area.
Published in The Express Tribune, August 30th, 2020