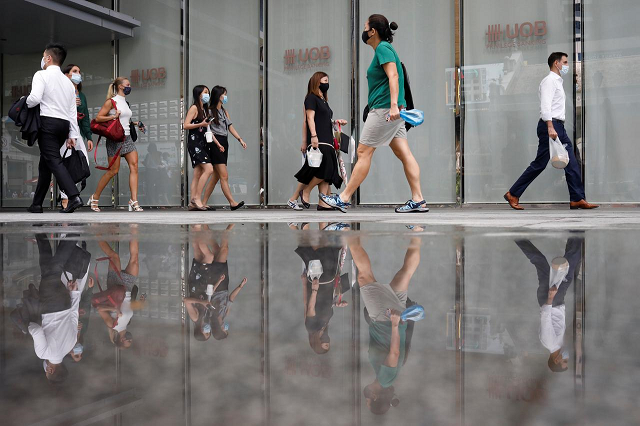 ---
ISLAMABAD:
The Covid-19 outbreak has thrown economies all over the world into a tailspin. In the second quarter of current year (Q2 2020), the United States, the world's largest economy, contracted 33% year-on-year.
The euro area, comprising almost all the major economies of the European Union, registered 40% negative growth. China is the only major economy, which expanded during Q2 2020. For the full 2020, the US and euro area economies are projected by the International Monetary Fund (IMF) to contract 8% and 10% respectively. IMF projections put the overall global economic growth for the current year at -5%.
These, however, are the short-term effects of the pandemic. Hopefully, as the Covid-19 is brought under control and normal business activity restored, economic recession will give way to growth. It is the long-term economic, and by implication socio-political, implications of the pandemic that deserve greater attention.
Covid-19 has given tremendous momentum to at least three key trends in the global economy and business that were already at work before the pandemic hit the world. These are growing capital-intensive production, increasing industrial digitalisation and rising protectionism.
These three trends are likely to define the global political economy during the current decade. These defining trends will also have significant implications for developing countries like Pakistan.
Capital-intensive production entails low labour and greater capital input to output. Investment in fixed assets, such as plant and machinery, what is also called fixed cost, accounts for a higher percentage of a firm's total cost.
Thus, in capital-intensive enterprises as output racks up, the average or per unit cost of production goes down, resulting in economies of scale.
Labour productivity also tends to be relatively high both because workers have more capital to work with and because operating an automated setup requires much higher skills.
In recent years, technological revolution has caused a massive shift from labour to capital-intensive production. Companies, provided they can afford to make initial high investment in fixed assets, have the choice to use either more labour or more capital in production.
Covid-19 has decidedly titled this choice in favour of capital-intensive production for different but related reasons. It is easier for capital-intensive enterprises to enforce social distancing than for the labour-intensive ones.
If for health and safety reasons, workers can't turn up to the factory or office or can do so only at a higher cost, the enterprise will increasingly rely on capital and technology to produce or supply goods or services.
To work from home, which has gained immense currency during the pandemic, high-skilled workers are more qualified than the low skilled. By implication, capital-intensive enterprises are in a better position to practise work at home.
A capital-intensive enterprise also need not worry much about worker absenteeism or social security expenditure.
Post-Covid-19 world will witness replacement of labour with capital at a much faster pace. Covid-19 will hopefully be contained in a few months.
However, the fear that another such pandemic may hit the globe will only intensify, forcing the businesses, which were earlier reluctant to do so because of initial high cost, to step up investment in automation and fixed assets to ensure that even in the face of as ravaging a pandemic as Covid-19 business goes on as usual.
Influence of digitalisation
Of the top 10 global brands, nine are in the digital industry, showing the increasing power of digitalisation.
Prior to the pandemic, big companies, particularly multinational enterprises (MNEs), were making increasing use of digital tools for such purposes as communication, product promotion and sales. The share of e-commerce in total sales was on the increase in both developed and emerging economies.
Covid-19 has made digital interaction the preferred, and in some cases the only, means available to enterprises, especially those which are engaged in international business, to reach out to their customers, suppliers and consumers.
Hence, all else equal, countries with a well-developed digital infrastructure have seen quicker economic recovery than those where businesses, by and large, still use traditional means of communication and doing business.
Finally, the rise and ascendency of global value chains (GVCs) has been the seminal feature of international business in the contemporary era.
GVCs, inter alia, require low import tariffs as parts, components and finished products are shifted from one country to another. However, last few years have witnessed a rise of protectionism in the name of narrowing trade deficit, saving jobs and bringing production back home.
Covid-19 will accentuate this trend, not only for the above-mentioned reasons but also because of the disruption of global supply chains caused by the pandemic.
Implications
Coming to the implications of these trends, capital-intensive production together with industrial digitalisation will make big, rich and technology-savvy corporations better off, while making smaller, capital and technology-deficient enterprises worse off.
With mergers and acquisitions, monopolies and oligopolies will run amok. Production processes will become more efficient and labour productivity will increase.
Wages will go up but only for high-skilled labour while unskilled or low-skilled labour is likely to see their wages nosedive. As a result, income inequalities will shore up. These are some of the domestic implications.
Internationally, developed economies and those emerging economies which have a head-start in technology, capital intensity and use of industrial internet will emerge as the beneficiaries of these changing trends.
They will also be better prepared to deal with another pandemic should it strike the world. Terms of trade of these countries will improve while those of the countries which are ill-equipped to draw benefits from these defining trends will deteriorate.
Those developing or least developed economies, which have formed an important part of GVCs because of low wages, may experience a reduction in FDI in case governments induce MNEs to bring production back home. Thus, international income equalities will accentuate, stoking discontent.
Since Pakistan is a labour-abundant and capital and skill-deficient economy, switching towards capital-intensive production with a rush is neither possible nor desirable. However, a few other things can still be done to keep up with the changing trends or at the very least mitigate their adverse impact.
Two foremost suggestions are to (a) increase productivity of labour through greater investment in human capital and improve working conditions in factories and offices; and (b) enhance value addition of manufactures. For example, in textile, which is the mainstay of the economy, we should cut back on production of yarn and fabric and increase production of garments.
Due to value addition, a possible fall in export quantity will be offset by a rise in per unit export revenue.
In Pakistan, the use of internet and smartphones over the past one decade has expanded substantially. But internet is still used mainly for consumption, such as watching videos, viewing and downloading documents, and chatting. The use of ICT for production and sales is limited.
Our enterprises, especially the export-oriented, need to make a gradual shift towards industrial digitalisation. The first step can be a greater, and eventually the exclusive, use of e-mail or other digital means for communication both within and outside of the organisation.
This may be followed by building web pages to attract potential customers and using digital platforms to sell their products.
Digitalisation encourages and is encouraged by democratic decision-making within an organisation. Therefore, in a country like Pakistan where organisational structure is by and large rather rigid, digitalisation can present both a challenge and an opportunity. Efforts may also be made to promote tech start-ups, through provision of credit and building public data infrastructure, as a way of encouraging both digitalisation and entrepreneurship.
The writer is an Islamabad-based columnist
Published in The Express Tribune, August 24th, 2020.
Like Business on Facebook, follow @TribuneBiz on Twitter to stay informed and join in the conversation.