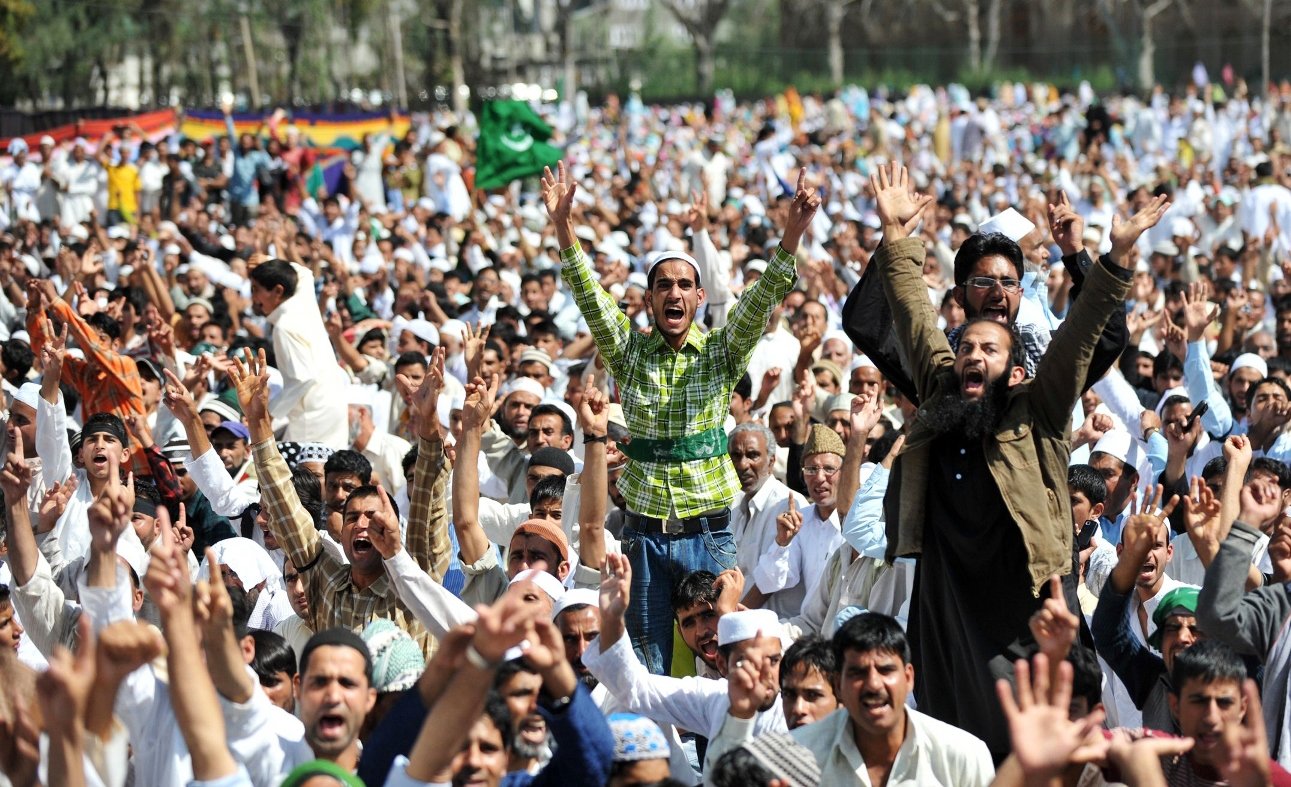 ---
KARACHI:
Kashmir has been called a paradise on Earth by historians and analysts, but the proverbial paradise has transformed into a living hell of fear for its people under India's occupation.
With over 40 proposals for peace, but not a single one acceptable to all sides, the support for an independent referendum appears to be growing, making it the single most viable option that can lead to ultimate peace in the conflict-scarred Kashmir Valley.
Through his recently published paper, titled 'A four-step grand plan for Kashmir' Dr Claude Rakisits, an honorary professor at the Asia-Pacific College of Diplomacy, Australian National University, has reiterated support for the right to self-determination promised by the UN Security Council resolutions and India's first prime minister, Jawaharlal Nehru.
Published in the Australian Journal for International Affairs, Dr Rakisits's bold proposal calls for a permanent solution for the simmering Kashmir crisis that has brought South Asia's nuclear-armed rivals, India and Pakistan, to the brink of war on several occasions.
In the paper, which has been widely viewed and appreciated by the audience online, Professor Rakisits has sketched a detailed plan to solve the festering regional crisis.
The proposal has two important elements. First, Professor Rakisits recommends the involvement of the Commonwealth Eminent Persons Group (CEPG) to assist Kashmiris, Pakistan, and India in the mediation of the plan. Second, the holding of the UN-supervised referendum, which gives all Kashmiris three options: Join Pakistan, Join India, or independence.
In an exclusive no-holds-barred interview with the Express Tribune to discuss the Kashmir plan, Dr Rakisits, a prominent Canberra-based scholar did not shy away from mauling Prime Minister Narendra Modi and his administration's policies in Kashmir.
Rejecting Modi's unilateral decision to alter the future of an entire people who have never submitted to Indian sovereignty, Dr. Rakisits said: "The present situation in Kashmir cannot continue and will possibly get worse."
"Kashmiris are hurting, and their human rights are being trampled daily. And this must end," added Dr. Rakisits.
Responding to a question about the recommendation to involve a neutral third party to mediate, Dr Rakisits said: "India has always argued that Kashmir is a domestic issue and rejects external interference. But however much the Indian government would like it to be the case, Kashmir, today is very much in the international public domain."
"Kashmir is an international issue because the violation of human rights in the valley is not a domestic matter. It is an international concern," explained Dr. Rakisits, who has closely followed the developments in the region for over four decades.
Shortly after winning the election in May 2019, India's ruling Bharatiya Janata Party, commonly referred to as the BJP, started acting on its primary election promise of revoking Article 370, which provided quasi-autonomy to the people of Kashmir.
Within three months of the election victory, in part, on the promise of revoking Indian Illegally Occupied Jammu and Kashmir's special rights, Modi ordered the withdrawal of statehood status for the Muslim-majority Valley, making it a cauldron of discontent.
In the paper, Dr. Rakisits has urged the Modi government to revoke the August 5, 2019 presidential order and reinstate IIOJ&K's autonomy status.
"New Delhi would have to cancel its annexation of IIOJK. It would also revoke the draconian laws applied in Kashmir, notably the notorious Special Powers Act," the paper states. "The Indian government would release all political prisoners," proposes Dr. Rakisits, who has also served at the Australia Mission to the United Nations in New York.
"You cannot shut down people for so long. It goes against almost every international law. It is despicable -- which I don't think can continue," said Rakisits. "The international community must be involved," he added.
Discussing the potential road map for resolving the Kashmir conflict, Dr. Rakisits took several potshots at Prime Minister Modi's policies in Kashmir. He described the Kashmir crisis as public relations wound. "India aspires to great nation status, but Kashmir—a self-inflicted wound—is making it bleed on the world stage," he said. In short, Dr. Rakisits described Kashmir as a public relations disaster for India.
"The behavior of India's security forces in Kashmir is appalling, and the lack of accountability is staggering. This is unacceptable for a country that prides itself as being the largest democracy in the world," added Dr. Rakisits.
While the Hindu nationalist government in New Delhi seems to have closed off options for a negotiated settlement of Kashmir with Pakistan as well as with parties in the occupied Valley, Dr. Rakisits proposes back door diplomacy that would lead to a meeting between the two leaders.
"India's allies should be telling Modi: This is not good, mate," said Dr. Rakisits in authentic Australian style. In his four-step sequential plan, the expert, who has decades of experience in the Australian public sector, including the Departments of Defense and Foreign Affairs, states that any possible agreement between Prime Minister Imran Khan and his Indian counterpart would cost a lot of political capital, but the reward would be worth it.
Citing the Northern Ireland example, Dr. Rakisits urged India to demilitarize Kashmir. "The parties in Northern Ireland were tired of killing each other and one day they decided to stop." Kashmir, he said, has reached that point. "If Modi is genuinely concerned about helping the Indian society, he must focus on resolving the Kashmir crisis. The financial resources being wasted on the conflict can be used to lift more people out of poverty," he suggested. The people of Kashmir, Dr. Rakisits said, deserve real choices. They must have the right to decide their future.
What is holding Modi and the impact
The situation, Dr. Rakisits said, has been simmering for more than seven decades. Modi, who cannot survive politically without appeasing his party's hardline Hindu base, Dr. Rakisits said, fears that Kashmir's independence could give credence to sub nationalism in India. "More internal uprisings will surface once he frees Kashmir."
Deploying thousands of troops, he said, will not keep the lid on the issue for much longer. "The longer the situation in Kashmir continues the greater the chances that it breeds Kashmir-focused freedom fighters," he warned.
"If you have no hope what else will you do? You will join groups to kill Indian troops. This is why you need to provide real choices to the people of Kashmir," he added.
"If the people are not given real choices then there is no point in having a referendum," cautioned Dr. Rakisits.
Muslims in India
In the broad-spectrum interview, Dr. Rakisits talked about a variety of issues, including the fate of Muslim in India. Modi, he said, has never considered the Kashmiri people as Indians and he hates Muslims. "So there is double hatred," said Dr. Rakisits.
The actions of the Indian government, he said, will result in radicalization in Kashmir and at some point, in India.
"Even though Modi is pushing the Muslim community to the wall, there has not been greater radicalization of Muslims in India," said Dr.Rakisits. "Modi is lucky that they (Muslims) haven't radicalized," he quipped.
Steps taken by the Modi government in recent months are aimed at treating India's 200 million Muslims, as second-class citizens. Measures such as the Citizenship Amendment Bill are designed by the Hindu nationalist government to render many of them stateless.
"Under Prime Minister Modi there will be an increased emphasis on Hinduism in India," said Dr.Rakisits.
Modi's coterie of Hindu nationalists, he said, would like to see Muslims as second class citizens. "Their policies will push Muslims in India to the bottom of the socioeconomic ladder," added Dr.Rakisits. "With the current policies and increased discrimination, the future does not look good for India's Muslim community," he cautioned.
"Modi has fractured India's unity and its secularism by his actions in Kashmir," said Dr. Rakisits. And that, he said, is bad news for India's Muslims and other religious minorities.
China's role
In a recent confrontation, Indian and Chinese troops clashed in the worst possible manner in over four decades, causing dozens of casualties for India's military. The tensions come as Modi touts a more macho role for New Delhi in the region -- particularly against Beijing.
Commenting on China's new role in the region, particularly after the dangerous escalation on the border with India, Dr. Rakisits, "By indulging in the confrontation, Modi has given Beijing a reason to play a more central role in the Kashmir crisis."
China, he said, is officially a party in the Kashmir crisis. And as a close ally of Pakistan, there is little reason to believe that Beijing will side with New Delhi in this matter.
Solution
In the paper, Dr. Rakisits indicates that several actors would try to scuttle the Kashmir plan. "But victory for all sides is in peace," he mentions in the document.
"And while a resolution of Kashmir may not bring permanent peace between Pakistan and India, it would nevertheless greatly improve bilateral relations, diminish the chance of another military clash between," concluded Dr. Rakisits, who has held several key positions during his career, including advisor to a shadow federal minister for foreign affairs and to a deputy prime minister.]
COMMENTS
Comments are moderated and generally will be posted if they are on-topic and not abusive.
For more information, please see our Comments FAQ