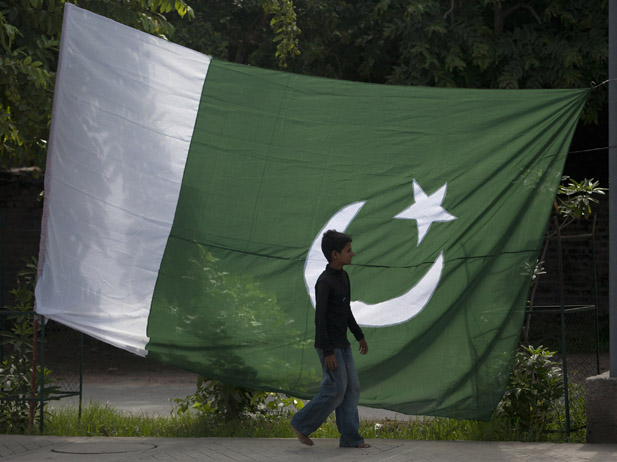 ---
Lahore prepares for Independence Day amid Covid-19
Decorative items manufactured locally this year
---
LAHORE:
As preparations to celebrate the 73rd Independence Day are in full swing in the provincial capital, special stalls and kiosks set up across the metropolis provide a window to short-term but quick earning opportunity for many.
The provincial capital has already worn green as national flags are seen everywhere. Stalls and kiosks have been set up to in every nook and corner to sell I-Day merchandise, including flags, buntings, badges, caps, shirts, stickers, lights and decorative items.
Speaking to The Express Tribune, a kiosk holder Muhammad Ilyas highlighted that though enthusiasm to celebrate the day was high among the citizens, owing to Covid-19 the variety of decorative items is limited this year. For the past many years most plastic items and decorative lights were imported from China. However, owing to travel and trade restrictions the supply chain of Chinese merchandise had been disrupted, causing a reduction in variety.
Another trader, Kamran Sheikh, said this year most products in markets are made in Pakistan. Pointing towards white and green T-shirts and plastic flag badges, he said that earlier these products were imported from China but this year some parties had produced them locally for sale in markets.
"The prices of local items are a little higher owing to high production cost and inflation when compared to the Chinese products. The quality of these products is just okay as there is a lot of room for improvement," he maintained.
A shopper, Israr Ahmad who was buying buntings and flag along with his children also complained about the low quality of products and limited variety. He, however, appreciated the efforts of local manufacturers and said the quality of these products will improve with time but it is the positive impact of Covid-19 that people have started producing such products locally. It will help the country to save precious foreign exchange and give employment to local population, he said.
Besides roadside kiosks and stalls, various local brands are promoting their merchandise and sales on social media. Almost all renowned local brands have announced Independence Day sales on selected stocks or special products prepared for the occasion. Renowned social media outlets have been flooded with online and retail stores' sale ads.
A housewife, Aneela pointed out that earlier people visited shops to enjoy special offers but after Covid-19 the buying habits have been changed. "We bought all our dresses, shoes and accessories online on Eidul Fitr and Eidul Azha and are now ordering green and white colour dresses. I believe online shopping is convenient and safe," she added.
Meanwhile, Adviser to Chief Minister and Chairman Parks and Horticulture Authorities (PHAs) Punjab Asif Mahmood directed all PHAs to make arrangements for Independence Day celebrations.
"Flag hoisting ceremonies will be held at all PHAs offices and national songs would also be played," he said. The Lahore Waste Management Company (LWMC) has also announced a plan to conduct a zero-waste operation in the city on the eve of the Independence Day. The company decided to make extraordinary cleanliness arrangements in the city.
A special fleet march and awareness walk will also be part of the Independence Day campaign. All staff of LWMC, public representative and international contractors along with machinery will participate in the fleet march.
The LWMC managing director said, "To maintain cleanliness in the city is our utmost priority" and in this regard, special cleanliness measures are being taken. Citizens should also cooperate with LWMC to maintain cleanliness in the city and take special care of the sanctity of the flag, he added. The GM operations stated that the department is working tirelessly to serve the public and special cleanliness arrangements have been made in the city with regard to Independence Day.
Published in The Express Tribune, August 13th, 2020.