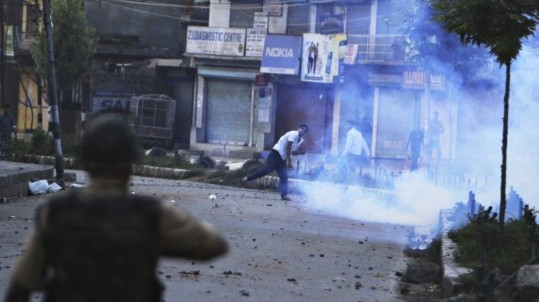 ---
Ongoing crackdown: No reprieve for Kashmir's detained leadership
Indian security forces continue to arrest Kashmiris under the Public Safety Act
---
MUZZAFFARABAD:
One year after India's illegal and brutal crackdown in occupied Kashmir, political prisoners remain under custody with no reprieve in sight.
Crackdown in Kashmir began shortly after Prime Minister Narendra Modi's Hindu nationalist government decided to abrogate Article 370 and 35-A, taking away the limited autonomy from the illegally occupied territory.
Since then, several high-profile politicians from the valley remain held under murky circumstances.
"More than fifteen thousand Kashmiris were arrested after the abrogation of Article-370 and nobody knows where they are," said Babar Hussain, a lawyer at the Srinagar High Court.
According to sources, these prisoners have not been seen since India decided to strip the illegally occupied territory of its special status.
Several political leaders from Kashmir, Hussain said, are being held in poor conditions. "The reason they are being detained is that they would mobilize crowds against India's illegal aggression in the valley.
Kashmir's politicians and those who have stood on the frontline for freedom were the first to face India's wrath. All prominent political leaders including Yasin Malik, who, for decades, has advocated for Kashmir's independence from India's illegal rule, remain detained. "Mirwaiz Umar Farooq, Syed Ali Shah Geelani, Zaffar Akbar Bhat, and Shabir Ahmad Shah were also detained," he added.
"Trade union leaders and prominent businessmen are detained. Some prominent lawyers and human rights activists like ailing Mian Abdul Qayyum were also arrested and sent to Agra," revealed Hussain.
Hussain also mentioned that all of Kashmir's puppet leadership including two chief ministers from the Abdullah clan were detained. The two men are known to be loyal to New Delhi. Mehbooba Mufti, another leader who is in her 60s was also detained.
In a post that remains pinned on her Twitter profile, the leader of the Peoples Democratic Party took a potshot at the Modi government's decision to strip Kashmir of its special status.
"Today marks the darkest day in Indian democracy. The decision of J&K leadership to reject the two-nation theory in 1947 and align with India has backfired. Unilateral decision of Government of India to scrap Article 370 is illegal & unconstitutional which will make India an occupational force in J&K," said Mufti in August last year.
With limited tolerance for dissent, India, which according to Mufti, is an occupying force in Kashmir, was angered by her views. The comment landed the former chief minister under arrest house.
Recalling the grim August day, Margoob Banhali, a political worker associated with the All Parties Hurriyat Conference (APHC), an amalgamation of social and religious organizations, said: "That day will forever live in infamy."
"A cloud of uncertainty was hanging over Kashmir. Nobody knew what India would do," Banhali recalled. "It seems we are aliens in our land," he added.
Since the illegal act more than 12 months ago, the New Delhi government has shut down all communication in the region. Indian security forces have arrested ordinary Kashmiris over minor charges and in some cases cooked up charges, according to residents.
Despite growing atrocities and oppression, Abdul Majid Khan, a Pakistan Tehreek e Insaf, leader from Azaz Jammu and Kashmir (AJK), believes that the resolve of Kashmiri people is still strong.
"Since 1947, India has systematically snatched the rights of Kashmiri people and deprived them of their independence," said Khan.
The AJK-based leader said: "No piece of legislation by the Indian Parliament can change the nature of the Kashmir dispute."
The Indian governments, he said, can change its laws and constitution, but they cannot change the international covenants, the UN resolutions, that stand witness to the fact that the Kashmir dispute is all about the fundamental rights of the people of Indian Illegally Occupied Jammu and Kashmir (IIOJK). "Those rights are granted by the United Nations," said Khan.
Aiming his guns at the Modi regime in New Delhi, the AJK leader said: "The arrest of Kashmiri leaders shows how desperate and weak India is."
But all criticism appears to be falling on deaf ears in India's capital. Earlier this week, the United Nations Security Council (UNSC) also expressed concerns over the human rights situation in the IIOJK, particularly Indian authorities' continued oppression as well as attempts to change its demography.
Under the Public Safety Act, a law that has been termed draconian by critics, India has detained thousands of Kashmiri citizens. The law allows Indian authorities to detain people for up to two years without trial. In some cases, individuals have been arrested under a provision in the Indian penal code that allows preventive detention to maintain peace.
According to one estimate by the UN, more than 15,000 Kashmiris were arrested shortly after the special status of Kashmir was revoked by the Indian Parliament. Among those who were arrested are young children and the elderly.