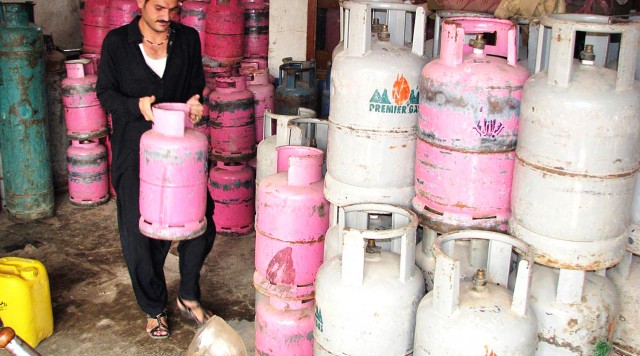 ---
ISLAMABAD:
The government is likely to increase the petroleum levy on locally produced liquefied petroleum gas (LPG) by about 100% in an attempt to create a favourable environment for importers, but it will lead to a hike in LPG prices for consumers.
The government has set a petroleum levy collection target of Rs5.5 billion on locally produced LPG sales in the budget for fiscal year 2020-21.
Pakistan LPG Marketers Association Chairman Farooq Iftikhar, in a letter addressed to the Finance Division, said it had been brought to the association's attention that the Finance Division had targeted petroleum levy collection of Rs5.516 billion for FY21.
The Ministry of Energy (Petroleum Division) has, therefore, proposed an increase in the petroleum levy rate from Rs4,669 per ton to Rs8,571 per ton, which will result in a surge in LPG prices for the common man and other consumers across the country, according to the letter.
"ln an earlier meeting, we had apprised your office of the discrepancy in taxes and duties on the LPG produced locally vs imports," Iftikhar said.
"The former is subject to a petroleum levy of Rs4,669 per ton and general sales tax (GST) of 17% while the regulatory duty (previously Rs4,669 per ton) on imports has been abolished and they enjoy a favourable GST rate of 10%."
He pointed out that the matter had been discussed on several occasions including in a recent meeting at the Planning Commission, headed by its Deputy Chairman Jehanzeb Khan.
Iftikhar argued that local LPG production was already at a disadvantage compared to imports and imposition of any further levies would not only make the fuel more expensive but would also discourage investment in domestic LPG production and cause a drain on foreign currency reserves as imports would become more attractive.
According to him, average LPG imports, by land and sea, stand in excess of 1,500 tons per day whereas domestic production is 1,760 tons per day. "In order to ensure a level playing field and increase revenue collection, the Finance Division should reimpose the regulatory duty on imports at the previous notified rate of Rs4,669 per ton."
It would result in collection of more than Rs5.5 billion as there would be a uniform levy on both imports and local production, he emphasised and urged the division not to further increase the petroleum levy on locally produced LPG.
Published in The Express Tribune, August 7th, 2020.
Like Business on Facebook, follow @TribuneBiz on Twitter to stay informed and join in the conversation.
COMMENTS
Comments are moderated and generally will be posted if they are on-topic and not abusive.
For more information, please see our Comments FAQ