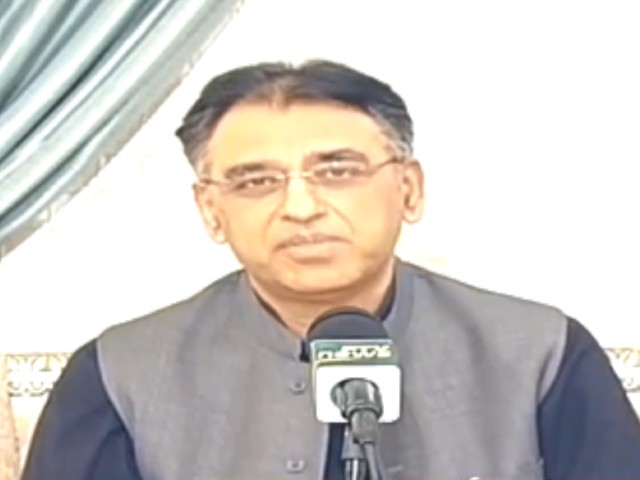 ---
ISLAMABAD:
The federal government on Thursday decided to allow the reopening of restaurants, hotels, cinemas, beauty parlours, gyms and other businesses in the hospitality and recreational sectors by the end of this week – almost five months after they were closed to curb the spread of the coronavirus pandemic -- in the wake of the decline in Covid-19 cases and fatalities.
Restrictions on the tourism sector, which includes hotels, will be lifted as early as August 8 (tomorrow). Restaurants, cinemas and other businesses as well as shrines and expo centres have been allowed to reopen from August 10. The ban on pillion riding and public transport has also been lifted.
These sectors were on the government's negative list – meaning they posed a greater risk of spreading the infection.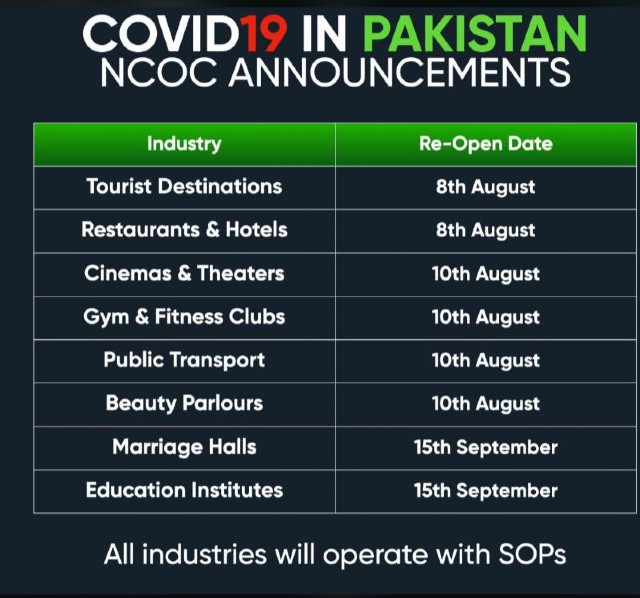 Wedding halls and educational institutions will be allowed to operate from September 15.
The decision to reopen these sectors was made during a meeting of the National Coordination Committee (NCC) on Covid-19 chaired by Prime Minister Imran Khan and attended by representatives from all the provinces.
The participants of the meeting discussed the recommendations prepared by the National Command an Operation Centre (NCOC) on Covid-19 in consultation with the provinces.
Briefing the media about the meeting, Federal Planning and Development Minister Asad Umar, who heads the NCOC, said outdoor and indoor non-contact games would also be allowed from August 10.
"Restrictions in place while travelling in trains and airlines will be lifted on October 1, he added.
"Similarly, public transport will be allowed to operate from the 10th of this month but passengers will not be allowed to travel while standing in buses."
The minister noted that people working in the hospitality sector, restaurants and cafes were facing immense difficulties.
The standard operating procedures (SOPs) for restaurants and cafes will be finalised in the next two to three days.
The SOPs for the tourism sector have already been prepared.
Umar explained that educational institutions would open from September 15 but the federal education minister would consult with provincial ministers for a final review of the situation on September 7.
Businesses have also been allowed to revert to their pre-coronavirus pandemic timings.
The minister said the people of Pakistan were the real heroes in defeating the pandemic as they had followed the SOPs to stop the spread of Covid-19.
"The pandemic has greatly been controlled because of the effective strategy of government institutions, untiring efforts of doctors and paramedical staff and the cooperation of citizens."
However, Umar cautioned that in case of a large gathering, citizens would have to follow the guidelines issued by their provincial government.
He asked citizens to follow the SOPs at large gatherings at shrines and seek permission from the administration before organising events that could attract crowds.
The minister maintained that the smart lockdown strategy adopted by Pakistan was being appreciated by the other countries and they are also learning from the country's experience.