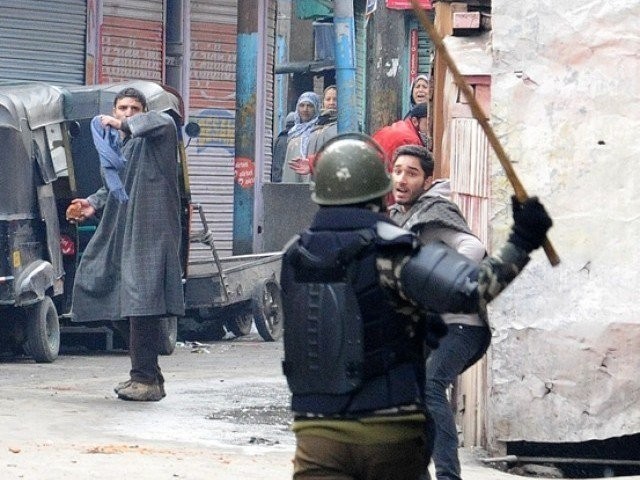 ---
'In besieging IIOJK, India bit off more than it can chew'
Experts say Modi's decision to strip IIOJK's autonomy has left Delhi with no more moves to play
---
KARACHI:
It has been exactly one year since New Delhi stripped Indian Illegally Occupied Jammu and Kashmir (IIOJK) of the last symbolic vestiges of autonomy. One year since it placed the occupied territory's entire political leadership under arrest while arbitrarily detaining over 13,000 Kashmiris, children as young as seven among them.
For those spared of that fate, India turned the entire picturesque region itself into essentially an open-air prison. Facing lockdown and a near-total communication blackout, the people of IIOJK have been subjected to unparalleled humiliation and human rights violations.
In doing so, however, experts say India under Narendra Modi has done little more than reveal its true illiberal nature. According to them, the Indian premier may have thought it was playing a move to end all moves on August 5 2019, but a year on, it has become obvious that his government overplayed its own hand.
Speaking to The Express Tribune, international law expert Barrister Asad Rahim said India's actions in IIOJK over the past year had vindicated Pakistan's stance on the region. "The way India has repeatedly and consistently trampled the basic rights of the Kashmiri people [in IIOJK] has forced opinion-makers around the world, particularly media outlets like New York Times and Al Jazeera, to acknowledge that the present situation in the occupied territory is untenable," he said.
"Pakistan's stance, on the other hand, has always been clear and consistent. We support the right of Kashmiris to self-determination," he added. "India, like in the past, has tried to paint Pakistan as a supporter of militancy in the valley, but as Prime Minister Imran Khan pointed out, India has deployed 900,000 troops in IIOJK. A few militants would never be able to displace such a huge military presence," he stressed.
According to Rahim, another interesting outcome of Narendra Modi's move to revoke the constitutional provisions that guaranteed IIOJK autonomy is that it has thoroughly deligitimised unionists and other pro-India elements in Kashmir.
"Their narrative has been thoroughly discredited, thanks to Modi and his Bharatiya Janata Party (BJP)," Rahim said. "The general sentiment in IIOJK has always been against unionist policies, but this has become even more apparent than before."
Lastly and more importantly, Rahim said there has been a decisive shift in international perspective over IIOJK. "This is evident from a recent report of the Office of the United Nations High Commissioner for Human Rights," he said. "The report has recommended the creation of a human rights council to look into rights violation in IIOJK, which is unprecedented when it comes to this issue. This sort of probe is reserved only for issues of the highest level, such as warzones and humanitarian crises like those in Syria and Libya," he pointed out.
"To sum it up, Modi and BJP went for the overkill when they tried to revoke articles 370 and 35(A). In doing so, they overplayed their hand and now increasingly find themselves with no moves left," Rahim said.
Former foreign secretary and foreign affairs expert Shamshad Ahmad Khan agreed that India's position on IIOJK now appeared weaker than ever a year on from its move to remove the region's autonomy.
"In 1947, when India illegally occupied the IIOJK, it colluded with pro-India factions in the region to mask the illegitimacy of its actions," Shamshad said. "To hide the fact that it was an occupation, India proclaimed it would make IIOJK 'autonomous', which in practice never was the case. All the shots were always called from Delhi."
"On August 5 last year, India in essence carried out a second occupation in IIOJK. And in doing so, it ripped away the mask it had adorned for decades," Shamshad highlighted. "This challenge, however, is a blessing in disguise as I've mentioned before. It has made it all the more easy to expose India's true face in IIOJK," he said.
"Prime Minister Imran, when he spoke before the United Nations, he lived up to his promise of being an ambassador for the Kashmir cause worldwide. His speech has increased global sensitivity towards the plight of Kashmiris in IIOJK. People around the world are now much more sympathetic to continuing suffering of Kashmiris," he added. "The world understands that the lockdown and restrictions they face are nothing but unjust."
Going forward, Shamshad said there was a need to sustain momentum on IIOJK. He called for entailing the help of Nobel laureates, who in his words "should be made to smell the gunpowder on the streets of IIOJK." He also stressed that without the involvement of world powers, any major change in the situation in IIOJK is unlikely.
Rahim, meanwhile, stressed the importance of centring Kashmiri voices. He added that any solution needs to start and end with self-determination for Kashmiris.