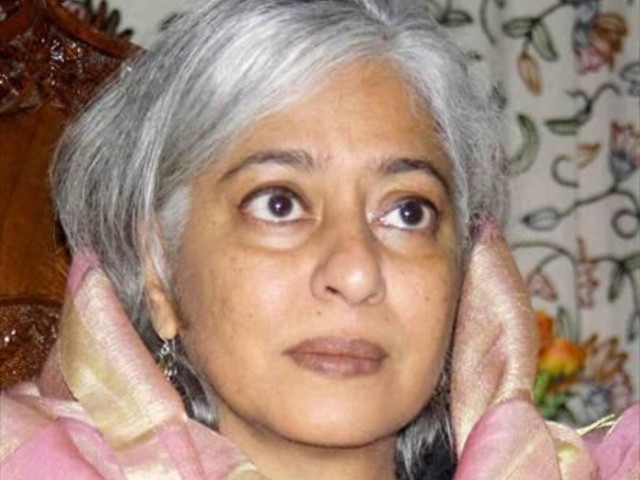 ---
NEW DELHI:
Radha Kumar, former Indian government mediator for Indian Illegally Occupied Jammu and Kashmir who is an academic and author, has said that the people of IIOJ&K are feeling humiliated by India's decisions taken last year on August 5, involving repealing the special status and dividing of the region into two centrally administered territories.
She said there was a great deal of fear in the occupied valley.
In an exclusive interview with Anadolu Agency, she said the Indian government's arguments that revocation of special status will accelerate development have not come true.
There is hardly any development on the ground and the freedom movement continues to thrive in the region, said Radha Kumar, who is also former director-general of Delhi Policy Group and a specialist on issues of peace and security.
Anadolu Agency: What is your assessment about the ground situation in Occupied Kashmir as it completes one year since India annexed the region and revoked its special status?
Radha Kumar (RK): The ground situation is very bad. Our group Forum for Human Rights in IIOJ&K recently released a report which spelled out the current situation. I can tell you that the situation is very bad there. Post-Aug. 5 last year, the situation in Occupied Kashmir has worsened as compared to earlier years.
Political vacuum
Q: At present, politics has come to a standstill in the occupied region, even traditional politicians have chosen to stay inactive. Do you see any scope of the revival of political initiatives as a vacuum exists at present?
RK: The first steps are to restore 4G services, release all political leaders still in detention, and allow peaceful dissent, then restore statehood and hold elections, following which a dialogue on finding a resolution to the outstanding issue.
Q: When you spoke to people on the ground, what were the common concerns?
RK: All the people we spoke to, feel profoundly humiliated by the decisions made by the Indian government. There is a great deal of fear in the occupied valley.
Ladakh frightened
Q: Indian government is on a spree of issuing orders concerning Occupied Kashmir whether it is domicile law or auctioning of material. How do you see it?
RK: We have been deeply critical of all these steps in our report. Demographic change of the very large kind that is being feared generally takes hundreds of years, unless there are a series of pogroms. That has not happened yet, thankfully.
Q: Lastly, you were part of a group of Interlocutors for IIOJ&K. What was your experience?
RK: Our experience was harrowing, having to cope with the deep anger and grief that we encountered. As mediators, we had several other hurdles too - the BJP, then in opposition, lost no opportunity to criticise us and pressure the former Prime Minister Manmohan Singh administration.