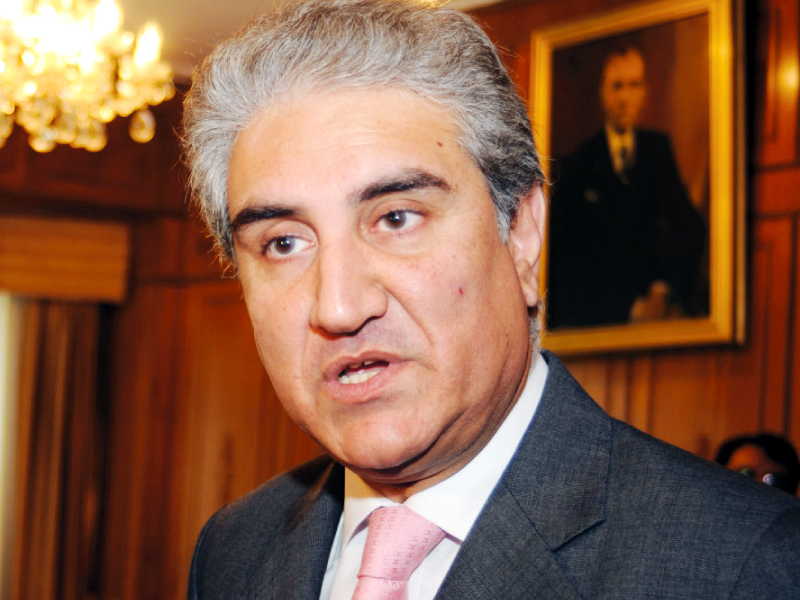 ---
Pakistan will give befitting response to any Indian misadventure along LoC: FM Qureshi
People should celebrate with caution and observe Covid-19 SOPs, says FM
---
MULTAN:
Foreign Minister Shah Mahmood Qureshi on Saturday reiterated that Pakistan would give a befitting response to any Indian misadventure along the Line of Control (LoC).
Talking to the media in Multan after offering Eidul Azha prayers, FM Qureshi said the Modi-led fascist government in India is preparing to begin construction work on Ram Mandar in Ayodhya over the site of the demolished Babri Mosque. Pakistan condemns this act, he added.
'Youm-e-Istehsal' would be observed on Wednesday, August 5 across the country to give a clear message to the oppressed people in Indian Illegally Occupied Jammu & Kashmir (IIOJ&K) that they are not alone.
He added that there will be a minute of silence at 10am on the day and Prime Minister Imran Khan would address the Azad Kashmir Legislative Assembly and President Arif Alvi would lead a rally in Islamabad.
Chief ministers would lead rallies in provincial capitals, seminars in solidarity with Kashmiris would be held in different cities, in which members of the national and provincial Assemblies would participate in solidarity with the people of Kashmir.
"Pakistan will continue to extend moral, political and diplomatic support to the Kashmiri people in their just struggle for freedom and right to self-determination," the foreign minister said.
He said that mosques have been closed in IIOJ&K and the entire political leadership of Kashmir has been detained.
"On August 5, one year of lockdown in IIOJ&K will be completed," he said. "Sacrifices of Kashmiris will pay off and India will be defeated."
Regarding the Covid-19 situation in the country, the FM said that Pakistan has been successful in curtailing the spread of the novel coronavirus. He said that the number of patients is decreasing due to the smart lockdown strategy of the government.
"If we neglect [the SOPs] on this [Eid] occasion, all the hard work will go in vain," Qureshi said, "This year's Hajj was also different from the previous year. Pilgrims were restricted, the nation is asked to perform their [religious] duties with caution."
The foreign minister added that progress has been made in the construction of affordable housing. Country's major builders intend to invest in this sector and the investment will create business opportunities.