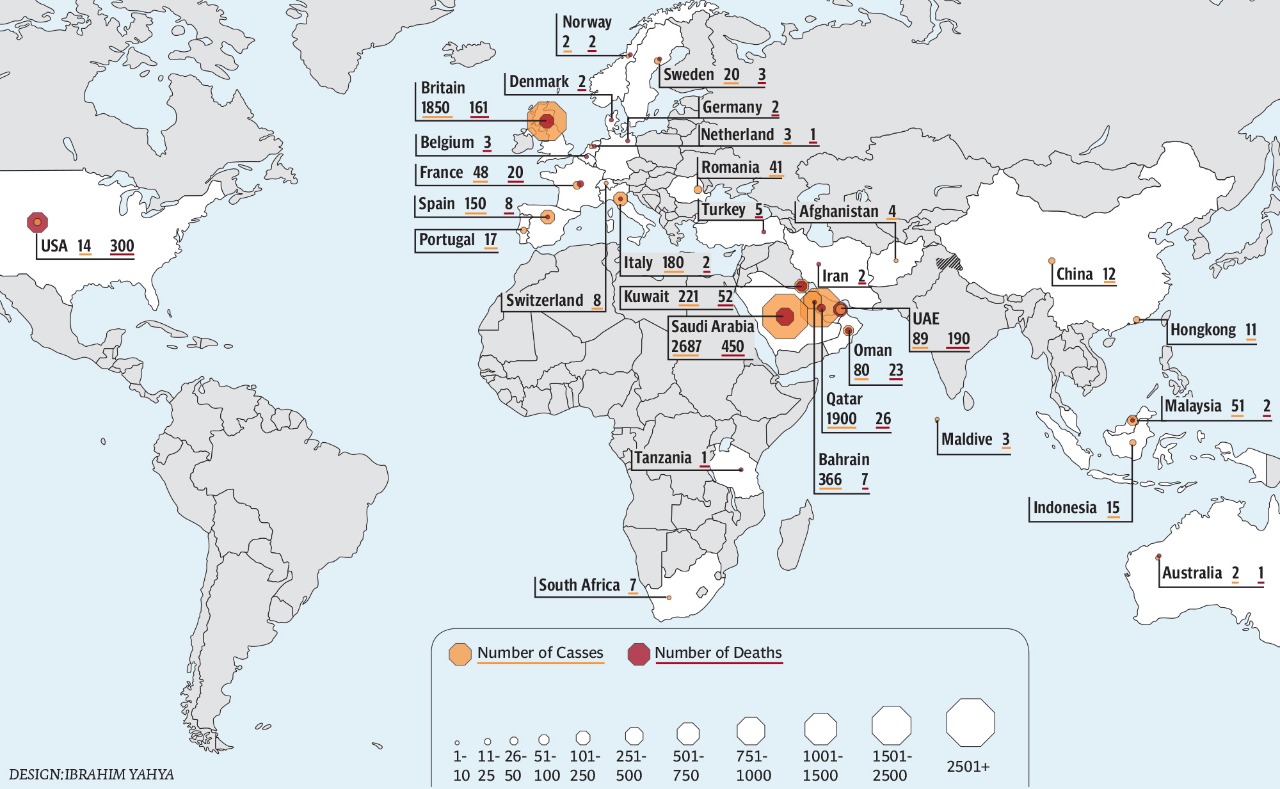 ---
ISLAMABAD:
We take for granted how small the world seems thanks to rapid travel and instantaneous communication – or at least we used to. The novel coronavirus pandemic has exposed how fragile the travel infrastructure the world blindly relied upon really was.
When one travels to another nation, either for a small visit or a rather permanent basis, one leaves behind both loved ones and cherished memories believing they would be only a step away. But the disruption brought by Covid-19 along with the virus's potentially fatal nature meant hundreds of Pakistanis who went abroad would never see home again.
As many as 1,262 Pakistani citizens have lost their lives to the coronavirus on foreign shores, documents available with The Express Tribune have revealed. The remains of some 973 of them have been flown back to the country on special flights the government arranged to repatriate Pakistanis stranded abroad when various nations enforced travel restrictions to control the spread of Covid-19.
In total, some 7,808 Pakistanis contracted the potentially deadly contagion in 52 countries, according to the documents. The bulk of them were in the Middle East when they tested positive for the virus, the documents showed.
As many as 2,687 Pakistanis were in Saudi Arabia when they were diagnosed with the virus, while 1,900 were in Qatar. Another 366 Pakistanis caught Covid-19 in Bahrain while 221, 89 and 80 were infected in Kuwait, the United Arab Emirates and Oman respectively.
Among European nations, the bulk of Pakistanis who caught Covid-19 – 1,850 to be precise – were in the United Kingdom at the time of diagnosis, according to documents. Another 180 and 150 Pakistanis were infected while in Italy and Spain respectively, along with 48 in France, 41 in Romania, 20 in Sweden, 17 in Portugal, eight in Switzerland, three in the Netherlands and two in Norway.
According to the documents, 51 Pakistanis caught the virus in Malaysia while 15 were infected in Indonesia and 11 in Hong Kong.
Corresponding to the number of cases, most Pakistanis who died due to Covid-19 while abroad were in the Middle East as well, with 450 passing away in Saudi Arabia, 190 in the United Arab Emirates, 52 in Kuwait, 26 in Qatar, 23 in Oman and seven in Bahrain. Another 300 lost the battle with the virus in the United States while 161 passed away in the United Kingdom, the report revealed. Twenty Pakistanis died due to Covid-19 in France as well, along with eight in Spain, five in Turkey, three in Sweden, two in Norway, Denmark and Germany, and one in the Netherlands. Iran reported the deaths of two Pakistanis due to Covid-19 as well, while Malaysia, Tanzania and Australia reported one each.
Speaking to The Express Tribune, Prime Minister Imran Khan's Special Assistant on Overseas Pakistanis Zulfi Bukhari said authorities were collecting details from all embassies and public welfare attaches on the more than 7,500 Pakistanis who contracted Covid-19 while abroad. "We are providing all possible assistance to Pakistanis who are still on foreign shores and have issued special instructions towards this end to our consuls general and public welfare attaches in various nations," he maintained.
"Overseas Pakistanis who are currently infected are being provided rations for free along with telemedicine facilities so they face no difficulties amid quarantine restrictions," Bukhari said. "The government is dedicated to providing them the best assistance possible in these difficult times."
Bukhari also confirmed the deaths of more than 1,200 overseas Pakistanis from Covid-19, but stressed that the remains of more than 950 of them were repatriated via special flights.