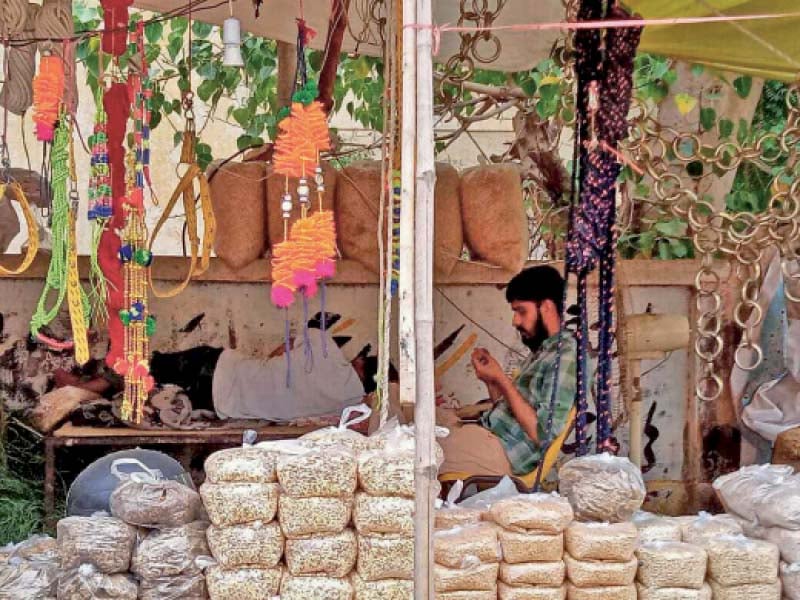 ---
Where a pandemic-induced financial crunch has marred Eidul Azha festivities for many, business opportunities associated with the religious festival have provided relief to numerous others.
For years, Eidul Azha has been aiding Karachi's needy in more ways than one. It creates temporary earning opportunities, providing many an enterprising soul with a source of livelihood - even if transient - and some additional income, besides seeing the fulfilment of acts of philanthropy.
This time around, too, as the city struggles with the pandemic and the aftermath of the lockdown, the arrival of the religious festival offered the out-of-work population some respite in the face of a sluggish economy.
Making hay while the sun shines
Among them were fodder sellers, working round-the-clock at makeshift stalls set up across the city.
According to Mohammad Naeem, who has been long associated with this temporary business, fodder stalls spring up on Karachi's roads, streets and commercial and residential areas around 15 days before Eidul Azha and continue to sell animal feed until the third day of Eid.
"These are a source of employment for several out-of-work youth," he said. Selling bran, maize, barley, wheat and other types of fodder, scores are able to earn some extra money ahead of Eid, he added.
Naeem further explained that animal feed was mostly brought to these stalls from a wholesale fodder market in Lea Market, being sold for a profit of 10 per cent to 15 per cent.
He added that this year, the prices have gone up by 25 per cent to 30 per cent, with fodder ranging from Rs20 to Rs85.
Makeshift cattle pens
Another opportunity arises as a result of Karachi's topography, which, mainly characterised by high-rise residential apartments, doesn't allow sufficient space for sacrificial animals. And even then, there is the risk of theft if they are left unattended in the street.
And so, a number of people, seeing the gap, have set up makeshift fenced cattle pens, sheltered under tents, to provide a safe space for sacrificial animals. These 'well-guarded pens' are usually established around 10 days before Eid and are not dismantled until the last day of the religious festival. Protected and cared for, the animals are thus guarded 24/7 by men who work in shifts.
Details collected by The Express Tribune show that the organisers of these fenced areas charge around Rs300 per day for providing space for cows, buffaloes and camels, and Rs200 for lambs and goats..
In some cases, the animal feed is arranged by those running the pens, and in other cases, the animals' owners provide the fodder.
Seasonal butchers
The demand for butchers leaps too on Eidul Azha - and so do their rates.
Most professional butchers were booked days before Eid, even though prices this year were 30 per cent to 50 per cent higher than what they charged before. This opens up space for others offering their services to slaughter animals for those who may not be able to get a professional butcher for their animals.
These seasonal butchers slaughter animals for half the rates demanded by the professional ones.
A local butcher, Kamran Qureshi, told The Express Tribune that on Eid, the price for slaughtering an animals is usually determined in accordance with the weight of the animal - the greater it weighs, the higher the fee demanded. Besides, he added, the rates vary from area to area too, and also depend on the day the animal is being slaughtered. The prices are highest for the first day of Eid and dwindle with each passing day.
Moving cattle
Transporters, too, see their businesses flourish prior to Eid. Usually offering services for transporting material goods, they turn to the cattle markets ahead of Eid, earning good money for taking sacrificial animals to buyers' homes.
They usually also hire assistants to help them in the task, and the transport rates are decided according the distance of the destination from the cattle market. The prices usually begin from Rs1,000 and depending on the distance, can rise to Rs3,000 to Rs4,000.
These transporters mostly use Suzuki vans and carriers and mini-trucks, but at times, even the services of rickshaw drivers are sought for shifting smaller animals. These rickshaw owners normally demand Rs300 to Rs700 for a single trip.
Published in The Express Tribune, August 1st, 2020.