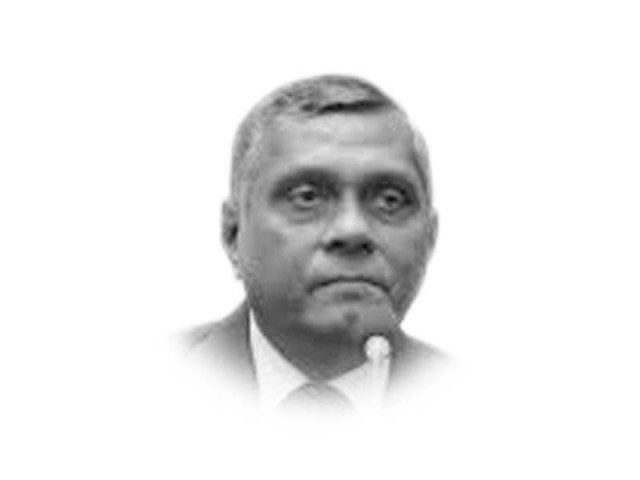 ---
The criteria for a vibrant, successful, secure, accomplished and modern state is that it is able to provide basic necessities of life to its citizens, namely clean and safe drinking water, electricity, gas, public transport, health and educational facilities. A failing and failed state is unable to take care of these basic needs and is run by 'mafias' who not only excel in corruption and nepotism but possess no sense of responsibility or accountability.
Karachi is a classic example of failed governance, lack of accountability and unstoppable corruption and nepotism. It is not only K-Electric which is called a "white elephant" and a "monster" failing in its duty to provide uninterrupted supply of electricity, or makes life miserable for Karachi's 25 million people. It is also Karachi Water & Sewerage Board (KWSB) which has miserably failed to ensure an adequate supply of water and fulfil its responsibility of waste disposal. Chocked gutters play havoc during the rainy season by inundating roads and homes while the underpasses are submerged.
Karachi is a classic case study of failed governance. The largest city in Pakistan that contributes around 65% of the country's revenue has, for long, been facing a crisis of governance and ownership. For how long can these unbearable conditions be tolerated and what will the outcome of the indifference of federal and provincial governments in dealing with the predicament of Pakistan's 'crown jewel' be? Is there a workable and viable solution to deal with water, electricity, sewerage, transport and security issues being faced by the citizens of Karachi? Why have the elected representatives from Karachi, including those in the city government, been unable to better conditions of Pakistan's financial hub?
From the 1950s till 1970s, Karachi was a role model of governance, economic progress and peace but things changed after the 80s when the city was taken over by 'mafias' having political patronage and support. Now, Karachi is at crossroads as the breakdown of civic amenities and the crisis which gripped the city after the outbreak of the pandemic not only caused unemployment but social tension at different levels.
There is no shortcut to tackling the ordeals of Karachi but the severity of the many crises faced by the capital of Sindh can be dealt with by considering three options.
First, as a step to deal with serious electricity crisis in Karachi, K-Electric needs to be brought under the control of the federal government with a singular task to restructure its management, financial and technical sides so that the people who have been suffering for long because of inefficiency and incompetence are given some relief. It is the moral duty of the PTI government to urgently deal with the electricity crisis because it has majority of seats in the national and provincial assemblies and its letting down of Karachi will have serious negative implications in the next elections. Those who are honest and competent with good managerial skills must be inducted in the new K-Electric setup with a responsibility and accountability to provide affordable and uninterrupted supply of power. The federal government must also allow other electricity companies to operate so that customers have better choices in terms of rates and services. At a press conference held at the Karachi Press Club on July 18, the Shehri Awami Mahaz demanded that K-Electric's privatisation be cancelled and it be placed under democratic control of the citizens, and more than 100 illegal hydrants in the city be shut down in order to rein in water and power mafias.
Second, KWSB must be given under the control of the city government as it purely deals with civic issues like water and sewage. Both the water and sewage conditions in Karachi are pathetic as the people spend an annual amount of Rs22 billion for purchase of water from the tanker mafia while also paying the water bill. Most of the roads of the city are littered with garbage and sewage water to the extent that in Gulberg Town, residents experienced the mixing of sewerage water through their water pipes. During recent rains, sewage and rainwater flooded houses even in posh localities like Defence and PECHS, which reflected the breakdown of the city's sewage system. Every year, during the rainy season the people of Karachi face the ordeal of broken and flooded roads and the breakdown of power supply. It seems no government is in place because those who should hold the responsibility over water, power and sewage only blame each other. The federal government blames the Sindh government for negligence and corruption. Whereas, the Sindh government blames the city government led by MQM for incompetence.
Finally, the predicament of the people of Karachi is not only limited to water, power and sewage, but they are unable to get respectable and affordable public transport as well. Various projects which were launched by the federal and provincial governments, including the Green Line, to provide better transport facilities remain incomplete and the circular railway which the Supreme Court had ordered to be revitalised is still facing technical and bureaucratic issues.
Consequently, there is no let up for the citizens of Karachi as far as water, power, sewage and transport ordeals are concerned. Added to their plight is the entrenched land mafia and gangs of criminals who despite official claims are involved in armed robberies, abduction for ransom and street crimes.
In order to prevent the impending human disaster in Karachi because of the issues examined above, the only way to preclude such a situation is to empower the city government with a direct election of the mayor. The control of provincial government over civic matters like KWSB needs to be withdrawn and handed back to the city government. That rigorous process of accountability to monitor the utilisation of resources for the uplift of city in the form of revitalised water, power, sewage and transport system is carried out under the supervision of the Supreme Court. Weeding out criminal elements having political patronage needs to be carried out so that the city's image is restored.
Karachi's city government and a directly-elected mayor should not be dependent on provincial and federal governments for support because the Supreme Court would evolve a mechanism to ensure the financial viability of the city government and would bind both Sindh and Centre to provide adequate resources so that water, sewage, electricity and public transport issues are resolved on a permanent basis. Karachi should be a role model of good governance and rule of law for the rest of Pakistan and not a reflection of a failed state.
Published in The Express Tribune, July 31st, 2020.
Like Opinion & Editorial on Facebook, follow @ETOpEd on Twitter to receive all updates on all our daily pieces.