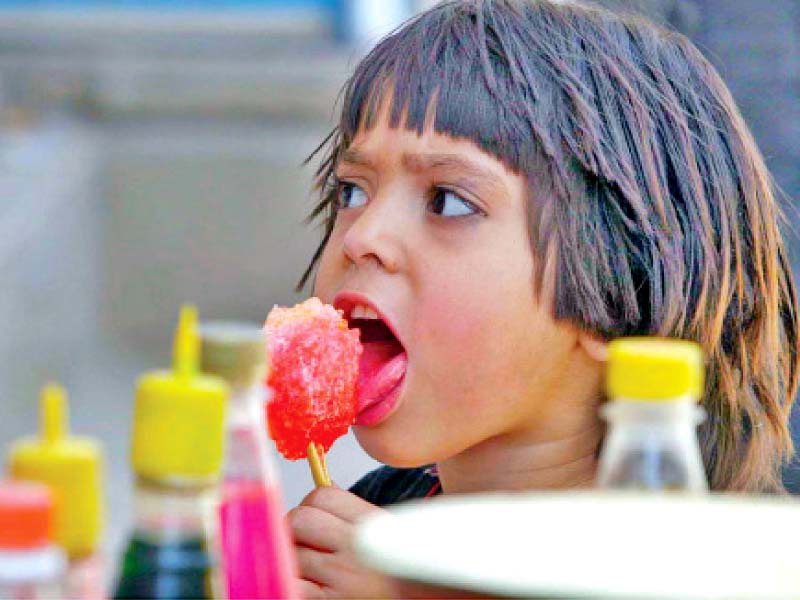 ---
Islamabad keeps it cool with Gola Gandas
Shaved ice doused in vibrant melange of syrups is capital's favourite summertime street food
---
ISLAMABAD:
Made with crushed ice, a rainbow of sweet syrup and occasionally a drizzle of condensed milk, gola gandas make for the perfect frozen dessert to cool down on a hot summer day. Available around the city for as little as Rs10 to Rs20, this refreshing treat is a season's favourite for people of all ages but remains especially popular among children. The vendors, commonly known as gola ganda wallah, are often seen outside schools, bazaars and slums, where students and children find delight the cheap and cheerful treat.
"I love eating gola ganda. I used to get a small cup of every day after school from the vendors nearby. But it's been months since the schools have been closed because of coronavirus and gola ganda wallahs don't come here anymore," said Mariyam, a school student fond of the syrupy treat.
Areas like Karachi Company, Sitara Market, Bara Kahu and No. 26 Chowrangi in the federal capital, are famous for housing plenty of gola ganda stalls. Locals say that they have been enjoying these frozen delights for generations. "There weren't as many health concerns associated with street food in our time as there are today. We would wait every day in the summer months for the gola ganda wallah to push his cart into our neighborhood. Watching the vendor use a hand operated machine to crush the ice and paint it with a vibrant syrups had a joy of its own. We would buy a serving of gola ganda for as little as 10 paisas back then," shared an elderly resident.
According to Nasir, a gola ganda wallah from Islamabad, his stall is most frequented by children, who are attracted to the brightly coloured syrup he douses the shaved ice balls in. "Although gola gandas are popular all year round, like ice cream, people enjoy it more in the summer months when heat grips the city and people are looking for something to cool them down." Shafiq Gujjar, another gola ganda wallah who has been associated with the business for decades, further added that the demand for the icy treat increases the most during the months of May and June but drops when the weather changes. "It is rainy season in Islamabad during August to September, so people avoid going out too much. This means less business for us. But since the rates for ice creams and other frozen treats have increased, we have had to increase our prices too," he shared. "There is not a lot of profit in this business anymore. Sugar syrup does not have a great shelf life and everything's a lot more expensive now. Adding to that, sales also dropped significantly over the last few year. People are more health and hygiene conscious now and prefer packed products over street food. I sell about 50 to 60 gola gandas a day, but it's still not enough considering all the expenses involved."
On the other hand, speaking about the health risks associated with consumption of street foods, Dr Qasim, an Islamabad based medical expert said that it is not advisable to eat gola gandas in scorching heat. "Eating anything that primarily consists of frozen water on very hot days can have a severe effect on our body. The sudden shift of body temperature is not favorable in most cases and can make people sick," he told The Express Tribune.
Published in The Express Tribune, July 28th, 2020.