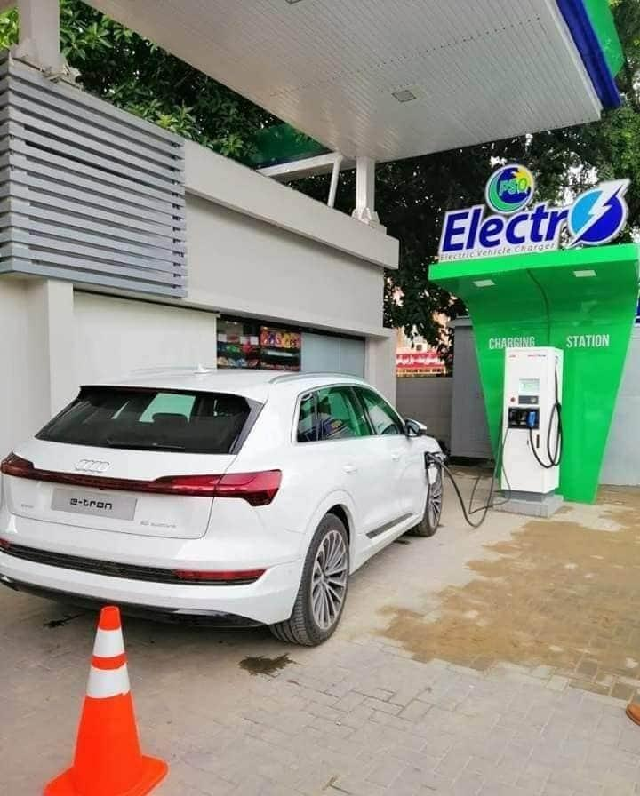 ---
ISLAMABAD:
The first electric vehicle (car) charging station launched and set up a few days back in the federal capital of Islamabad has been made functional.
The first charging station has been set up at the Pakistan State Oil (PSO), F-7 Markaz by Barqtron Energy Company .
Yet another target of transfering motor vehicles to electric power set by Federal Minister Science & Technology @fawadchaudhry has been achieved. The first ever electric vehicle charging unit has been installed in Islamabad. More EV manufacturing units would also be established. pic.twitter.com/tpXCKSpswX

— Ministry of Science & Technology (@MinistryofST) July 27, 2020
The charging station was made functional after successful completion of supply, installation and commissioning of electric vehicle (EV) charger for PSO.
The Ministry of Science and Technology's spokesperson termed the initiative as a welcoming move for the country which would soon witness electric vehicles plying on its roads.
According to the recent tweet of Federal Minister for Science and Technology Fawad Hussain, the opening of EV charging station would help encourage electric vehicles as future transportation.
He also said that there would be only 1% duty on the establishment of EV's manufacturing units in Pakistan. "The Ministry of Science and Technology is also working on a policy to shift vehicles on battery in the future."
Passed on June 10, the new policy was originally approved by Prime Minister Imran Khan in November, with the goal of cutting air pollution and curbing climate change.
It aims to bring half a million electric motorcycles and rickshaws, along with more than 100,000 electric cars, buses and trucks, into the transportation system over the next five years.
The goal is to have at least 30% of all vehicles running on electricity by 2030.
COMMENTS
Comments are moderated and generally will be posted if they are on-topic and not abusive.
For more information, please see our Comments FAQ