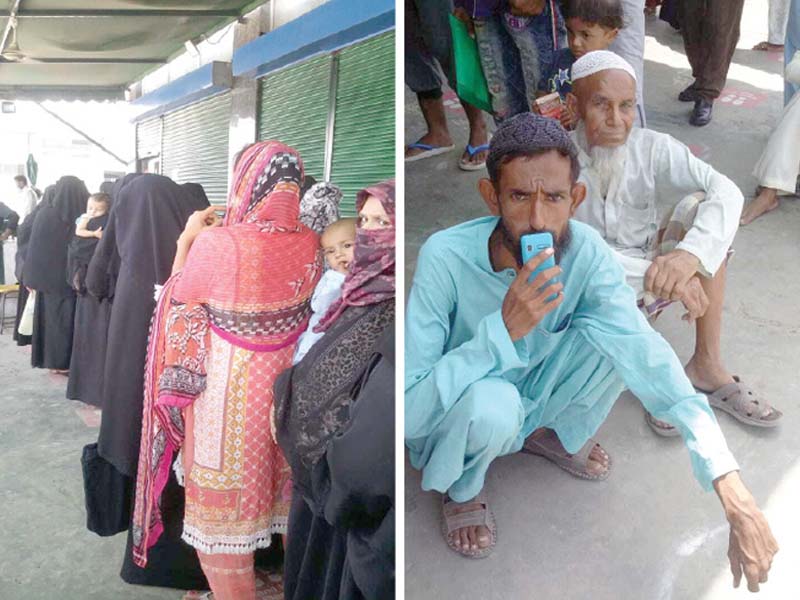 ---
Blatant SOP violations continue at NADRA centres in Karachi
Neither staffers nor visitors seem to be bothered about the deadly virus
---
KARACHI:
Following a three-month lockdown imposed in a bid to stem the spread of Covid-19, the federal and provincial governments decided to ease the lockdown last month, granting conditional permission to public and private offices, traders, shopkeepers, and people belonging to different professions to continue their necessary activities.
One of the conditions was to strictly follow the standard operating procedures (SOPs) that the government had issued to minimise transmission - but these are being violated blatantly, especially in places such as the National Database and Registration Authority (NADRA) centres, visited by thousands of citizens every day.
As per the government's orders, every person entering the premises must be provided with hand sanitisers, must maintain a distance of at least 4 feet from another person, and wear face masks. The government also announced that any office or public places found violating the SOPs will be sealed off. But the rule, it seems, does not apply to government-run institutions like NADRA.
A recent visit to several NADRA centres across the city carried out by The Express Tribune revealed that most staffers inside the offices were not wearing masks. When questioned about their non-compliant attitude, a senior NADRA officer, who requested not to be named, said he was not allowed to speak to media outlets.
"We cannot speak to journalists without permission from the higher authorities. If there are urgent questions, then journalists can approach NADRA's media wing in Islamabad," he said.
Hundreds of people stood in queues outside and inside these NADRA centres, waiting to obtain or register for their computerised national identity cards (CNICs). No officers or guards were deployed outside the premises to guide people about social distancing.
About 70 per cent of visitors were not wearing a mask and there were no sanitisers installed inside the building for public use. Women merely covered their faces with dupattas and scarves but did not wear a surgical mask, saying that dupattas equally served the purpose, so they did not feel the need to purchase a mask.
When asked why they did not wear masks and stood too close to other people, most visitors either refused to talk about the issue or mocked the question. Some even said that they do not believe that the virus still exists in Pakistan.
Regrettably, NADRA staffers and officers seemed to be least bothered by the violation of SOPs as they were not following them either.
At NADRA's Mega Centre in Defence Housing Authority (DHA) Phase 1, scores of security personnel had been deputed at the branch, but no one was following the SOPs. The security personnel were only responsible for letting the visitors inside the building through sanitising gates. Without masks and social distancing measures, however, the purpose of the gates becomes futile.
When approached, NADRA regional head office's assistant director Sajid Aziz Awan said media personnel were not allowed to report on anything related to NADRA without obtaining prior permission from the regional head office's director-general, Mir Ajam Khan Durrani.
Speaking about the visitors, he said that they can only be advised to follow the SOPs and observe social distancing, but cannot be forced.
"What can we do if people do not listen to us?" he asked. "Thousands of people visit NADRA centres daily, and when guards ask them to wear face masks, they either say they are experiencing breathing difficulties or have forgotten their masks at home. How many people can we practically force? Hence, you tell us, what can we do?"
When asked about the prevalent non-compliance of SOPs among NADRA officers and staffers, though, Awan refused to comment.
Published in The Express Tribune, July 23rd, 2020.