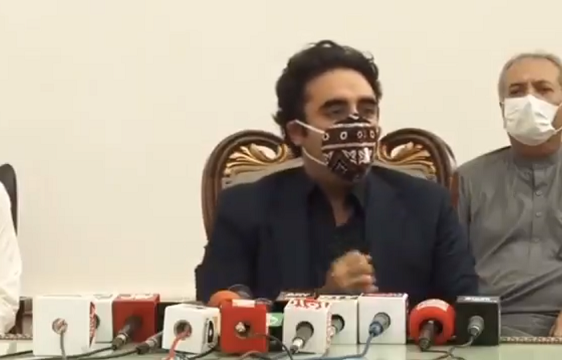 ---
LAHORE:
The Pakistan People Party (PPP) leaders have expressed reservations over the Pakistan Muslim League-Nawaz's (PML-N) politics during a party meeting a day after both parties had agreed to hold a multi-party conference to devise a joint strategy against the Pakistan Tehreek-e-Insaf (PTI) led federal government.
According to a senior provincial party leader, PPP Chairman Bilawal Bhutto Zardari met the parliamentary party members and the party's central Punjab leadership for the first time since the outbreak of novel coronavirus in February.
During the meeting, senior party leader Barrister Aitzaz Ahsan expressed his strongest reservation over the PML-N politics. Ahsan reminded the party chief of the political victimisation faced by the PPP at the hands of the PML-N back in the 1990s.
Ahsan was of the view that the Sharif family had always put their interest ahead of party interests. He opined that the PPP would never be able to launch a joint struggle against the government with the PML-N.
"After CoD [Charter of Democracy signed between Nawaz Sharif and late Benazir Bhutto in 2006] setback, it is clear that the PPP cannot and should not trust the PML-N," the PPP provincial leader quoted Aitzaz Ahsan as saying.
According to the source, many other leaders seconded Ahsan's views and requested the party leadership to devise an independent and own strategy against the government. They requested the leadership not to bank on the PML-N, instead proactively engage the people of Punjab to strengthen the party base.
The source said that Bilawal assured the party leaders that if the PML-N did not show a serious resolve to run a movement against the government during the upcoming opposition gathering – most-popularly known as the All Parties Conference (APC) – he would consider their advice.
Chaudhry Manzoor, a senior party leader, told The Express Tribune that Barrister Aitzaz Ahsan was very vocal about this opinion regarding the PML-N. He added that the PPP chairman was very clear during the meeting that at this time they needed all parties to unite against this incompetent government.
Manzoor said that Bilawal made it clear that they could not allow the opposition to get divided at this time. Asked if other leaders held similar views against the PML-N, he said that such meetings were the party's internal matter and "everything that happens in the meeting cannot be made public".
PML-N spokesperson Marriyum Aurangzeb said that both the parties were on the same page against this government. Regarding the concerns expressed by the PPP leaders, she said that it was the PPP's internal matter for which no media statement had been issued.
COMMENTS
Comments are moderated and generally will be posted if they are on-topic and not abusive.
For more information, please see our Comments FAQ