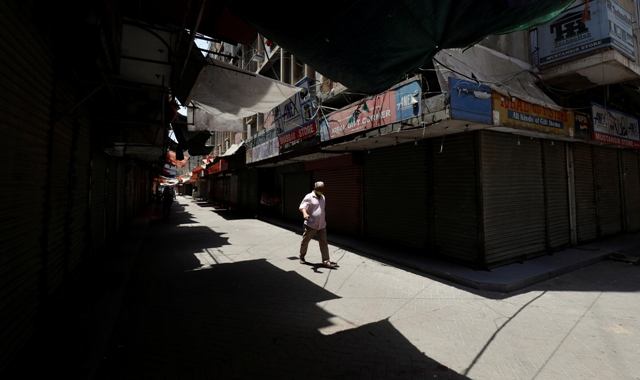 ---
The Punjab government imposed on Tuesday smart lockdown in Covid-19 hotspots in Sialkot, Wah Cantt, Gujrat and Gujranwala.
Among the areas were Kalan Ladhar and Ghazipur town of Sialkot, Ward 3, Ward 8 and UC Sarai Kala of Wah Cantonment, Kalopura, Chah Tarang and village Madina Syedan of Gujarat. and Nandipur, Arup Town and Qila Deedar Singh in Gujranwala.
In a tweet, the provincial government stated that the purpose of the smart lockdown was to restrict the movement of people from areas that have recorded a large number of cases.
پنجاب کے 4 شہروں کے مختلف علاقوں میں سمارٹ لاک ڈاؤن نافذ:

•سیالکوٹ: کلاں لدھڑ اور ٹاون غازی پور۔
•واہ کینٹ: وارڈ 3، وارڈ 8 اور یو سی سرائے کالا۔
•گجرات: محلہ کالو پورہ، چاہ ترنگ اور گاوں مدینہ سیداں۔
•گوجرانوالہ:نندی پور، اروپ ٹاون اور قلعہ دیدار سنگھ میں سمارٹ لاک ڈاؤن نافذ

— Government of Punjab (@GOPunjabPK) July 21, 2020
"In consultation with the National Command and Operation Centre (NCOC), the Punjab government is adopting the best strategy to control the coronavirus," the provincial government said, adding that essential items will continue to be available in these areas.
The purpose of smart lockdown is to restrict the movement of people from areas with a high number of cases, the government observed.
On July 2, following the lapse of the coronavirus restrictions' notification and improvement in the situation on the ground, the district administration lifted smart lockdown from selected areas of Lahore.
Two days before that, the provincial government had empowered district administrations to decide about lifting smart lockdowns as per their respective situation, besides extending the lockdown strategy till July 15.
As the coronavirus situation improved after imposition of smart lockdown, the Lahore district administration opened most areas, except seven coronavirus hotspots, including Gulberg, Faisal Town, Garden Town, Model Town, Defence, Gulshan Ravi and the Walled City.
An official of the district administration said the government would re-evaluate the situation after three days to make any decision about lifting the lockdown from these areas. Field officials were instructed to remove barricades installed during the lockdown period, after which life returned to normalcy for citizens in these localities.