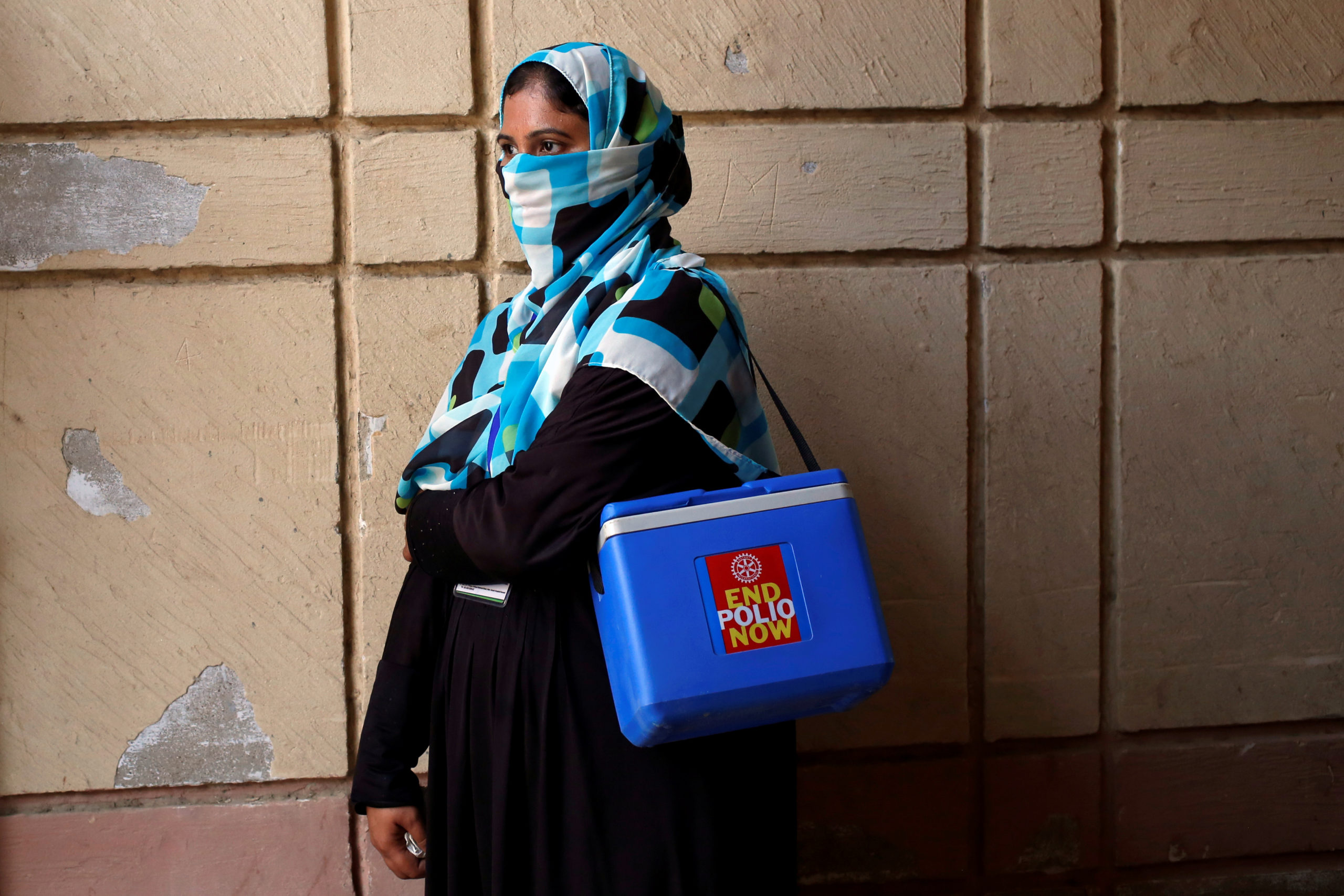 ---
QUETTA:
A five-day anti-polio virus campaign in selected Union Councils of Quetta has resumed on Monday after a suspension of four months due to the coronavirus pandemic across Balochistan.
At first, the UCs of the provincial capital close to drainages were kept in focus as thevirus samples collected from the sites found positive and indicated active virus circulation posing threats to other children under the age of five, according to a statement issued.
Balochistan Emergency Operation Centre (EOC) Coordinator Rashid Razzaq said in the statement more than 110,000 children would be administered anti-polio drops.
He added 541 teams would participate in the drive, including 395 mobile teams and34 static teams.
"We will ensure the compliance of guidelines and standard operating procedures (SOPs) proposed by the government of Balochistan and World Health Organisation (WHO) to prevent the spread of coronavirus," said the provincial coordinator, addingthe temperature of each worker would be measured before they step in the field.
Razzaq further said 500 polio workers have been trained to prevent the spread of Covid-19 and they have been provided necessary protective items, including masks and sanitizers.
The provincial coordinator urged parents to cooperate with the teams coming at their doorsteps for anti-polio vaccination despite the coronavirus situation across the province.
"Don't put the lives of your children at stake. Vaccinate them for polio and other deadly diseases," said Razzaq in his message to parents. He added the essential health services disrupted due to the restrictions imposed following the outbreak of the coronavirus pandemic and resulted in suspension of immunisation activities, closure of Out Patient Departments (OPDs) and travel difficulties.
Razzaq also urged cooperation from all schools of thought for the eradication of polio virus. "We are hopeful to move towards a polio free society," he added.
So far Pakistan has reported 60 cases of polio virus across the country in 2020 with 21 cases in Khyber-Pakhtunkhwa (K-P), the highest cases of the virus. Sindh is on the second number with 21 cases, Balochistan is on the third with 15 cases and Punjab is on the fourth with 4 cases.
Polio is a highly infectious disease caused by poliovirus mainly affecting children under the age of five. It invades the nervous system and causes paralysis or even death.
While there is no cure for polio, vaccination is the most effective way to protect children from this crippling disease. Each time a child under the age of five is vaccinated, their protection against the virus is increased.
Published in The Express Tribune, July 21st, 2020.
COMMENTS
Comments are moderated and generally will be posted if they are on-topic and not abusive.
For more information, please see our Comments FAQ