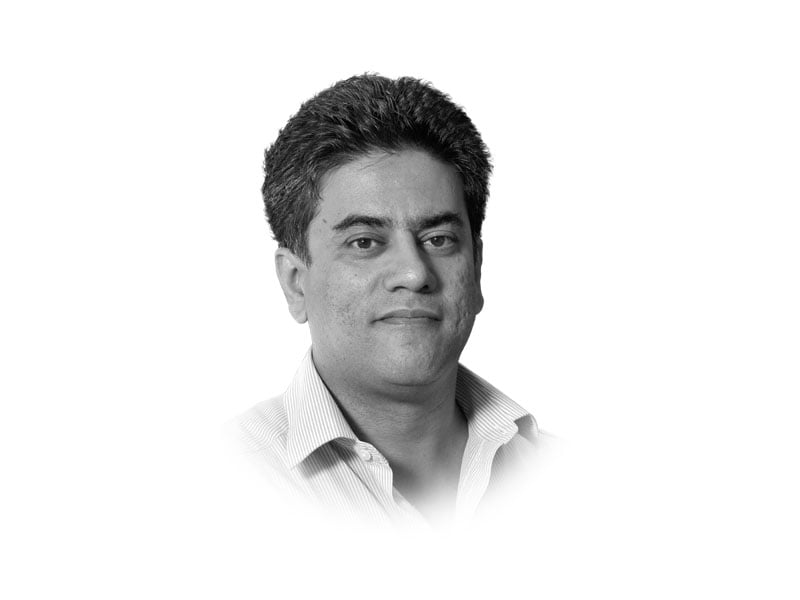 ---
Every year, the story repeats itself. Pakistan's largest city and its commercial capital receives its first heavy shower which results in chaos. Roads are flooded, power supply is disrupted, extensive damage is reported, while people die from electrocution, collapsing buildings or falling into open drains.
Every year, the government is blamed – and rightly so. People also rant against K-Electric for the power cuts, and angry comparisons are made with how other cities in the country manage in such times. As usual, the Karachi Mayor complains of lack of funds while the Chief Minister makes excuses about what went wrong and why.
Some heroes are bound to emerge – traffic police who help manage flow of traffic when massive jams take place after the rains; volunteers who help guide and save others; and emergency services that help people in their time of crisis.
This year was no different from the rest. After heavy rains on Friday, roads from II Chundrigar Road to Sharae Faisal were completely inundated. Trees and poles fell in multiple areas as well. People returning home from work were stuck in traffic jams for hours.
The heaviest rain was recorded at the PAF Faisal Base and Sharae Faisal, where 63.5mm was reported. In Saddar, Empress Market and II Chundrigar Road 41mm was recorded. Another 40mm was recorded in Landhi, Korangi, Quaidabad and Gulshan-e-Hadeed. Two people were electrocuted in Ibrahim Hyderi and Neelam Colony. K-Electric says they were electrocuted by broken power lines.
We are told that the average annual rainfall for Karachi is 174.6 millimeters (1981–2010). The highest annual rainfall of 713 millimeters was recorded in 1967. Annual monsoon rains for Karachi amount to 146.5 millimeters.
The city has experienced above-normal monsoon rainfalls in 2003, 2006, 2007, 2009, 2010 and 2011, while in 2004 and 2005 the city received below-normal rainfall. In 2009 the country received 30% below normal rainfall but over the past few years we have seen rainfall again being recorded in above-normal numbers.
The only mystery in all this: why does rain come as a surprise to both the government and the people of the city? Time and again, the government has failed in its preparation for the rain. Stormwater drains are not cleared. There is no effort made to check whether the drainage system in different localities is working or not.
This year was even worse. Possibly because the government's attention was focused on the Covid-19 situation, no planning was done to prepare the city for the rains and its aftermath. No emergency teams were prepared beforehand. No check was made on equipment or personnel that would be needed. Everything was left to fate. How long can a city like Karachi continue to function like this?
For the PPP, which has been in power in the province for more than a decade, one can ask why the city still does not have a proper drainage system. Why doesn't Karachi have an integrated plan to deal with natural disasters? How much has the government invested in infrastructure? The city lacks a proper mass transit system and suffers from a broken system of water supply as well as sewage disposal system. There is no emergency response service either. All this and more have been achieved in other cities of Pakistan. What is stopping Karachi?
One argument can be that many parts of the city are not in the control of the government and are cantonment areas. To be honest, their record is worse than that of the city government. But this is true of other cities as well. Can we then assume that Karachi has become ungovernable?
Possibly one solution would be for the ruling party in the province to swallow the bitter pill and bring back an empowered system of local government. The only reason the PPP has been avoiding this is because it knows that in Karachi it will not be able to have a share in such a system. That means also no share in the spoils. But does that mean the party continues to work for the city in fits and starts, thereby punishing those who live here.
It is indeed a crisis of governance. Till we understand what the problem is, we cannot try and look for solutions. It is time for (yet another) discussion on what ails this city.
Published in The Express Tribune, July 20th, 2020.
Like Opinion & Editorial on Facebook, follow @ETOpEd on Twitter to receive all updates on all our daily pieces.