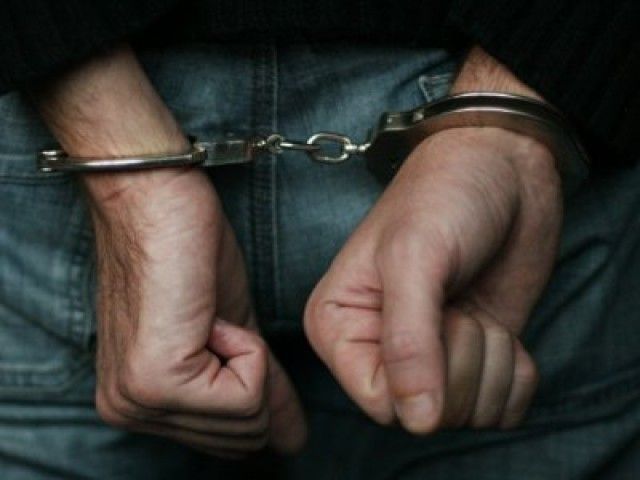 ---
KARACHI:
The Khairpur police arrested a retired teacher who had allegedly raped his students and filmed videos of them, a day after he fled from Thari Mirwah town amid accusations of abusing dozens of children.
The scandal sent shockwaves through the district after videos and pictures emerged on social media showing Sarang Shar allegedly sexually assaulting a young boy, with angry residents and activists demanding justice for the students. Meanwhile, the families of two of the alleged victims filed separate cases against the retired government teacher, who ran a private tuition centre in the small town.
The police carried out several raids in the area after the cases were filed. While Sukkur DIG Fida Hussain Mastoi confirmed that Sarang had been arrested, police sources told The Express Tribune that due to security threats, he was being held in Khairpur after being tracked down in Kumb.
Mastoi stated that he had asked the victims' parents to come forward and register FIRs against the accused. "We will register even 100 cases if the parents come to us," he told The Express Tribune, adding that the police had received at least two videos of the abuse so far.
Residents of Thari Mirwah, though, claimed that several other videos had circulated showing Sarang sexually assaulting children and forcing them to engage in sexual activities with each other.
The DIG added that the police were probing whether the teacher was involved in producing child pornography. "My opinion is that he was making videos to blackmail the children," he remarked.
According to J*, who filed a case against the suspect for assaulting his son, Sarang was caught red-handed but managed to escape. Speaking to The Express Tribune, J said his son, a grade 4 student, had been destroyed by the abuse, while his wife had a heart attack when she received the news.
"I sent my son to the tuition centre because of the lockdown, since schools were closed," he explained. "Several other children were also going there for tuition."
On Thursday, Z*, the father of another victim, who filed the first case against Sarang, told The Express Tribune he had received a video clip showing his 10-year-old son allegedly being raped by the suspect. He too had sent his son to the tuition centre after schools were closed due to the coronavirus pandemic.
Fear and anger in Khairpur
Claiming that several videos of the abuse had emerged, Sadaqat Memon, a local journalist, voiced fears that Sarang may have been producing child pornography, adding that the scandal had created uncertainty and terror among Thari Mirwah's residents. "People are worried he was not acting alone and are now suspicious of each other," he explained.
Meanwhile, Advocate Raza Hussain, who highlighted the issue on social media, alleged he had received threatening phone calls and messages in the aftermath, including a phone threat from one of Sarang's relatives.
Stating that he would stage a protest outside the Karachi Press Club, Hussain also expressed dissatisfaction with the Thari Mirwah police. "The first FIR was weak. The police only included Section 377 of the Pakistan Penal Code [pertaining to 'unnatural offences']. He will hardly get three years' imprisonment for that," he noted.
Yaseen Khaskheli, a member of the local bar association, claimed that no lawyer from the town would defend Sarang. "We decided in a meeting that such a man cannot be defended, but any families that need support will be given free legal assistance," he said, adding that citizens protesting across Khairpur district had demanded that Sarang be given the death penalty.
Sarang, who is the father of Pakistan Tehreek-e-Insaf office-bearer Aslam Raza Shar, had reportedly earlier been booked in two murder cases, including that of his brother's wife, and a robbery case.
His son Aslam, who told The Express Tribune he was unaware of the details on Thursday, could not be contacted again. However, he later resigned from his post in the party on the basis of his relationship with Sarang, while condemning the incidents.
*Initials used to protect identity
COMMENTS
Comments are moderated and generally will be posted if they are on-topic and not abusive.
For more information, please see our Comments FAQ