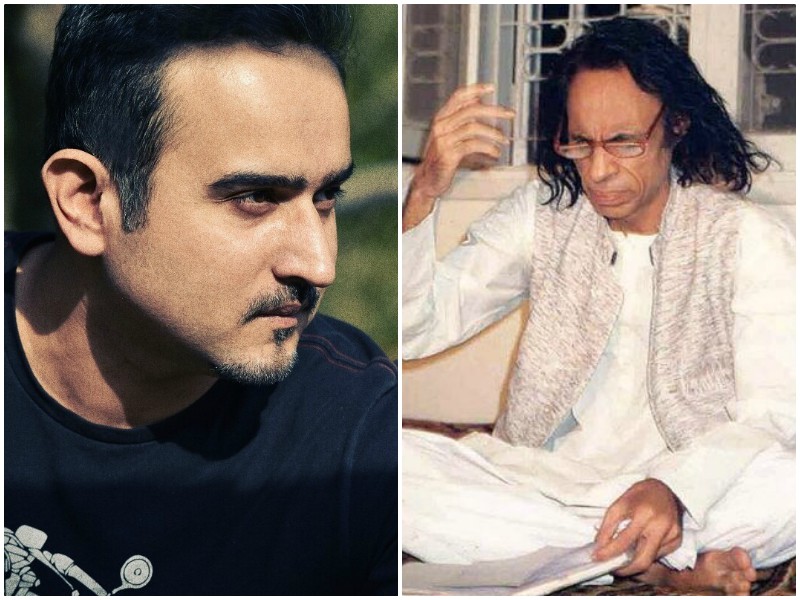 ---
In the post-partition world of Urdu literature, Jaun Elia became popular with his grey yet gritty words which often amassed into colourful couplets – glorifying nihilism and anarchy. His expression of nonconformity isn't unknown to the digest-reader, nor the social media user. Being permeable yet palatable, his poems are relatively easy to absorb but surprisingly dense in meaning, which is one of the many reasons why Abbas Ali Khan has decided to compose Elia.
"Elia's fans will instantly connect with my work and mine will start admiring his as much as I do," Khan told The Express Tribune.
Evident from his 2006 Malal and 2011 Sun Re, the singer's unending quest for darkness and the desire to explore it had to bring him to Elia's doorstep someday. But the question is – which piece of the poet's work is he juggling with? "It has to be the one where Elia is narrating his supposed beloved's letter to him."
Also known as Fariha Nigareena, the singer explained how choosing the poem Khat Hi Kyun Likhe Jayen was not a pre-planned decision, but something that resonated with him in that moment. He confessed his deeply woven love for the poet's way of expressing himself. "I don't worship Elia as most people do; they even call him 'murshid'. But I certainly admire his andaz-e-bayan," said Khan.
"Elia had this way of making the most complicated things simple. And I chose Khat Hi Kyun Likhe Jayen because I love its construction. I believe Elia's poetry has a very dark feel to it so the mood of my song will be just that. It may even be haunting," he revealed beguilingly.
In the first half of the poem, Elia narrates his lover's wish – which is for him to burn all the letters she has ever written to him.
"Fariha, Nigareena
Tum Ne Mujh Ko Likha Hai;
Mere Khat Jala Deejiye
Mujh Ko Fikr Rehti Hai,
Aap Inhein Ganwa Deejiye
Ap Ka Koi Sathi,
Dekh Le To Kya Ho Ga
Dekhiye Main Kehti Hoon,
Yeh Bahot Bura Ho Ga"
The remaining is the poet's response to this wish, which is quite overwhelming and "underrepresented" according to Khan. He explained how as opposed to Elia's work that usually gets circulated online, many fans are unaware of this particular piece. "I'll compose it and see where it goes. And considering a lot of youngsters follow him today, I can't wait to see how they'll react."
Khan then explained how there was no harm in composing someone else's poetry since Ghazal singers do it all the time, neither does it mean the artist lacks creativity. "It's a very tricky thing to do. But I don't know why there is this concept here that a person has to do everything – from writing a song to composing it to producing it for him to be deemed a talented individual," he said.
The Teri Yaad singer went on to relay how there was no harm in doing covers either but an artists' claim to fame should not be other people's creations. "If a person is making 80% original music and 20% renditions then it's fine. But yes, the vice versa should not be encouraged."
Khan had no particular release date in mind for Fariha Nigareena but reassured that it would be soon. Not to mention, he also has another song in the pipeline called Men hun, which is his conversation with himself while meditating. "I meditate often," he said, "Especially these days because of the lockdown when I get anxious. So I'm hoping this song will turn out to be the perfect remedy for listeners who feel unnerved," he concluded.
Have something to add to the story? Share it in the comments below.
COMMENTS
Comments are moderated and generally will be posted if they are on-topic and not abusive.
For more information, please see our Comments FAQ