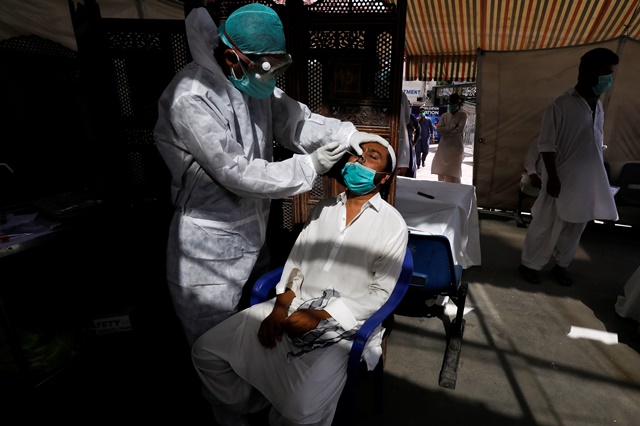 ---
Covid-19 stopped govt from meeting uplift goals
Parliamentary secretary for narcotics control says there is no minus-one formula
---
RAWALPINDI:
The ruling Pakistan-Tehreek-e-Insaf (PTI) will complete its five-year tenure and ruled out the possibility of a 'minus-one' formula.
This was stated by Parliamentary Secretary for Narcotics Control Sheikh Rashid Shafique on Wednesday while addressing a news conference in Rawalpindi.
Shafique, who belongs to the ruling PTI, conceded that the incumbent government had failed to meet its development goals for 2020. However, he laid the blame squarely at the door of the novel coronavirus (Covid-19) pandemic.
He went on to criticise the past regimes of the Pakistan People's Party (PPP) and the Pakistan Muslim League-Nawaz (PML-N) for not completing various mega projects in the NA-60 and 62 constituencies of Rawalpindi.
We had implored past governments to initiate projects, but they did not, Shafique asserted.
Despite the few projects initiated by past governments and Covid-19 throwing a spanner in PTI's plans, he said that several development projects were currently under construction in the city.
The premier amongst them was the Leh Expressway project, the parliamentary secretary said, adding that it will be flanked by railway tracks connecting the twin cities of Islamabad and Rawalpindi. There are encroachments along the proposed Leh Expressway, he said, adding that the government will deal with the matter as per the law.
He further assured that the under-construction Rs5.25 billion mother-child hospital will be completed in the next six months. Once complete, he said that it will have at least 17 operation theatres.
Shafique added that a girls' college being constructed in the Rawalpindi Cantonment Board, is in its final phases.
Moreover, the parliamentary official expressed that they were trying to upgrade the Government Viqarunnissa Post Graduate College, where as many as 5,000 girls are enrolled, by giving it the status of a university.
Further, an Information Technology (IT) University will also be established where Punjab House is located, he informed.
He said that the government has allocated funds for the Ghazi-Barotha water supply project which will end the issue of water scarcity in Rawalpindi.
Further, the government has laid new gas pipelines to end the annual winter complaints of shortages.
The Rawalpindi native added that he was the first to raise his voice for traders of the city during the lockdown.
The parliamentary secretary further asserted that the ongoing flour crisis will soon end while the sugar crisis has emerged because the government has tightened the noose against the sugar mafia.
Published in The Express Tribune, July 16th, 2020.