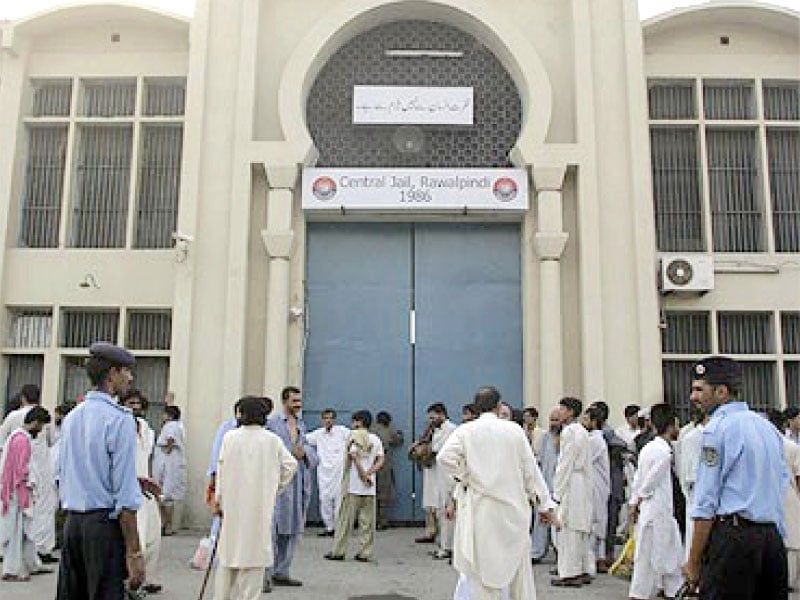 ---
Adiala Jail allows visitors
Only blood relatives will be allowed to meet their loved ones
---
RAWALPINDI:
After a gap of around four months, visitors have been allowed into the Adiala Jail. The jail had banned all sorts of visits for fear of the novel coronavirus (Covid-19) pandemic spreading amongst its inmates.
The jail administration on Wednesday issued a schedule of the meetings which will be organised under the strict standard operating procedures (SOPs).
Under the latest rules, only blood relatives will be allowed to meet their loved ones inside the jails. Moreover, there will be a restriction on inmates meeting with children and the elderly.
Jail officials said that visitor meetings had been banned in March to prevent the virus from spreading amongst the jail population. However, the practice has resumed after a fall in Covid-19 cases.
The jail authorities have fixed days for meetings by dividing inmates based on the nature of their crimes.
Convicts imprisoned for criminal cases such as fraud, robbery, terrorism, and those sentenced to death can meet their families on Monday.
Inmates convicted or currently under-trial for murder or facing the National Accountability Bureau (NAB) cases, will meet their families on Tuesday.
Inmates indicted in the kidnapping, rape, and terrorism cases can meet their families on Wednesday while on Thursday, families of foreigners and women criminals can visit the Adiala Jail.
Friday has been reserved for families of petty criminals, while Saturday has been allocated for inmates who are 25-years-of-age or lower.
Death penalty moratorium on
Meanwhile, the government has decided to impose an unannounced moratorium on the death penalty.
At least 290 convicts are currently on the death row in the Adiala Jail.
Prison officials told The Express Tribune that the Pakistan Tehreek-e-Insaf (PTI) government has put a pause on executions after coming to power.
In Adiala Jail, there are currently some 290 convicts, including 10 women, who have been awarded the death penalty by the courts for committing various heinous crimes.
More than half of them, 150 convicts, were sentenced to death either by the district and sessions courts or the special anti-terrorism courts (ATCs).
Amongst them, the Supreme Court (SC) and the Lahore High Court (LHC) have turned down appeals of some 65 criminals. Most of them are now awaiting the decisions on their clemency appeals made to the President.
Officials told The Express Tribune that the district courts, as well as ATCs, have not issued execution orders, known as 'black warrants', for the past few years.
During the PTI tenure, the Lahore High Court-Rawalpindi Bench ruled against the capital punishments of some 96 offenders. The Rawalpindi bench also converted the death sentence of some 31 convicts into decade-long imprisonment.
Published in The Express Tribune, July 16th, 2020.