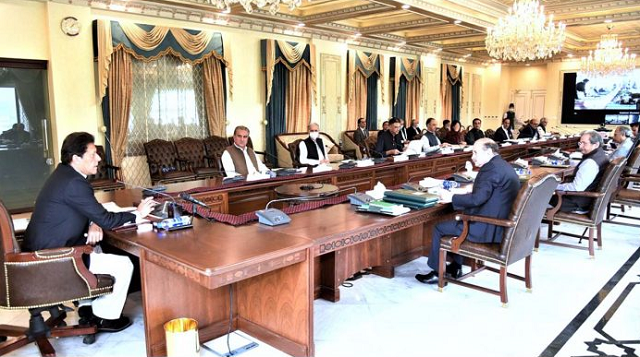 ---
ISLAMABAD:
The federal cabinet will take up a 5-point agenda in its meeting on Tuesday, including the upward revision of tariff for the electricity consumers in Karachi, besides reviewing coronavirus pandemic and the overall political and economic situation of the country.
According to the agenda of the cabinet available with The Express Tribune, a report on the implementation of the cabinet decisions will also presented in the meeting, which will be chaired by Prime Minister Imran Khan.
The federal cabinet will approve the appointment of the director generals (DGs) of the National Institute of Electronics and the National Accreditation Council. The ministers are likely to ratify the decisions of the Economic Coordination Committee (EEC) taken during its meeting on July 3.
The cabinet is also expected to ratify the decision to increase the tariff for consumers of the K-Electric. As per quarterly adjustment, the electricity charges are likely to go up by Rs1.9 to Rs2.89 per unit for the K-Electric consumers.
The cabinet will also ratify the Sui Northern Gas Company's decision to supply LNG to domestic consumers in the winter. The meeting is also expected to approve the revised budget of National Telecommunication Company for the next financial year of Rs 4.59 billion.
The ratification of the decision to provide Rs960 million subsidy on the use of LNG for urea fertiliser requirements for the Rabi season is also expected. From December to February, two closed urea plants will be run on LNG to produce 200,000 tonne surplus urea reserves.