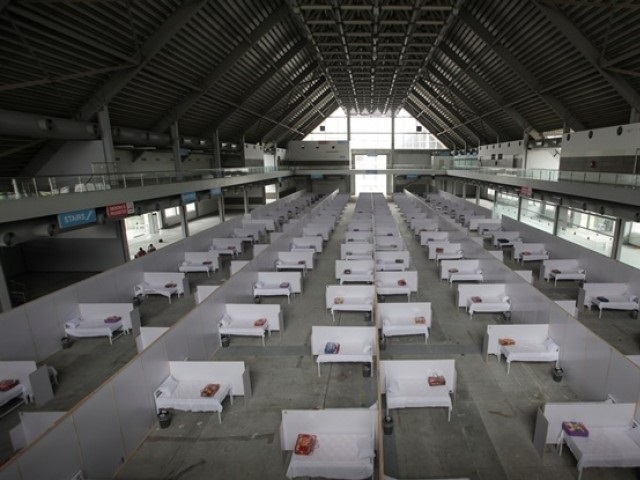 ---
LAHORE:
In the last 10 days, the number of critically ill coronavirus patients in the provincial capital has dropped by about 50%.
Reportedly, with the number of coronavirus patients having begun to decline, most of the beds in the ICUs and high dependency units of the city's major government hospitals are empty of patients.
Of the 178 ICU beds and ventilators allocated for coronavirus patients in the city's 16 government hospitals, 110 are vacant.
The overall occupancy rate of ICU ventilators of government hospitals in the city has come down to 38%. Out of 499 high dependency beds allotted for coronavirus in 16 government hospitals in the city, 400 are vacant.
The overall occupancy rate of high dependency beds of city government hospitals is 19.8%. Out of Mayo Hospital's 50 ventilators, 39 are free and 11 are in use.
In the Pakistan Kidney and Liver Institute (PKLI), out of 20 ventilators, 10 are free and 10 have patients. Five patients are admitted to the HDU that has 16 beds.
Out of the 15 ventilators of Jinnah Hospital, six are free and nine are filled. Of the 32 hospital ventilators, 14 are free and 18 have patients. Out of 20 ventilators of Lahore General Hospital, 10 are free and 10 are in use.
The University of Health Sciences (UHS) VC Dr Javed Akram, who is a key member of the Coronavirus Advisory Committee, expressed pleasure over the reduction in the number of patients.
"However, if precautions are not taken, a second wave of the virus spread can occur," he said. "Strict measures will have to be taken regarding cattle markets and Eid," added the UHS VC.
Meanwhile, the Covid-19 has taken 21 more lives in the province, while the number of coronavirus cases has reached 86,556 after registration of 565 patients till Sunday morning.
The spokesperson for the Punjab Primary and Secondary Healthcare Department stated that the total number of deaths in the province had reached 2,006.
*With additional input from APP
Published in The Express Tribune, July 13th, 2020.