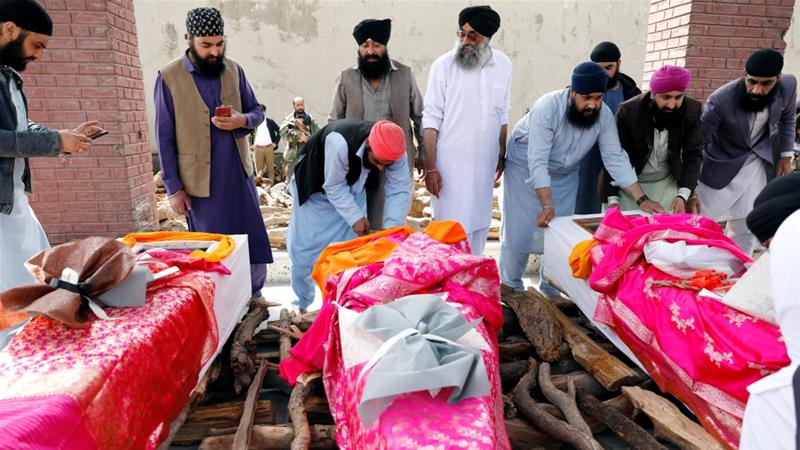 ---
PESHAWAR:
Peshawar's Sikh community has everything but a crematorium in the city. To perform the final rituals of their deceased loved ones, the community transports the remains to Attock, which is more than 70km away from the provincial capital.
"Khyber-Pakhtunkhwa has more than 35,000 Sikhs, and Peshawar alone is home to more than 7,500. We urge the government to build the promised crematorium in Peshawar," said Sikh community leader Babaji Guru Gurpal Singh.
The crematorium in Attock, Singh said, is intended to serve the Hindu community, but is also used by the Sikhs. According to details available with The Express Tribune, the provincial government has earmarked a budget for the facility, but it appears to be one of those projects that is still waiting to see the light of day.
The irked community was reminded about the absence of a crematorium earlier this month when Shah Hussain Express train rammed into a coaster near Sheikhupura. The deceased were mainly Sikh pilgrims who were travelling home from Nankana Sahib, the holiest site in Sikhism. "For their cremation, we had to take the bodies to Attock," said one member of the community, who was speaking on the condition of anonymity.
Two years ago, the provincial government allocated millions to build a dedicated crematorium for the Sikh community and a graveyard for the Christian community in Peshawar. However, the funds were never released.
Similarly, last year, the provincial government earmarked nearly Rs.20 million for the construction of a crematorium for the Sikh community, but the funds were never released. Not only that, but funds allocated for a dedicated Sikh community school are still to be released. So far, the provincial kitty has only coughed up Rs.0.12 million for the project.
Once again, the government has promised Rs.1.2 billion for religious minorities in the province in this year's fiscal budget. The budget document reveals that the K-P administration plans to spend Rs.40 million on dedicated residential schemes for minorities, Rs.10.5 million for a residential colony in tribal areas, and Rs.40 million for scholarships.
While cremation is culturally imperative for Sikhs and Hindus, the cost is a major prohibitive factor for them since many middle and low-income members of the community cannot afford the bill of cremation. Transporting the remains to Attock doubles that cost for members of the Sikh community. "It makes the funeral and final rituals more expensive. So many of us cannot afford the extra cost," they said.
Published in The Express Tribune, July 6th, 2020.
COMMENTS
Comments are moderated and generally will be posted if they are on-topic and not abusive.
For more information, please see our Comments FAQ